Ukrainian prime minister Arseny Yatseniuk resigns | World news | theguardian.com
:
Yatseniuk quits as he berates parliament for failing to pass law to increase army financing and regulate country's energy situation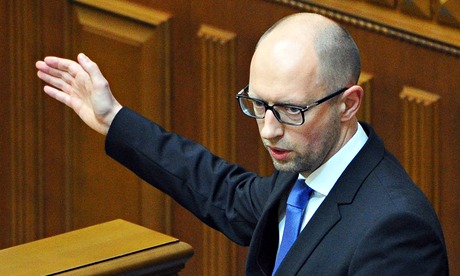 Ukraine's prime minister has resigned after the governing coalition collapsed, in a sign that five months after the Maidan protests led to a change of government, the country's political system is still beset by discord.
The government is struggling to defeat an insurgency by pro-Russian separatists in the east of the country, where a Malaysia Airlines jet was downed last Thursday.
Arseniy Yatsenyuk, one of the leaders of the Maidan protests, was seen by many Ukrainians as a safe pair of hands, with his mild manner and intellectual demeanour. But he grew angry during Ukraine's parliamentary session as it failed to pass legislation to increase army financing and regulate the country's energy situation.
"History will not forgive us," he told parliament. "Our government now has no answer to the questions – how are we to pay wages, how are we tomorrow morning going to send fuel for armoured vehicles, how will we pay those families who have lost soldiers, to look after the army?"
The president, Petro Poroshenko, welcomed the move, which will lead to new elections, saying: "Society wants a full reset of state authorities."
Although Ukrainians elected Poroshenko in May, there have yet to be new parliamentary elections since the former president, Viktor Yanukovych, fled. Yatsenyuk is likely to stay on in a caretaker role before a new poll.
Rumours are that Poroshenko wants to end the insurgency in the east before 24 August – Ukrainian independence day. The army has made significant gains in driving the rebels out of a number of towns, including the former stronghold of Slavyansk, but the separatists still control Donetsk, a city of 1 million, and much of the region around it.
The area where flight MH17 fell to the ground last Thursday, apparently after being destroyed by a missile, is also inside rebel-held territory. This has led to controversial cleanup efforts in which the site has been left unsecured for a week since the crash. Bodies recovered at the site were dispatched by train on Monday night to the government-controlled city of Kharkiv. On Wednesday, the first bodies were flown to the Netherlands, where they will be identified before being flown to their countries of origin. More than half of the 298 victims were Dutch.
Michael Bociurkiw, a spokesman for the Organisation for Security and Cooperation in Europe, said monitors had found new chunks of fuselage on Thursday in locations they had not visited before – a sign of how much work remains to be done for a proper investigation to take place. He also said the monitors were still finding human remains at the site.
Two Australian diplomats visited the crash site on Thursday, the first to visit the area. Australia lost 28 citizens in the crash and the prime minister, Tony Abbott, said Australian police officers were on standby to travel to the crash site and help secure it.
"There has still not been anything like a thorough professional search of the area where the plane went down and there can't be while the site is controlled by armed men with vested interest in the outcome of the investigation," he said.
The Dutch Safety Board, which is coordinating the investigation, said on Thursday that material from both black box flight recorders had been downloaded by British experts, who had found no evidence they had been tampered with.There is mounting evidence that MH17 was brought down in error by separatists who thought they were firing a Buk missile at a Ukrainian military jet. Rebel leaders have denied they were ever in possession of a Buk system, but numerous eyewitnesses told the Guardian they saw a Buk in the area on the day of the crash. One rebel boss, Alexander Khodakovsky, told Reuters that the rebels did have a Buk, which he intimated may have come from Russia. He later insisted he had been misquoted.