Интервью С.Лаврова телеканалу «Bloomberg» - YouTube
: ""
Ryan Chilcote and Henry Meyer
Bloomberg
Wed, 14 May 2014 14:12 CDT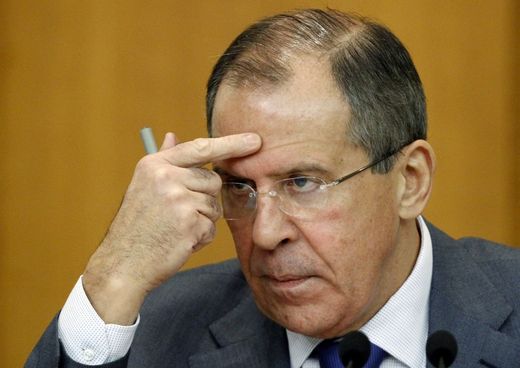 Russia's foreign minister softened his tone toward Ukraine, saying his country "can do business" with any electedpresident and warning that fighting in the country's east risks undermining a ballot's legitimacy.

Comment: It's difficult to twist the words of a man as skilled in diplomacy as Sergei Lavrov, but Bloomberg tries. "Softening his tone" implies a substantial change in tone. But Lavrov's stance is as clear, rational, and 'hard' as it ever was. Stated in another way: Russia can NOT do business with an illegitimate, coup-installed, neo-Nazi puppet regime. What about that is so hard to understand?

"If there is somebody who emerges as a figure with the support of the majority of Ukrainians, of course it's easier to have such an interlocutor than self-appointed people," Sergei Lavrov, Russia's top diplomat, said today in an interview with Bloomberg Television.

Lavrov said he's well acquainted with the poll-leading candidate for the May 25 election, billionaire Petro Poroshenko, who isn't a "fascist" unlike some members of the current administration who took over after the ouster of Kremlin-backed President Viktor Yanukovych in February. "We can do business with anyone," Lavrov said.

Russia is locked in the worst standoff since the end of the against the U.S. and Europe over Ukraine in the run-up to the presidential election. Rebels yesterday killed seven Ukrainian soldiers and wounded eight others during an ambush in a breakaway eastern region.

Casualties in the fighting included "quite a number" of "self-defense" fighters killed by artillery and mortars, Lavrov said. In the east and south of Ukraine, there is a "real war" which isn't conducive to free and fair elections, Lavrov said.

Russian President Vladimir Putin last week for the first time signaled his endorsement of the election as a "step in the right direction," while noting that it wouldn't resolve the crisis if Ukrainian citizens don't understand how their rights will be guaranteed.



'Good Enough'



"As President Putin said, any election is a move in the right direction and we will have to judge these elections by their outcome," Lavrov said. "It has to be good enough for Ukrainians and it has to be legitimate in the eyes of Ukrainians."

The Russian foreign minister said his country supports talks brokered by the Organization for Security and Cooperation in Europe, though separatists must be included. The government has said it won't talk with gunmen and "terrorists."

"Who is going to pass a value judgment on who has blood on their hands?" Lavrov said. "How do you qualify people who have blood on their hands? Will the current coalition members qualify for this? It's either national reconciliation, or winner takes it all."



Separatist Referendums



Russia, which doesn't recognize the authorities in Kiev, is pushing for wide autonomy in Ukraine's mainly Russian-speaking southern and eastern regions. The government in Moscow this week urged national dialogue to resolve the crisis after saying it "respects" the results of disputed referendums in eastern Ukraine's Donetsk and Luhansk regions that separatists said backed independence. Leaders of the breakaway Donetsk People's Republic have asked to join Russia.

Ukraine and its allies accuse Putin, who annexed Crimea in March after a plebiscite on the Black Sea peninsula, of stoking unrest in the country's east. The U.S., which joined the European Union in responding with sanctions, says Russia has massed about 40,000 troops on Ukraine's border and is helping insurgents who've seized government buildings in at least 10 cities.

Russia will face new sanctions if the ballot is disrupted, French President Francois Hollande said yesterday in Tbilisi, Georgia, which fought Russia over a breakaway region in 2008. Leaders from the Group of Seven rich nations' club will take the decision on deeper sanctions at their June 4-5 summit in Brussels, according to a French official, who asked not to be named because the deliberations are private.

Any new sanctions by the U.S. and the EU would only harden Russia's stance, Lavrov said, adding that he detects reluctance in EU states to risk the economic consequences of harsher measures.
http://www.sott.net/article/279207-Russia-can-do-business-with-elected-Ukraine-leader-Lavrov-says-not-coup-installed-fascist-scum
'via Blog this'