zyalt: Ситуация в Крыму, часть 1
: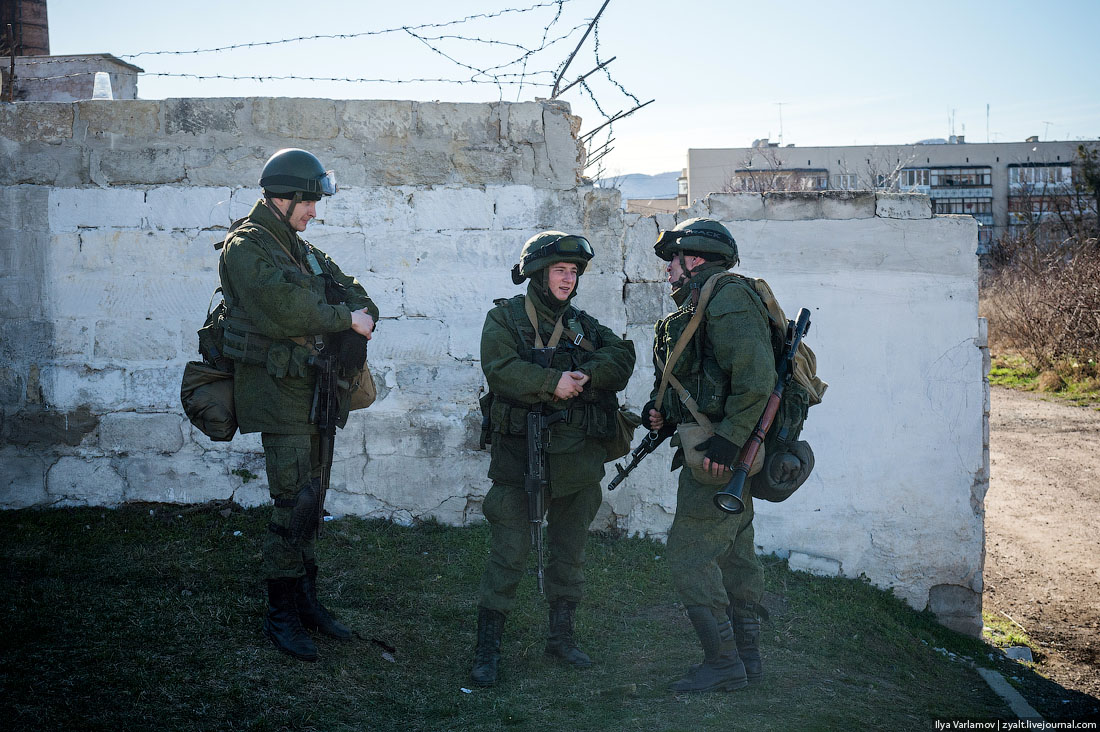 Yesterday arrived in Crimea visit grandma and understand what is happening here.
The main thing - that all is quiet.
Tension there, but she soon forced from outside.
People watch TV, read newspapers, then call terrified relatives in Crimea: "You got a war?
Leave!
Run for your lives! "In Crimea, Russian soldiers treats cigarettes Ukrainian counterpart and about any war, no one had heard and can not even think.
But tensions are present.
People have different thoughts.
Someone experiencing for the failure of the holiday season, someone is waiting Crimea has become part of Russia, and one sees only in the Crimea unified Ukraine.
Bringing people an idea - so long as there was no war.
War very afraid, nervous because of this and try to show that all is well in the Crimea.
Ask any krymchanina now, as the decor and he answered you without hesitation: "All is well!
All we quietly listen to nobody! "- Even if he is very upset because the soldiers on the street.
Creates a tense atmosphere in many ways a small percentage of the population that has become a victim of propaganda.
In general, while propaganda on both sides kills more people than a possible war.
People really went crazy with all the news on TV and the Internet.
Yes and you can see for yourself what's going on.
Soldiers in the Crimea does have, though in recent days they became smaller.
Basic steps moved from state agencies to military units.
With soldiers here also very unclear story.
Officially, the soldiers do not identify themselves, although everyone knows that this Russian soldiers.
But the invaders do not perceive them accurately.
From the side it resembles any joint Russian-Ukrainian exercises.
There is no hostility and negativity between the parties.
Maybe, of course, Russian soldiers somebody does not like it, but express anger and resentment I had never met.
People take photographs of military and technology and it all looks very natural.
Generally, if you close your Twitter and Russian Internet, the very idea of ​​a possible military conflict looks ridiculous.
Anyone here who will fight?
In Crimea, 80% of the population consider Russian their native language.
My grandmother in Ukrainian, not all understand, although living in the Crimea from '57.
As I remember, the Crimea has always considered closer to Russia than Ukraine.
Here are more afraid that the conflict is between the east and west of Ukraine.
Crimea is now waiting for a referendum, which will choose the path of further development.
Most likely it will be a high degree of autonomy, but look at how events will develop further.
new Kyiv authorities have not recognized the new Crimean and referendums.
01.
Center of Simferopol, the view from an unidentified aircraft ;)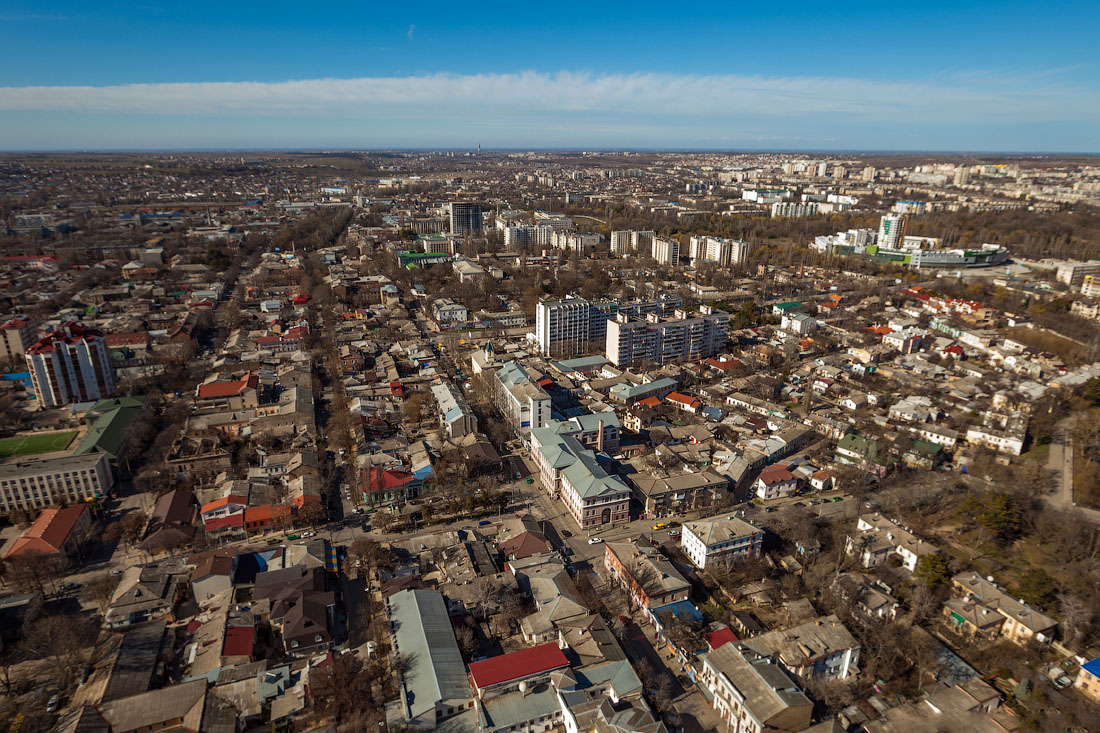 Photo: Airpano.ru
02.
At the airport, all is calm, all is working normally.
All the same taxi drivers persistently offer their services, works car rental, cafes and souvenir shops.
I came out of the building, I was immediately fit a man with a tracksuit with St. George's ribbon and starts talking.
Very aggressive man says that all is calm and all is well.
Although, I even doubt it was too late.
By area, walk a few soldiers with guns unmarked.
I ask the guy with the St. George's ribbon, who they are.
- This is self-defense of the Crimea!
- Man cheerfully answers
- They are Russian?
- Says I
- No, Ukrainians, local
- And where do they form and weapons?
- Form of the store sold, gave them weapons.
- Who?
- People
Later it turned out that the guy with the St. George's ribbon foreman groups such as men who are on duty at the airport and maintain order.
They look very fake, but quite friendly and sociable.
Like agitators paid rallies.
Taxi drivers quietly giggling over brisk peasants in tracksuits.
Soldiers go quietly, happy to pose and take pictures, but do not talk.
This sounds like some kind of parade.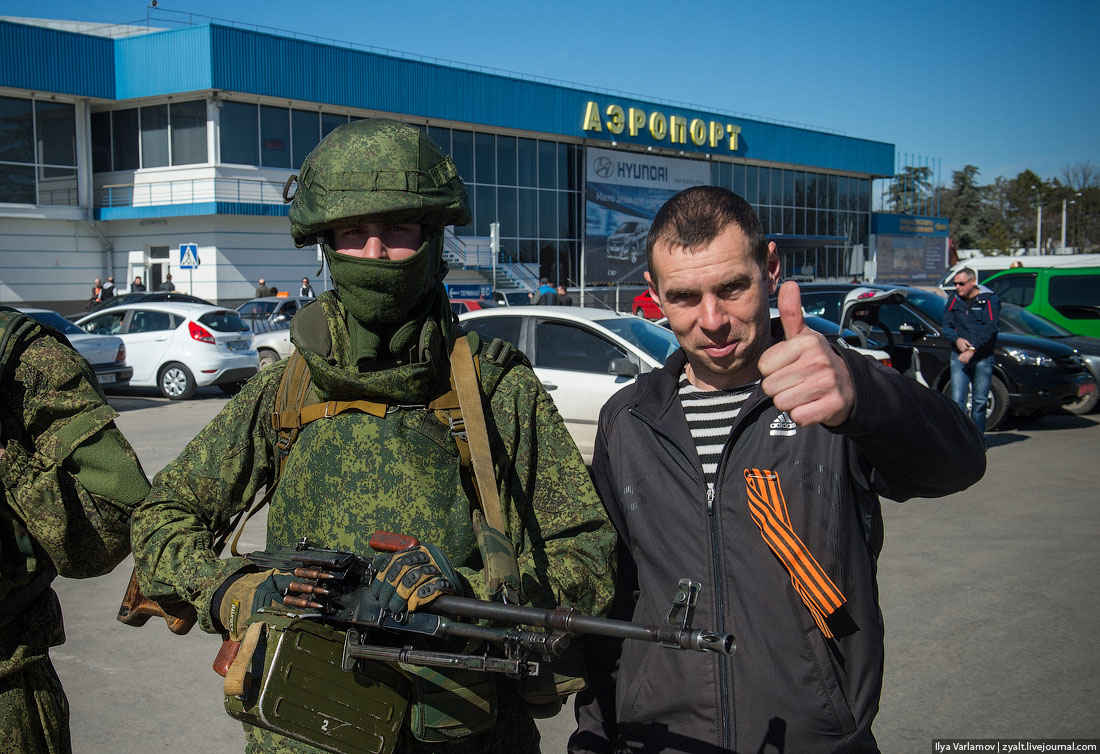 03.
The town itself is quiet.
Eve brought soldiers who blocked streets for several days around the Crimean parliament.
Now everything is open, people quietly walk with children.
The setting is peaceful.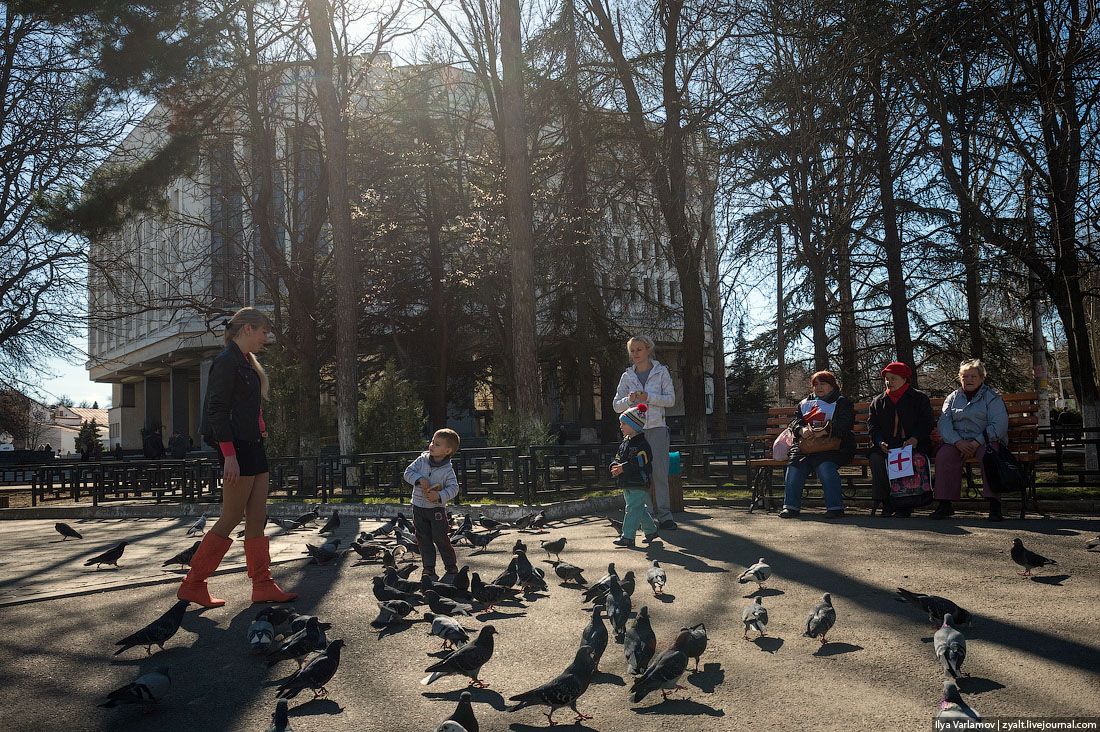 04.
Rada's kind of like working at least to come across people in costumes, and not in the form) Over Rada raised two flags - Crimea and the Russian tricolor.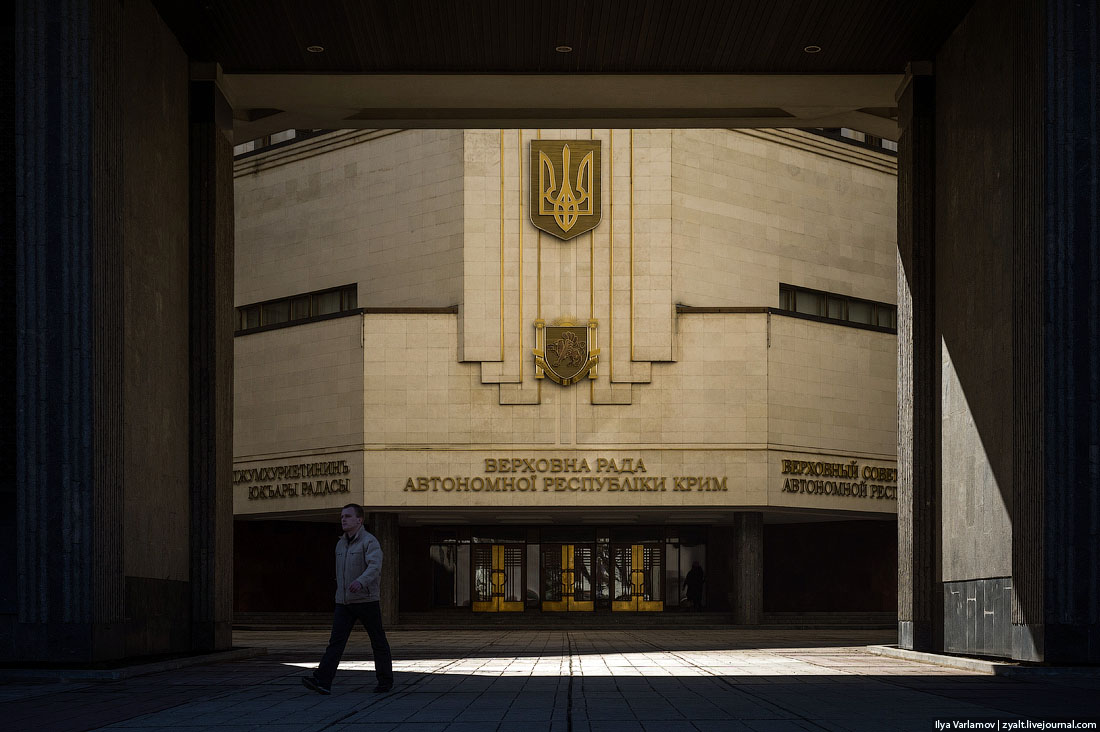 05.
Monument to Soviet tank slightly modernized.
Now it 3 flags - Crimea, Soviet and Russian well and themed posters.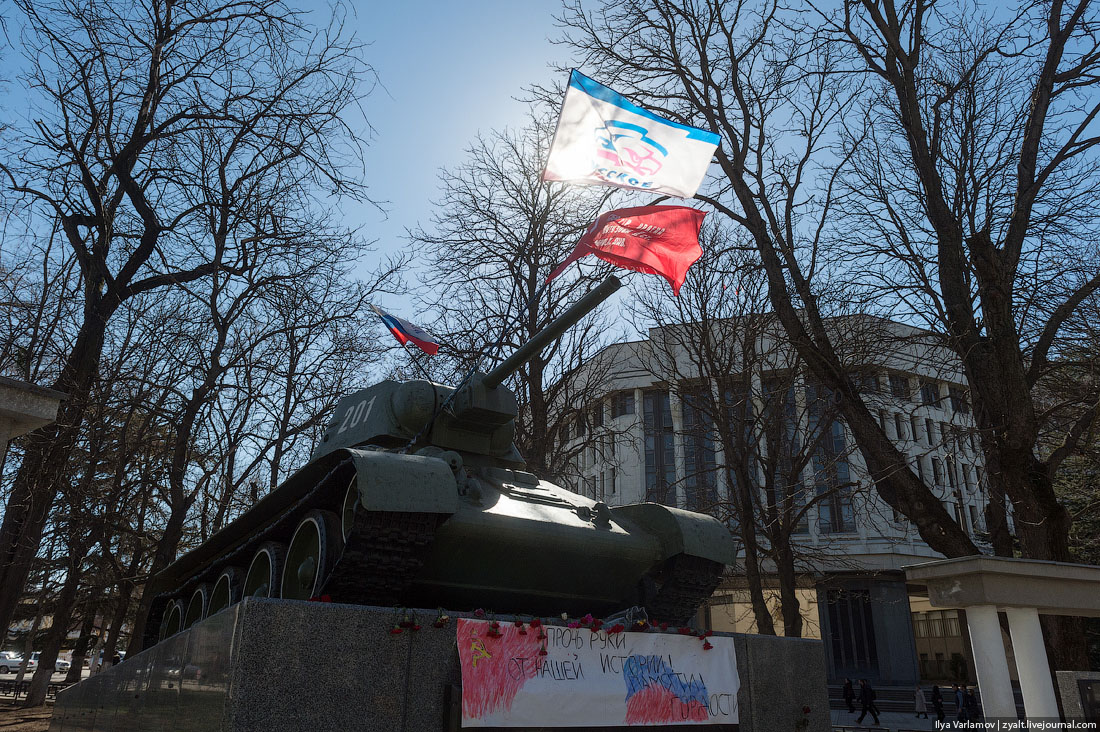 06.
Generally around a lot glad any agitation.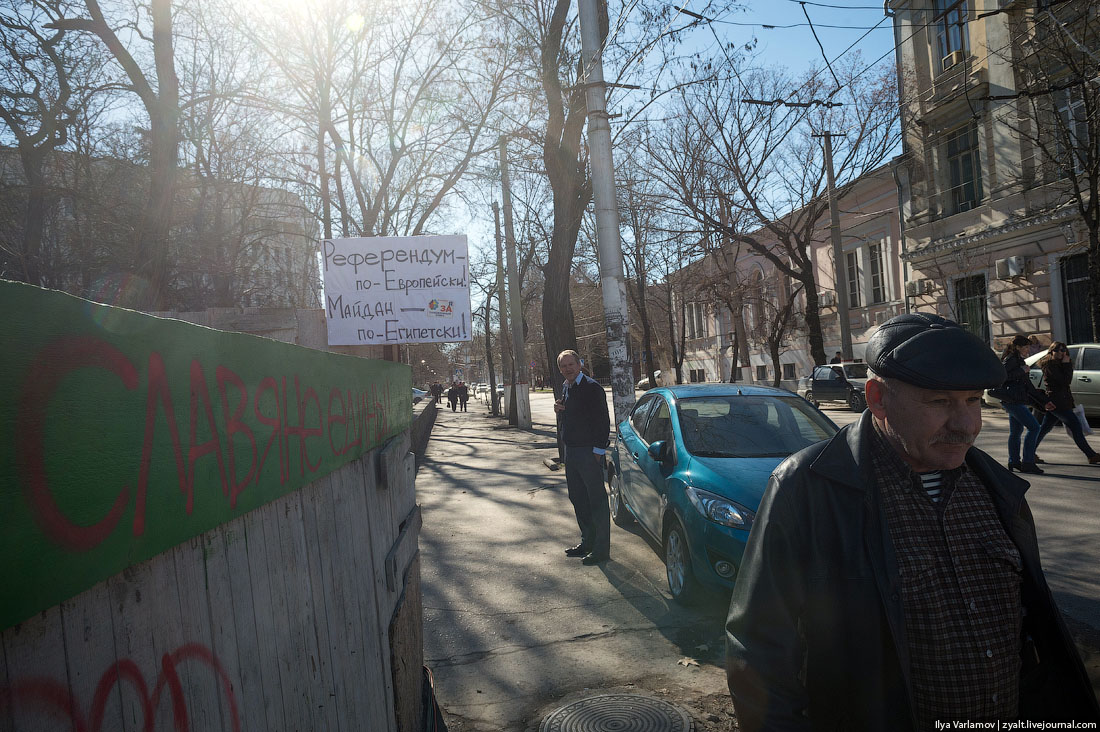 07.
People come here looking with interest and photographed posters.
Last week's events have already become history.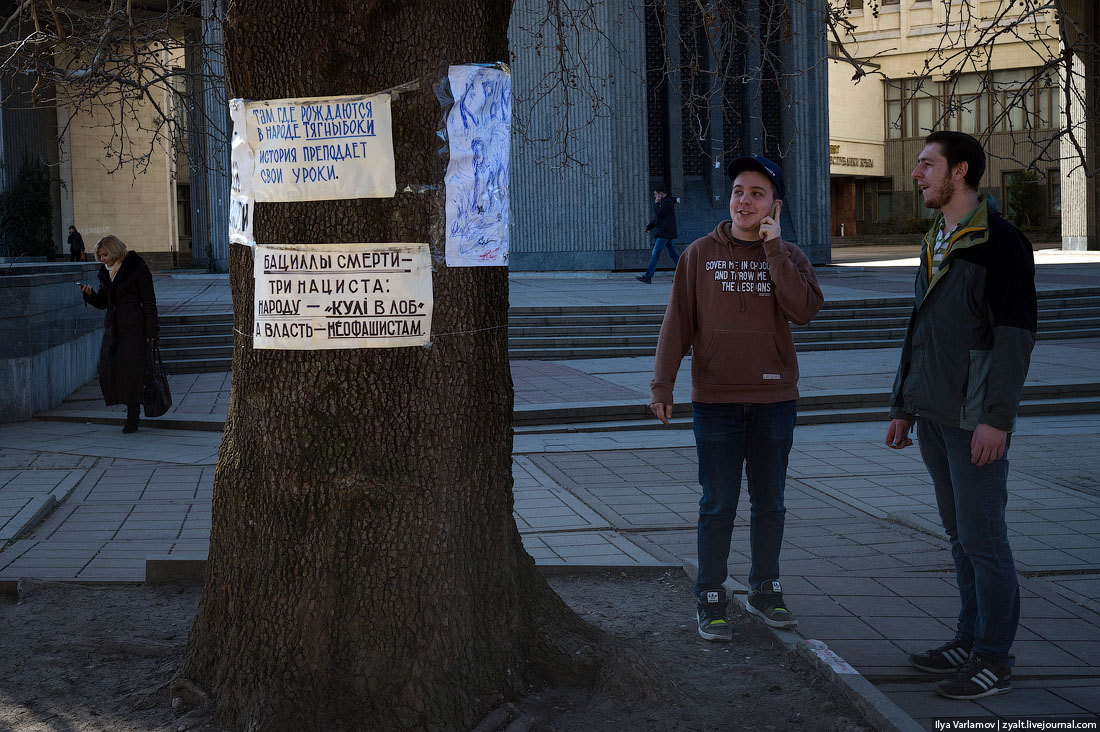 08.
Journalists talk about events in the Crimea.
Simferopol stray dog ​​sleeping peacefully.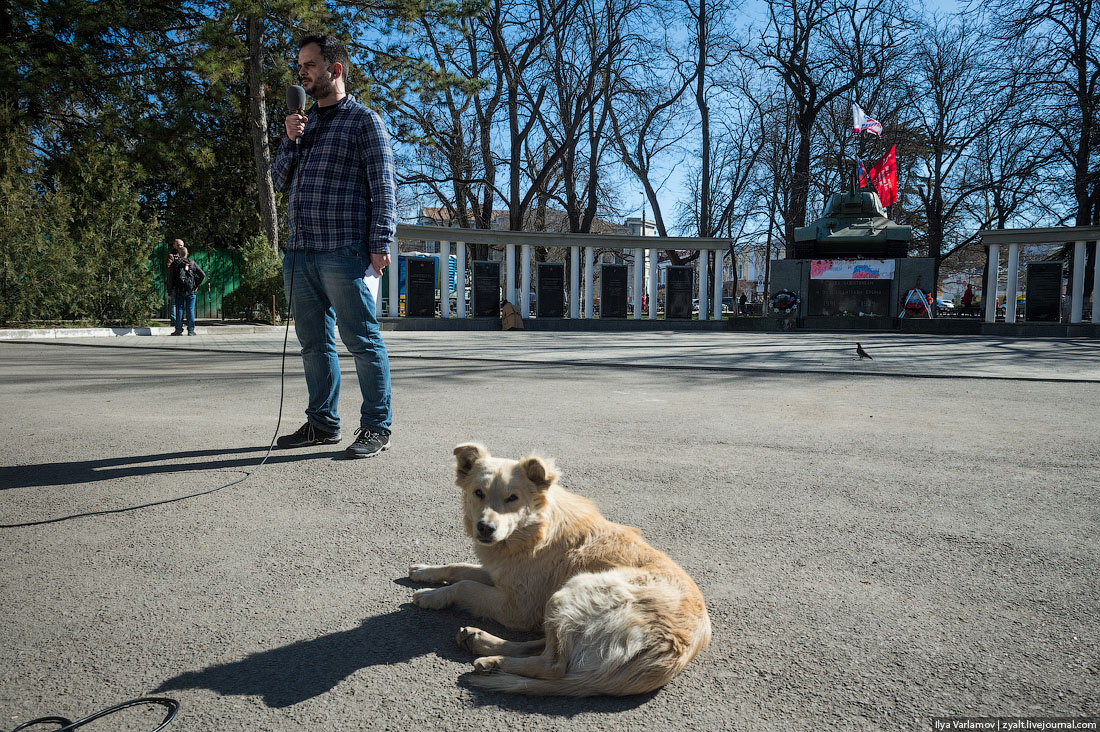 09.
This is not a secret development of the Russian military, as thought by some locals.
This geksokopter camera, which we shoot a stop in the Crimea from the air.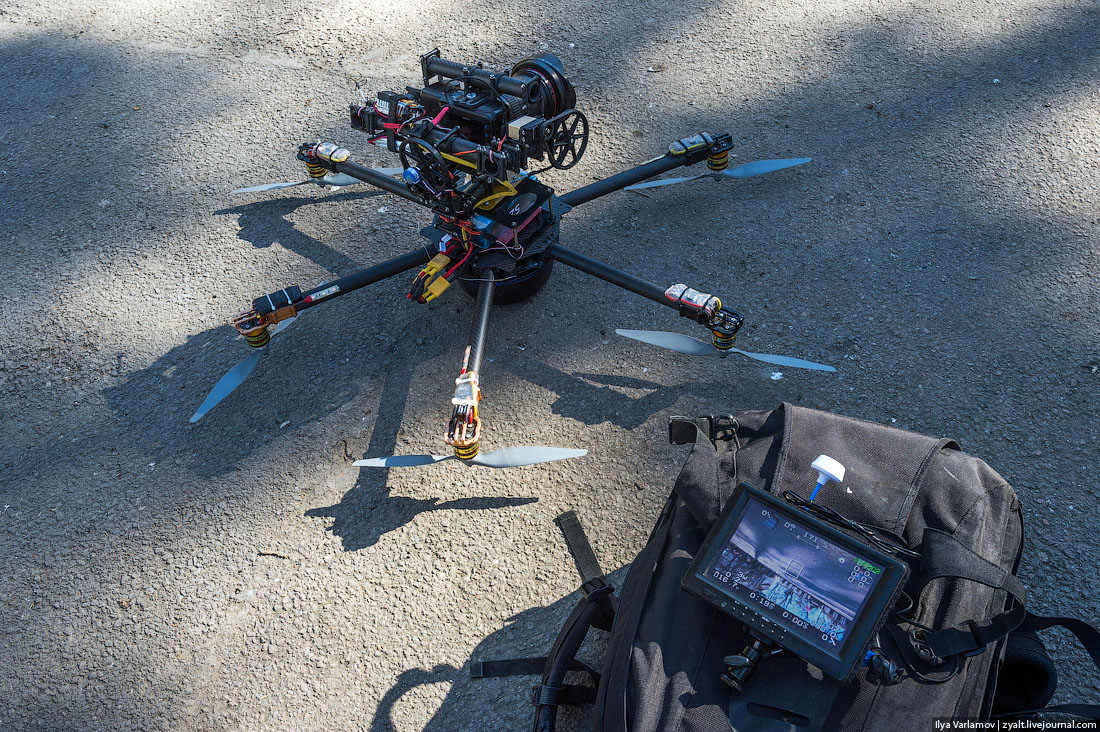 10.
This Stas, it works on the project Airpano.ru .
Guys do incredibly steep panoramas most beautiful places of our planet.
Look.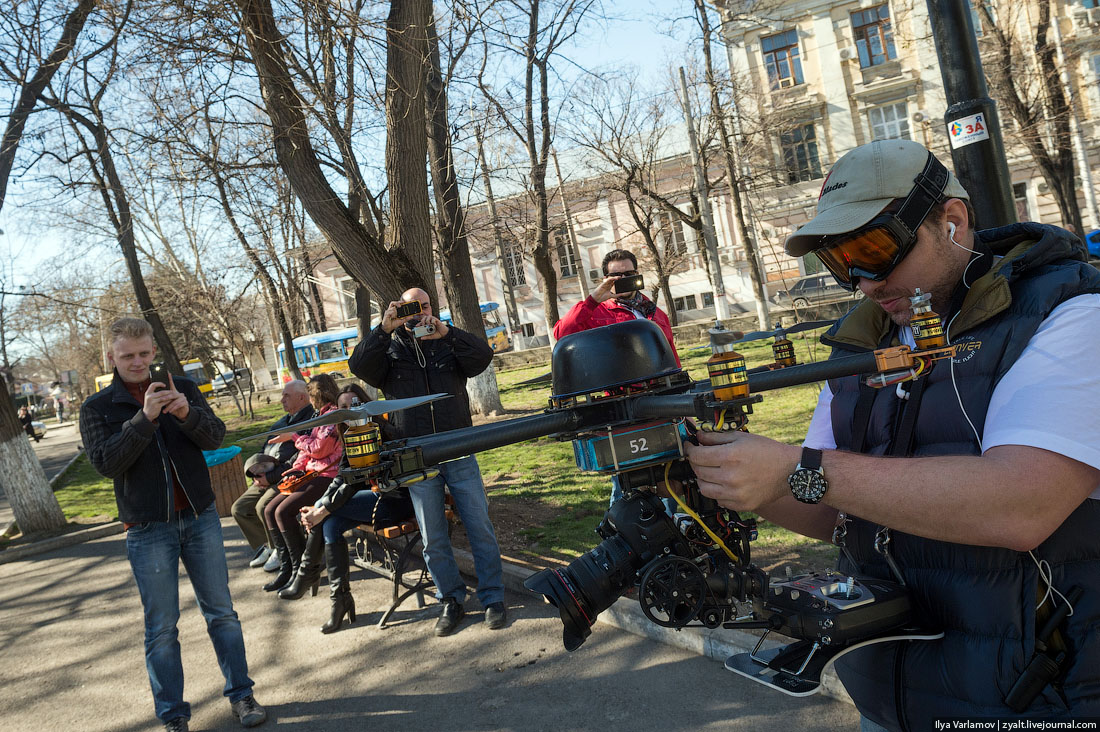 11.
Remaining from the rally posters.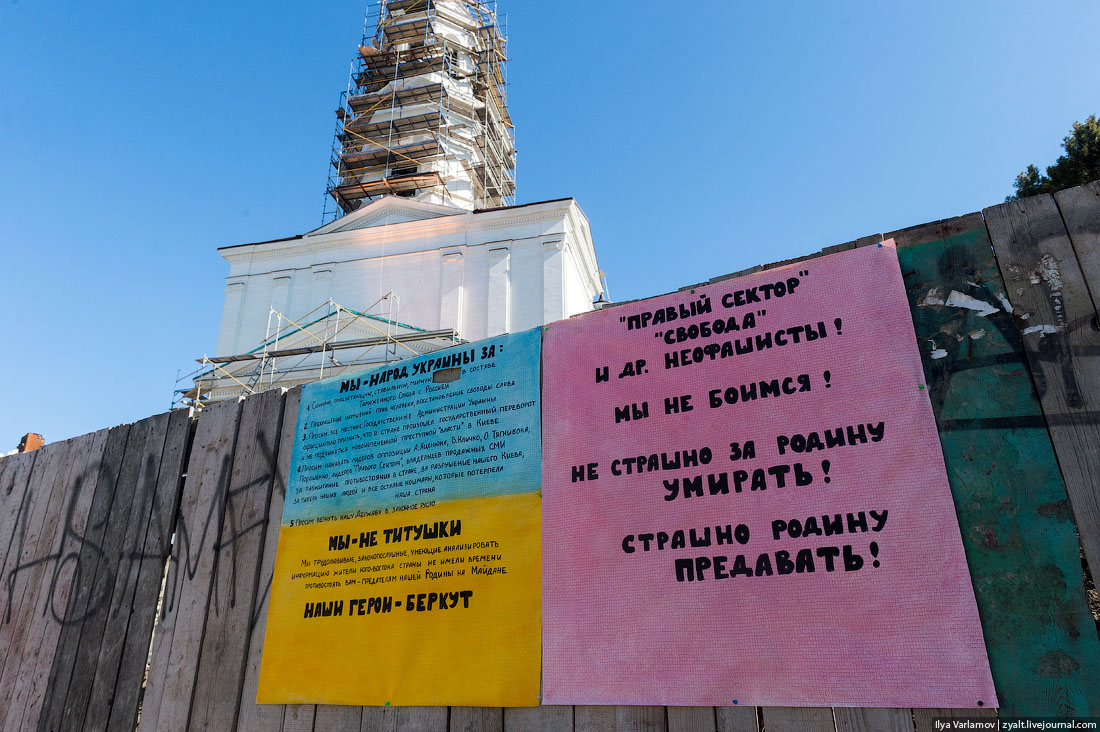 12.
In Simferopol, really nothing happens, so choose to go further.
At 20 km from the city, in the village Perevalnoe there Ukrainian military unit, which blocked the Russian military.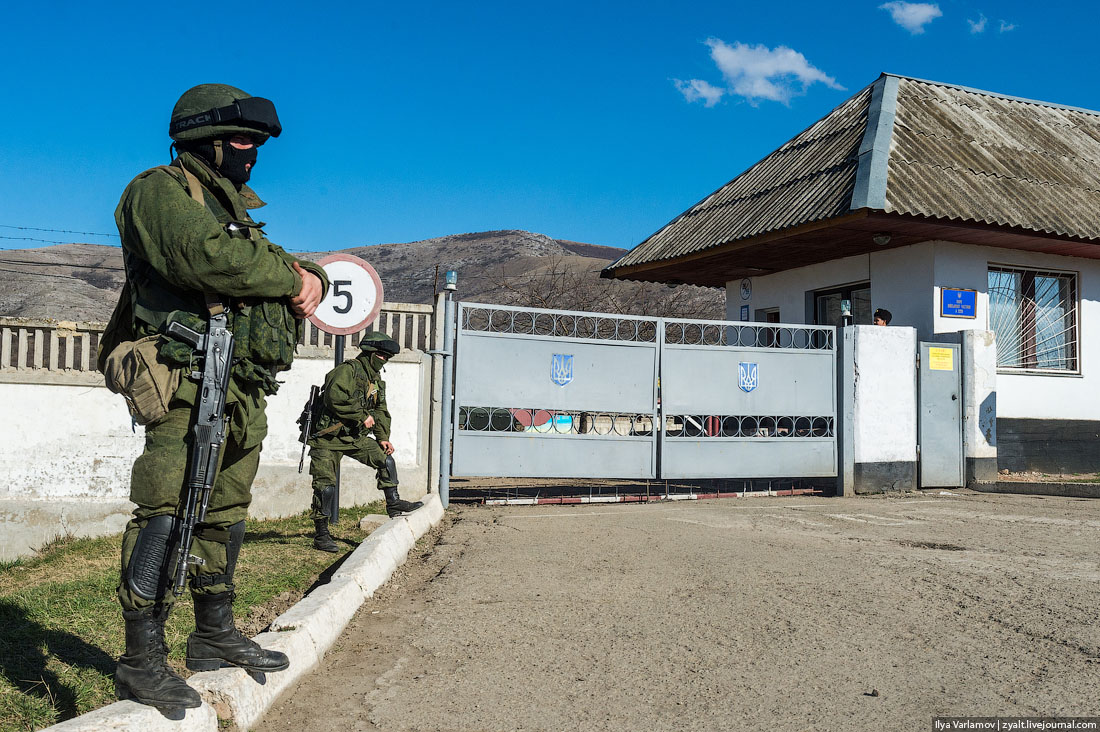 13.
It's very strange situation.
Here come the Russian military camp and blocked all the exits from the military base.
Ukrainian military offered to go to the people.
Party people now called the new authorities of the Crimea, which the new government in Kiev do not recognize.
The commander refused to obey this part of the new authorities of the Crimea.
Soon came the locals, who are mostly wives and relatives of servicemen.
They were afraid that the soldiers would be sent to attack and there is a conflict, so they, too, stood in a cordon between the Ukrainian and Russian soldiers that nobody rock the boat.
They asked the commander to let the soldiers go home and not to argue with people.
Command sent them and said that remains faithful to the oath.
In the foreground are local Cossacks, as they introduced themselves.
Residents from the cordon just in case hanged Russian flags to show that Russian troops are closer to them.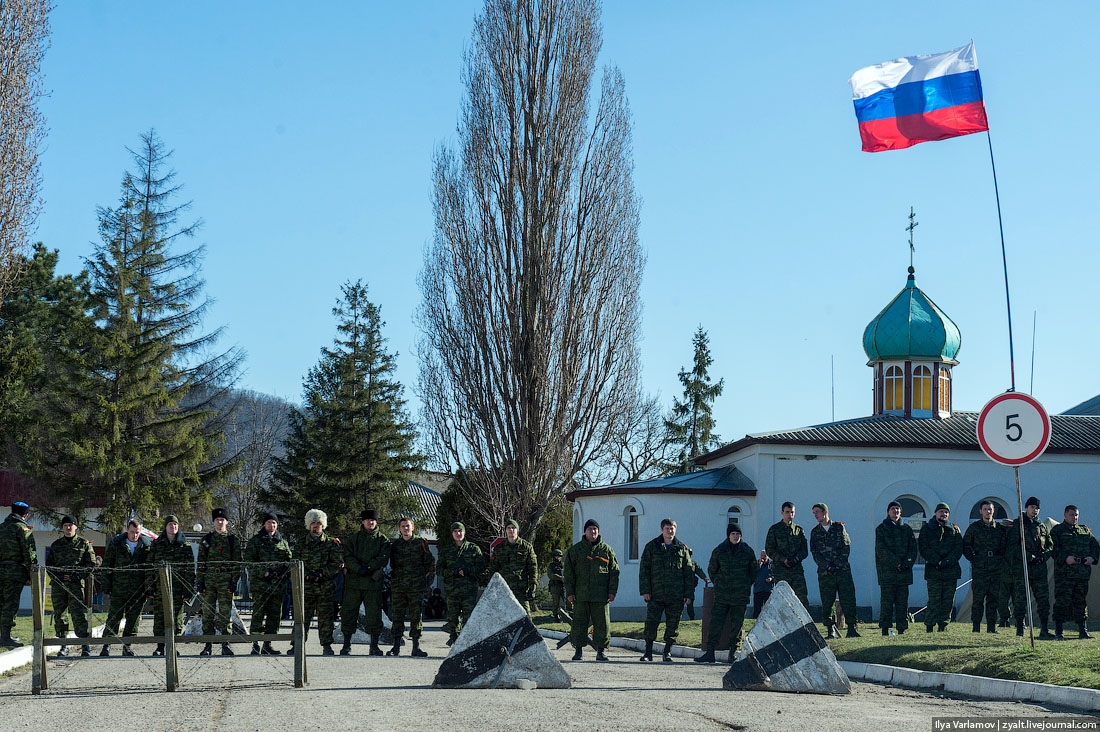 14.
Let's go into the air and look at the balance of power.
Rank Cossacks, followed a small group of people - military wife and mother.
Ukrainian soldiers in the street is almost not visible, they are all going in the barracks and do not go to the conflict.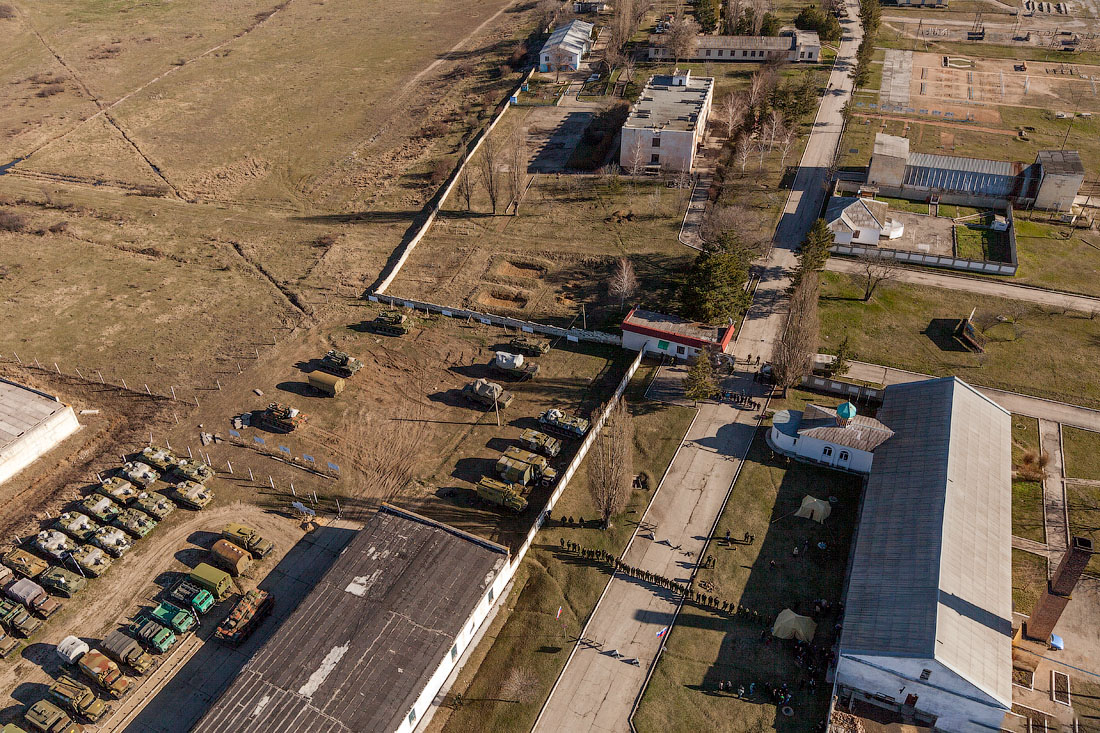 Photo: Airpano.ru
15.
Wives view from the ground.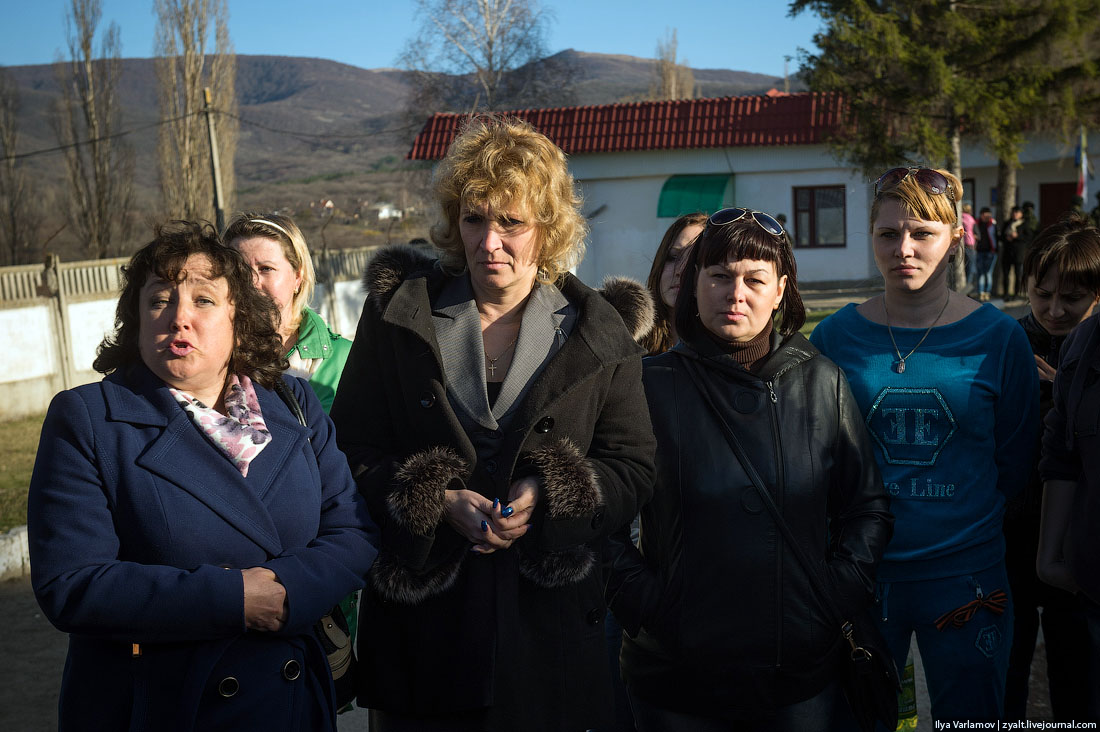 16.
Now let's see what is there behind the fence Ukrainians worth.
Bit technology, mostly rusty trucks and ZSU23-4 "Shilka"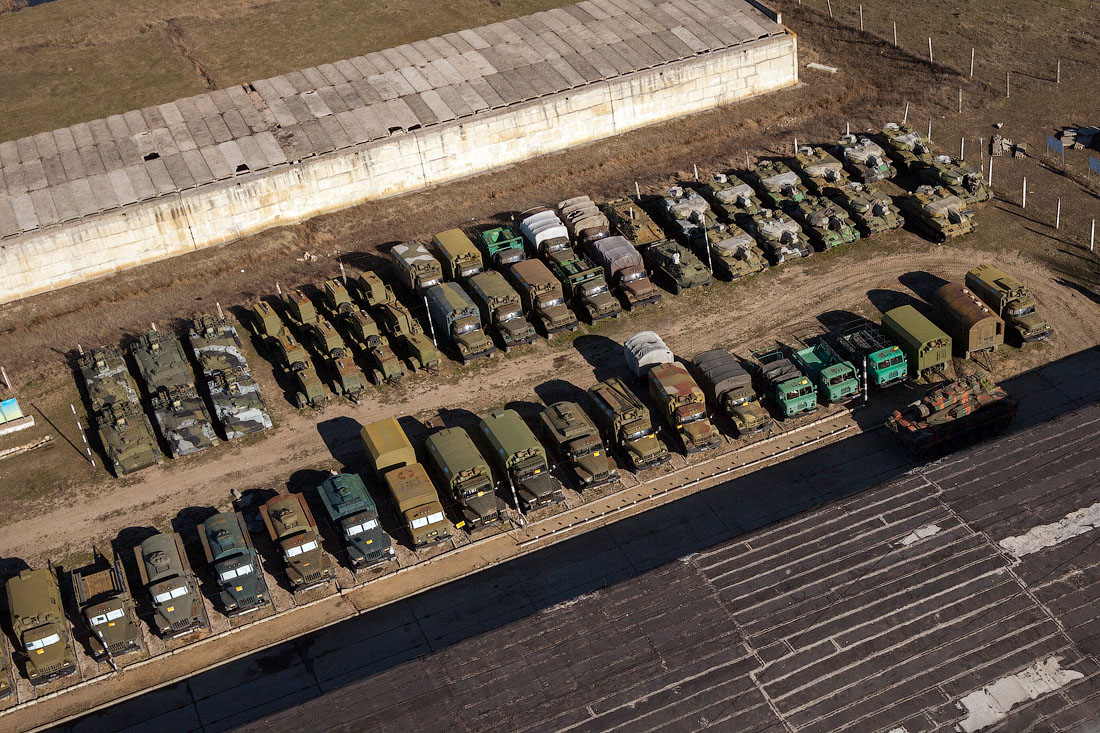 Photo: Airpano.ru
17.
Ups even higher.
Ukrainian gun.
Upstairs saw a camp which broke the Russian military.
Before takeoff asked permission to older, he checked the documents and learned that we were from Russia and said that he can safely fly and shoot.
But after the first lift in the air and returned senior curfews.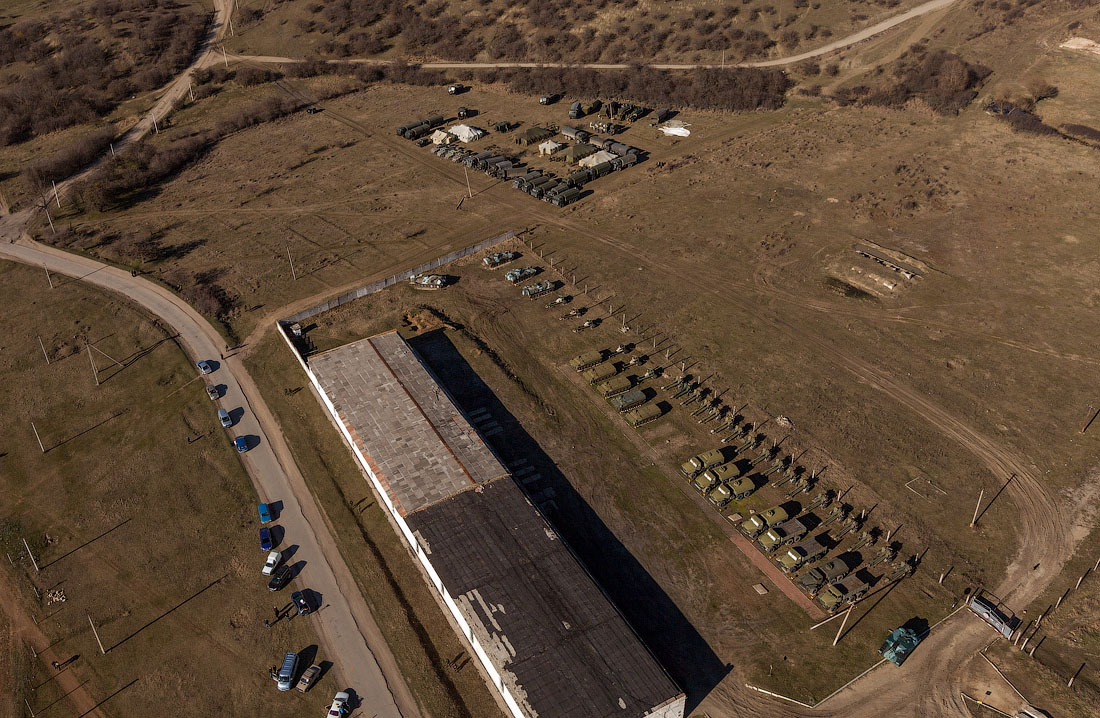 Photo: Airpano.ru
18.
Between soldiers there is no stress.
They quietly chat, share cigarettes, discussing something.
That checkpoint Ukrainian military base.
In black hats Ukrainian military, they quietly come and go through the checkpoint, do not interfere with our.
The impression is that all friends here.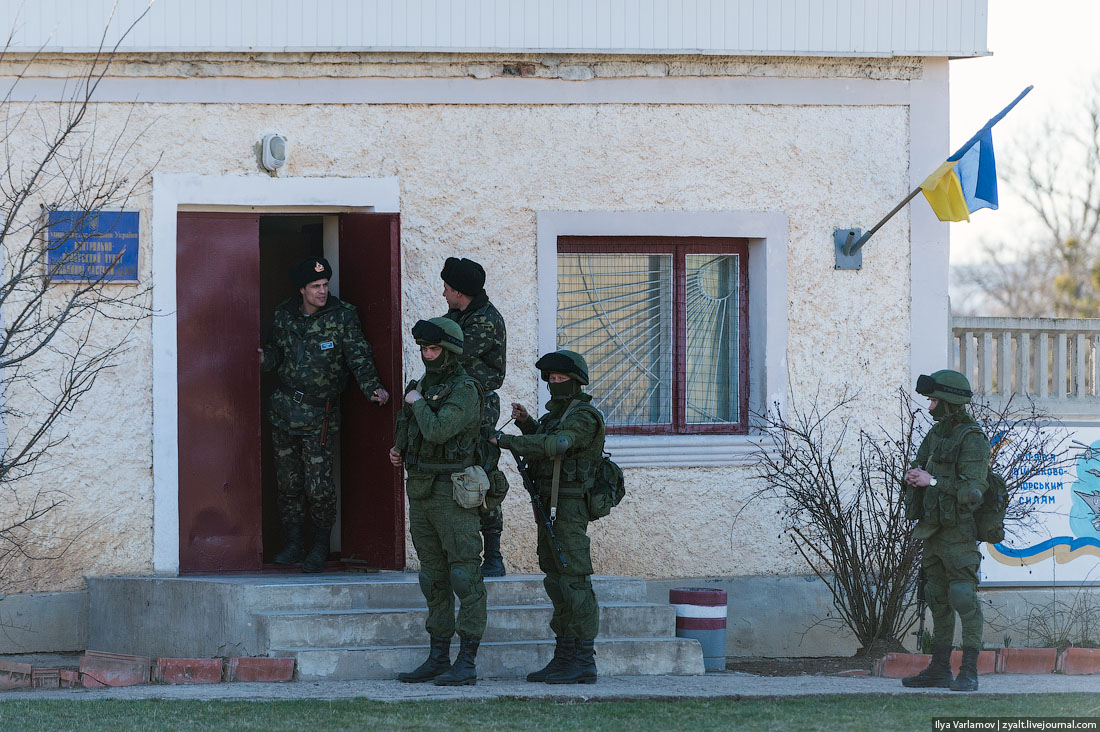 19.
This Ukrainian Ural carries food to Ukrainian soldiers, accompanied by his Russian Tiger.
20.
Along the road are 15-year-old girl with balls and Russian soldiers shouting: "Glory to Ukraine!".
Girls were sociable and told that they were against Russian troops here and generally they are for a united Ukraine and Russia do not need them.
Opinion is unpopular here, but the girls quietly go and shout their "Glory to Ukraine" and no they do not say a word.
In the center of Simferopol for such words may break.
"Glory to Ukraine" is the slogan of "fascists and Banderivtsy in the West who want to attack peaceful Crimea", so many people think here.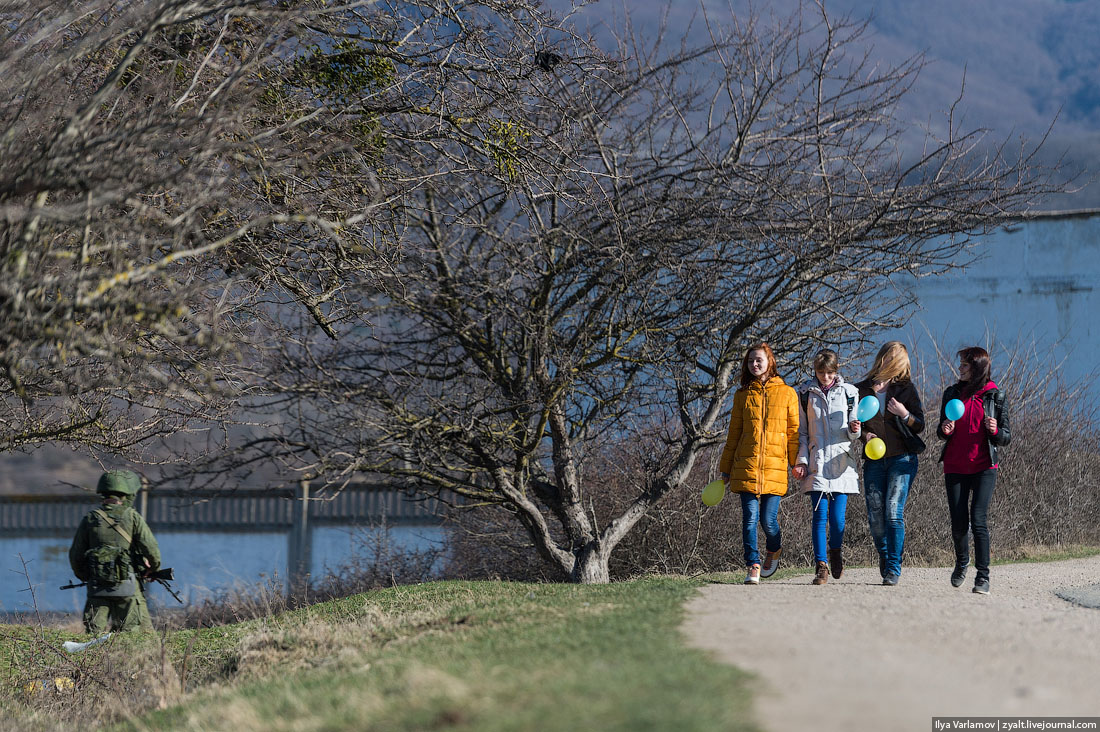 21.
That older girl
- You're what channel?
What shoot here?
Go away!
- They attacked us (I was with Denis Sinyakov)
- We are not a channel
- Now you nasnimat nonsense here, and then will lie that we've got a war!
We're all calm!
My uncle had seen enough and now the news came to the hospital with a heart was bad!
- Continued angry girl
- So you have going on here?
- Nothing happens!
All is well with us.
Russian soldiers came and immediately was quiet, had worried that someone attacks us, now I'm a child to school safely let go.
- It is clear, but about Maidan think?
- And what to think?
They are there drugs pumped.
They say a woman came out, and two days later she started breaking!
- Do you know her?
Where did you get this?
- Well, the rumors are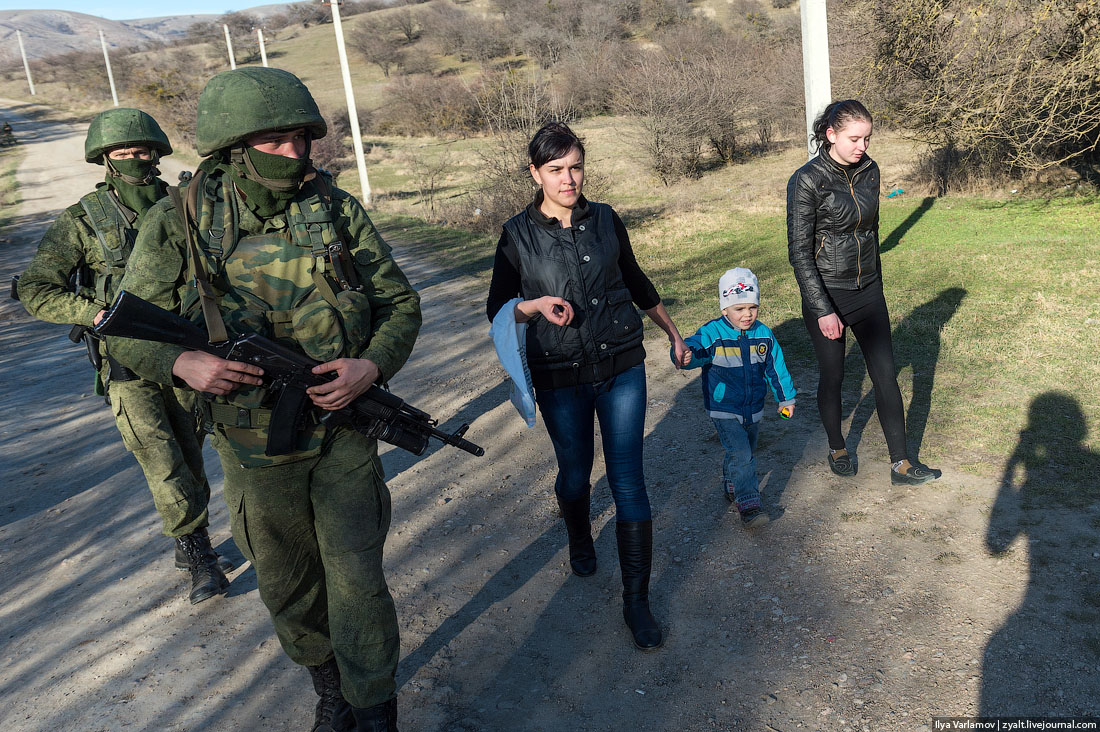 Generally propaganda strange thing happens.
A lot of people earnestly believe in all sorts of crap and rumors.
When I first read online stories about drugs on the Maidan, I laughed and thought, well, what kind of garbage?
Who can believe it?
But many people believe in the Crimea, even my grandmother told me this story.
That is absolutely ridiculous some of the bike went very well in the minds of people and they truly begin to retell it.
Many say that they all go in Kiev with a swastika, right in '39, the Nazis organize parades.
I ask, as you have seen at least one photo of the parade?
Seen pictures of the swastika?
Nobody saw, but "my brother my sister's friend who went there, told me that all it is."
These rumors walk from one village to another, grows shocking details and absurd details.
People with horror you say that in Kiev Lavra looted that American snipers shoot people and other nonsense.
Of course, the common people very worried and nervous because of all these stories.
Here we have to cancel that propaganda on the other hand also works on similar schemes.
Supporters Maidana say that Russian invaders raging in the Crimea, for that part of almost fights go, though seemingly everything is calm, peace and friendship.
Can not trust anyone.
22.
Our Tigers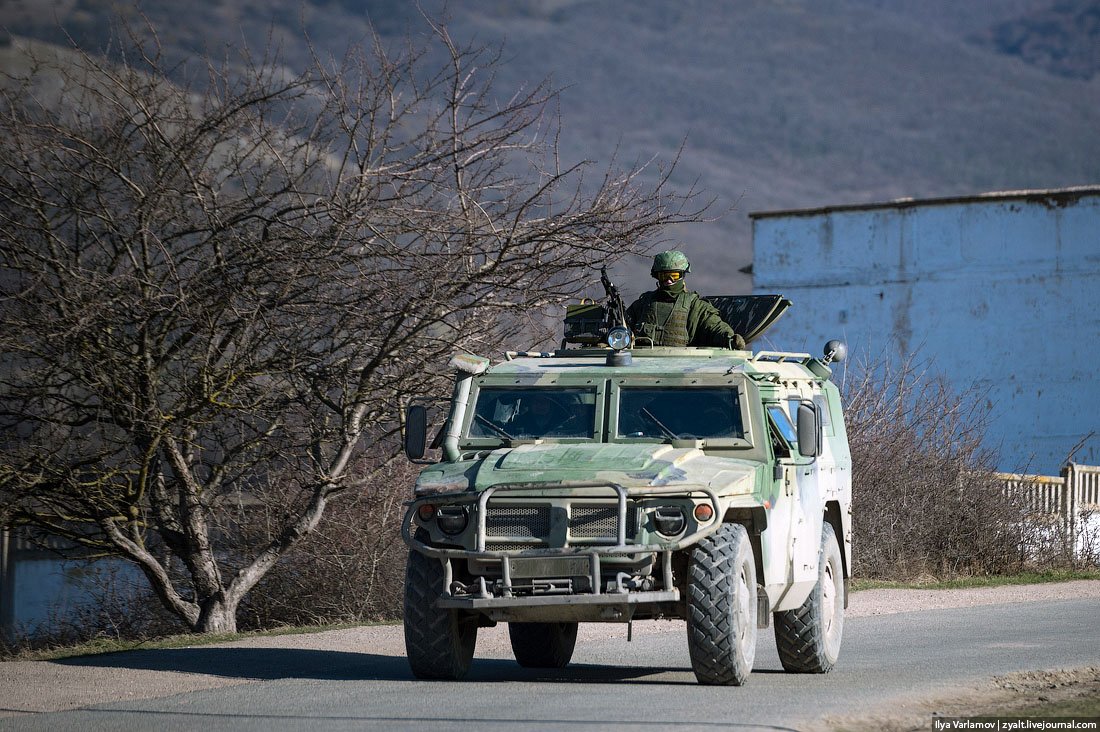 23.
Rooms removed, according to the track recently.
Generally, it is not officially our Tigers, and the Tigers' defense of the Crimea. "
Where did Self Crimea Russian military equipment, nobody explains.
Officially, the Russian military did not block.
But everyone understands that this Russian equipment and Russian soldiers.
Such weapons and form local has never been and can not be.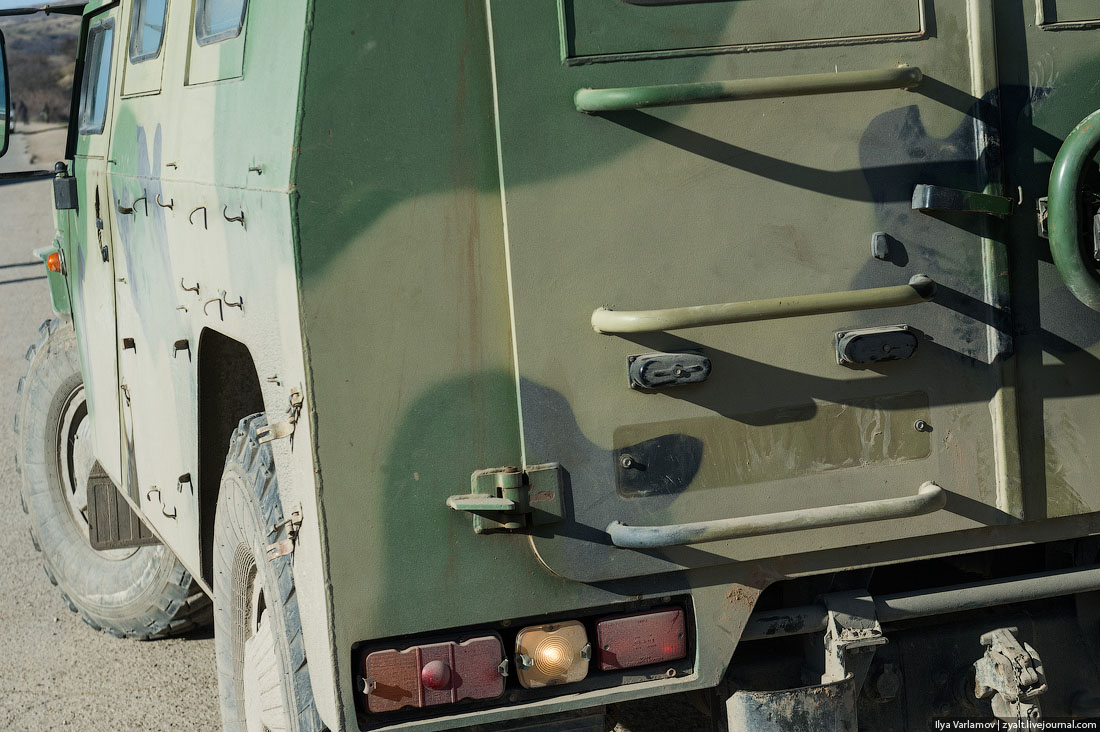 24.
On some machines, the rooms are not removed and you can see the 90th region - it's Black Sea Fleet.
But usually all the same numbers removed or daubed with mud.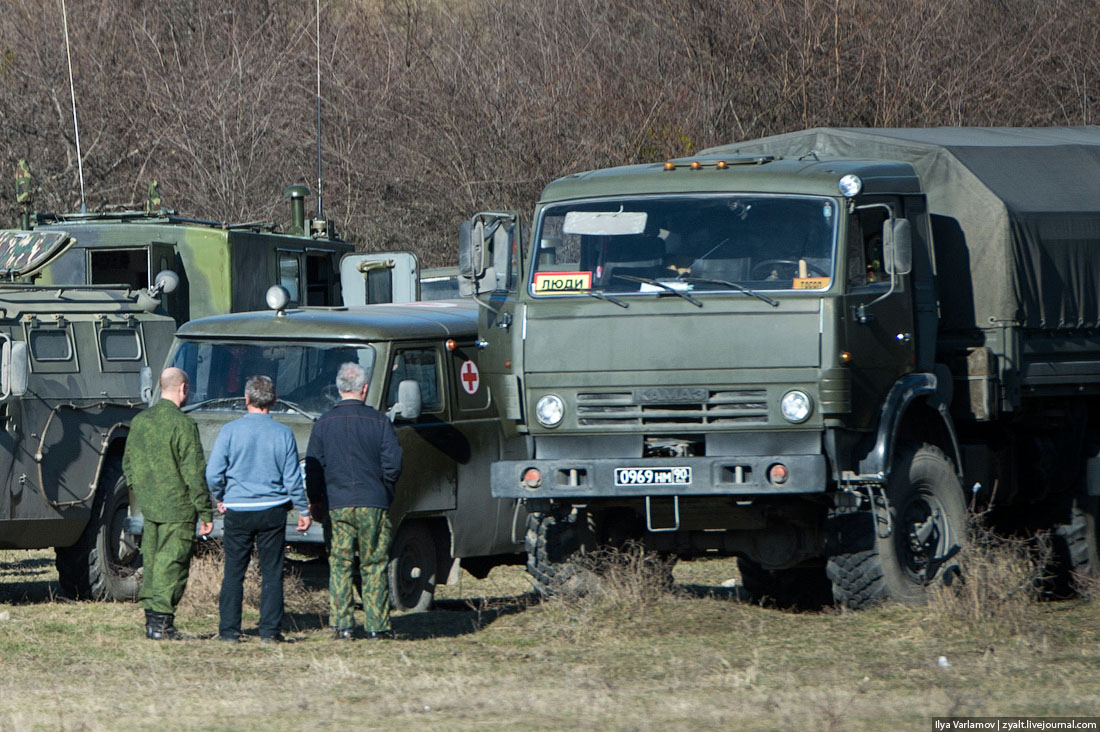 25.
Peresmenka soldiers.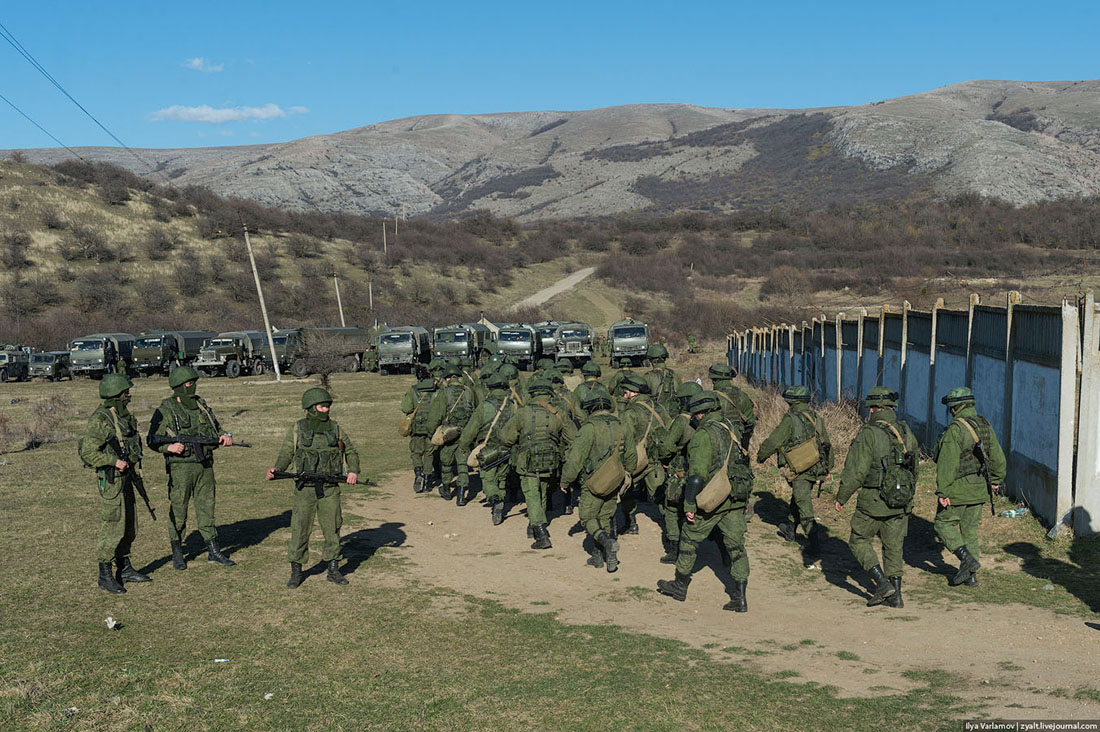 26.
Suddenly I hear the cry of "VARLAMOV!
MY FRIEND!
IDN I hug you, "turn around, and it came Kashin.
Cashin in Crimea working on assignment fashionable nationalist portal Satellite and Mayhem.
This is such an intelligent nationalism for hipsters.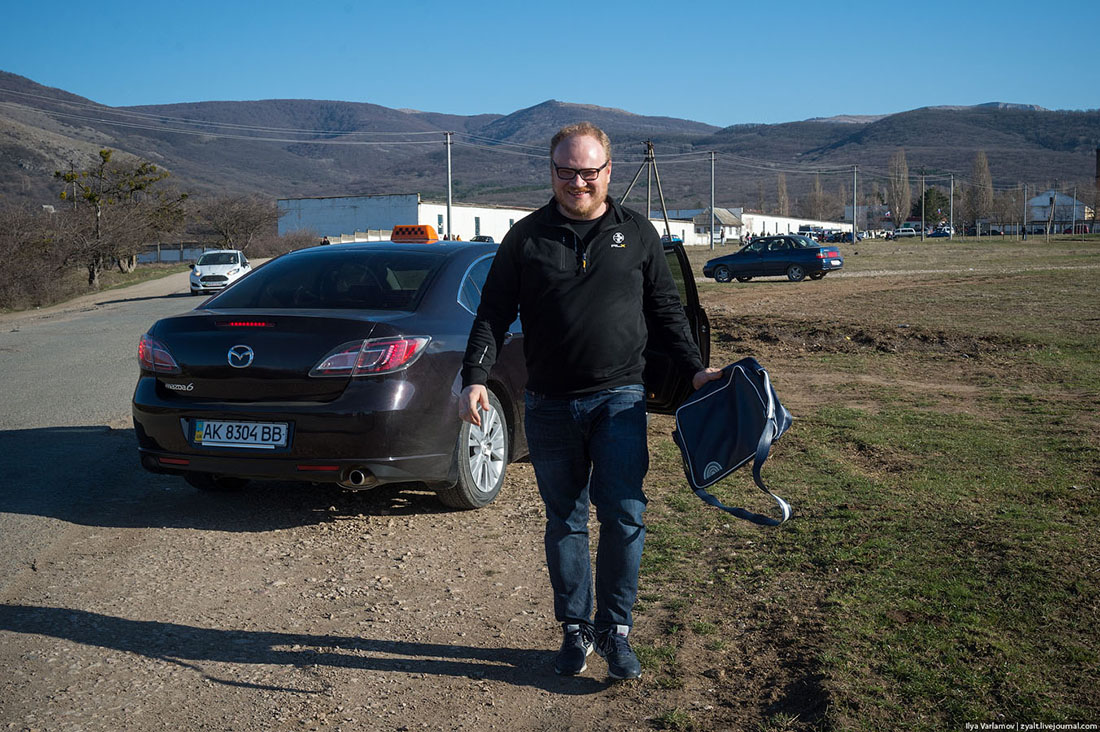 27.
Soldiers.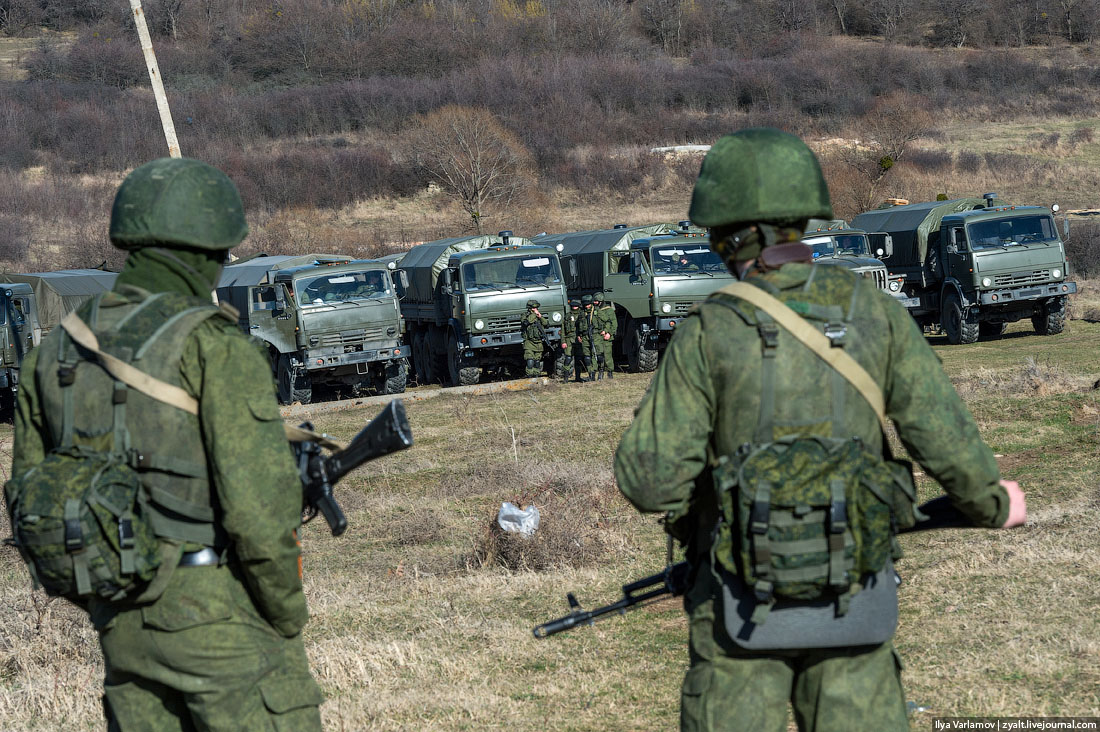 28.
Soldiers unmarked, do not talk and do not comment.
At the same time they are quite comfortable with the fact that they are photographed.
Behavior as in the British guards near Buckingham Palace, which precipitated the crowds of tourists, and they are unperturbed.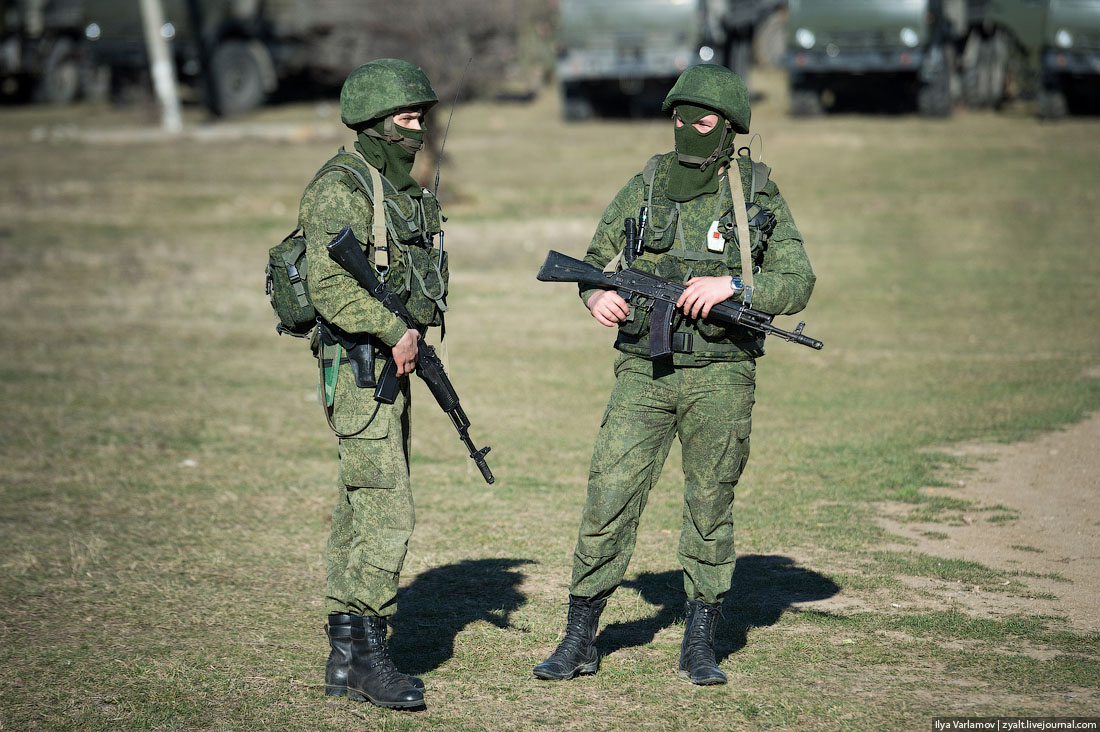 29.
Since it's not officially Russian soldiers, Moscow publicists, who also came to the Crimea, thought up a very steep definition: "The friendly people."
This creates the image of a Russian soldier-liberator who in good shape brand new, with beautiful arms came to protect peaceful villages and towns.
He affable, smiling, can be photographed with him as a keepsake.
He is polite.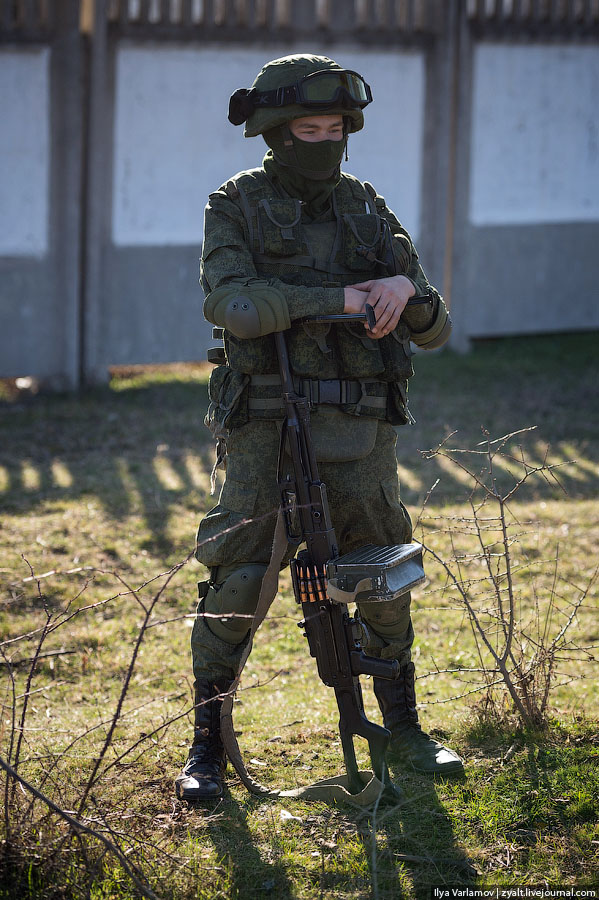 30.
Polite man with a gun.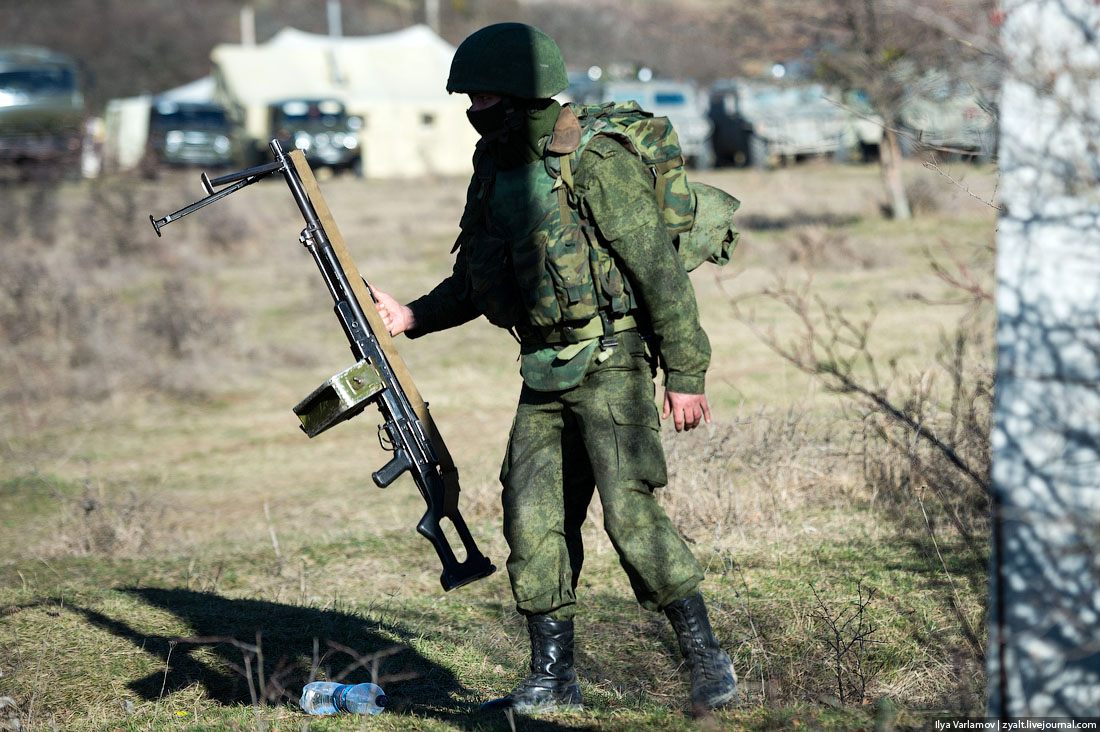 31.
Polite people patrolling the perimeter of Ukrainian military base.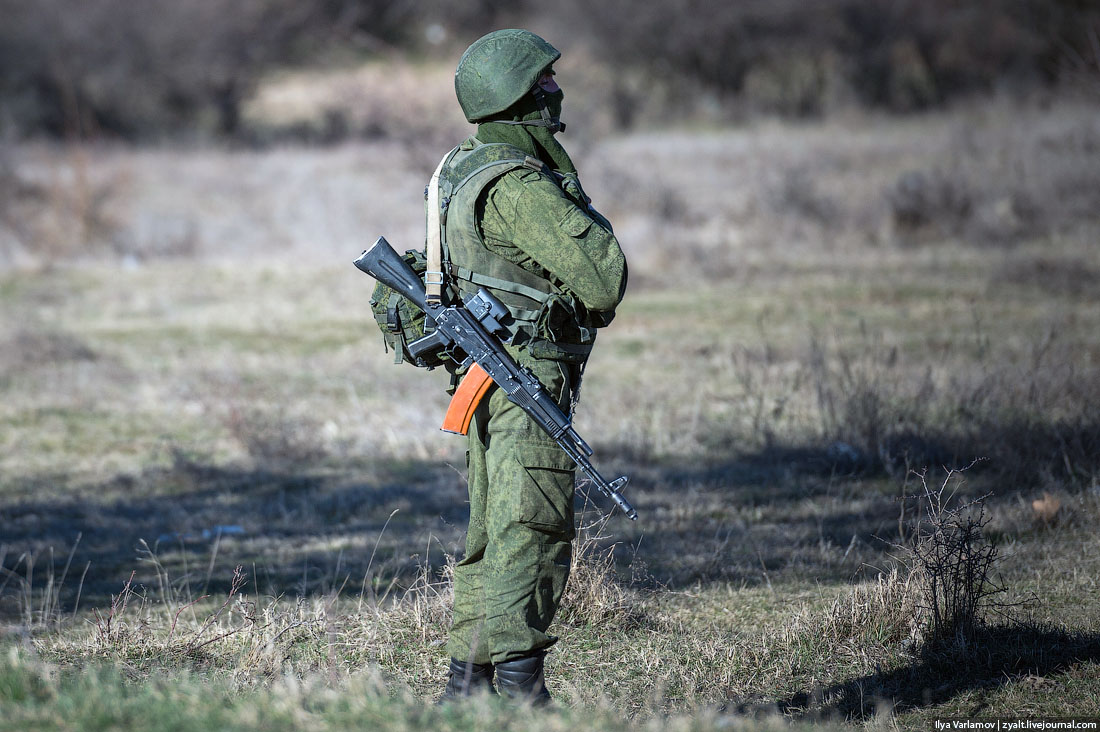 32.
Polite person goes to lunch.
Well look, straight from the propaganda posters.
There are actually all the same.
Many first learned that our soldiers can look decent.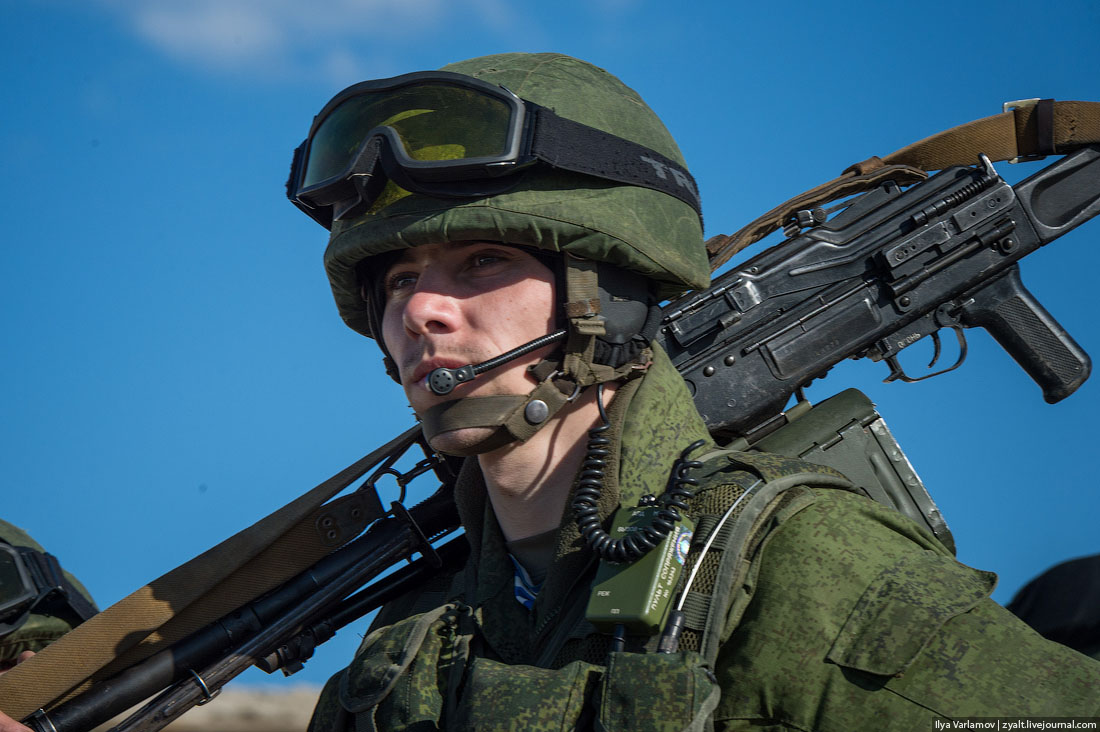 33.
Polite people block the exit from the Ukrainian military base.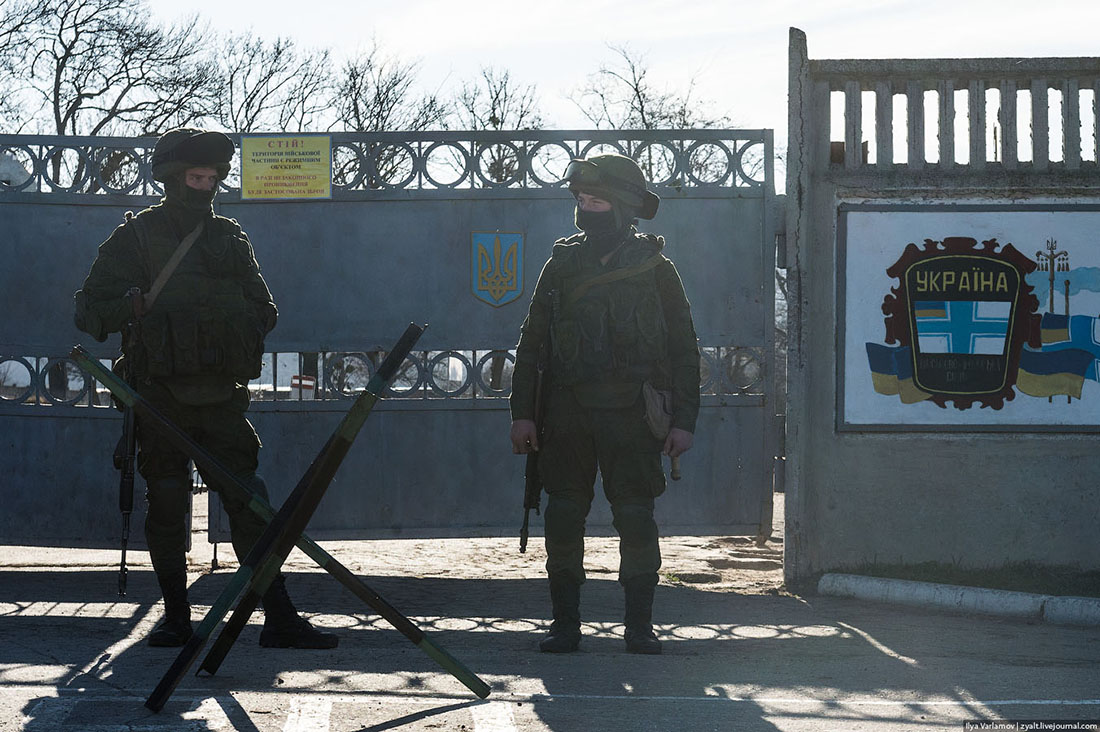 34.
A so-called local Cossacks who guarded the entrance.
Whom they obey what they were doing at all, they came from - is unclear.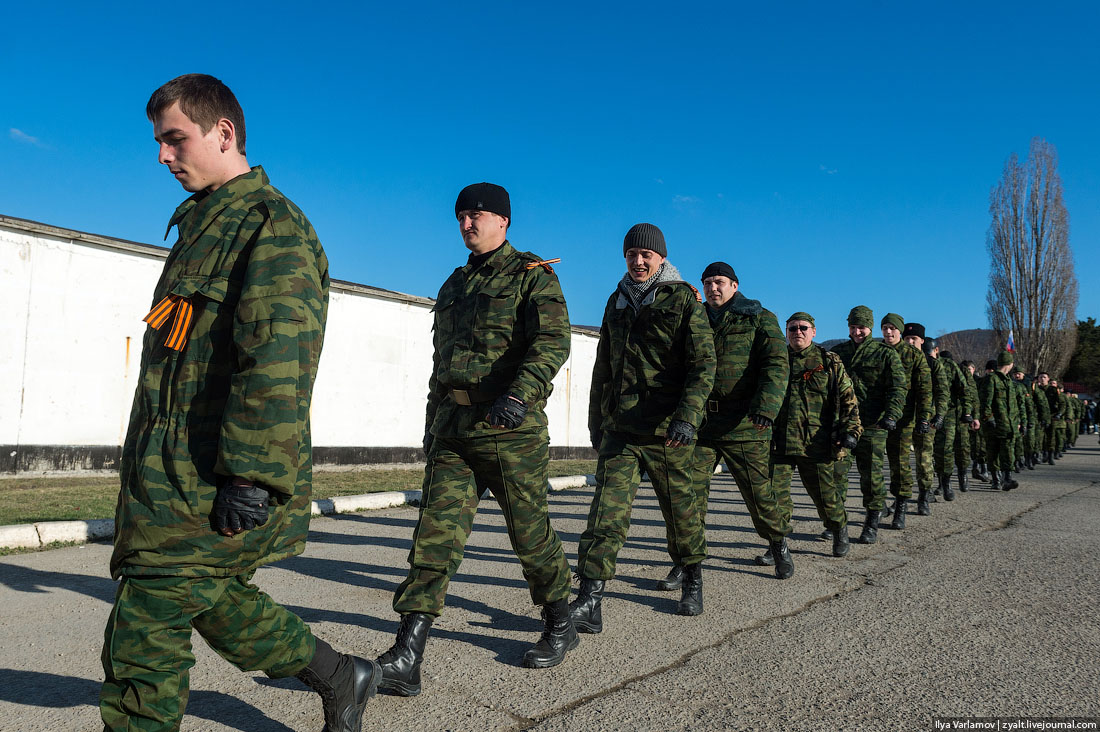 35.
Ordinary people are arguing about the future of Ukraine.
Disputes hot, sometimes they turn into fights and petty fights.
Some drunken come from nearby villages to bring their "only correct position."
Thoughts different from "Tell Obama its that we will not allow it!
CIA here we do not! "To" let the boy go home, they normally need to eat! "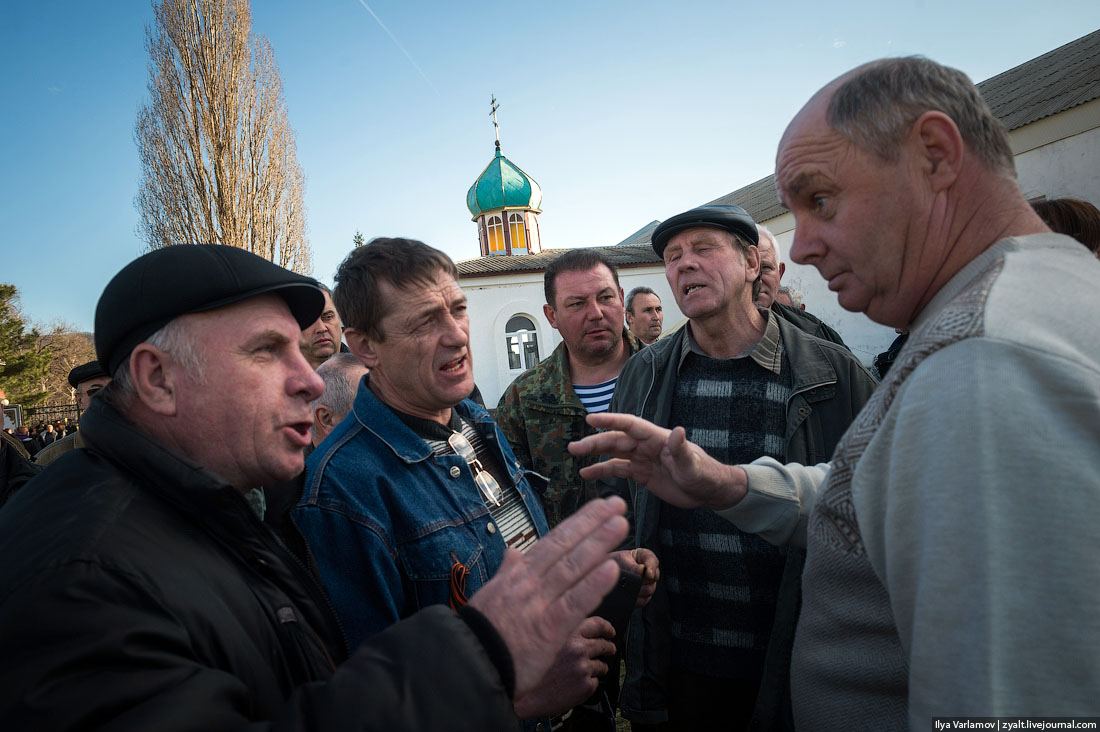 36.
Still a lot of rumors and they aggravate the situation no less than journalists escalate the situation.
For example, someone always comes up with "credible information" that is about to begin the assault Ukrainian military bases.
Or that night have to kill a Russian soldier that it was the occasion for a serious attack.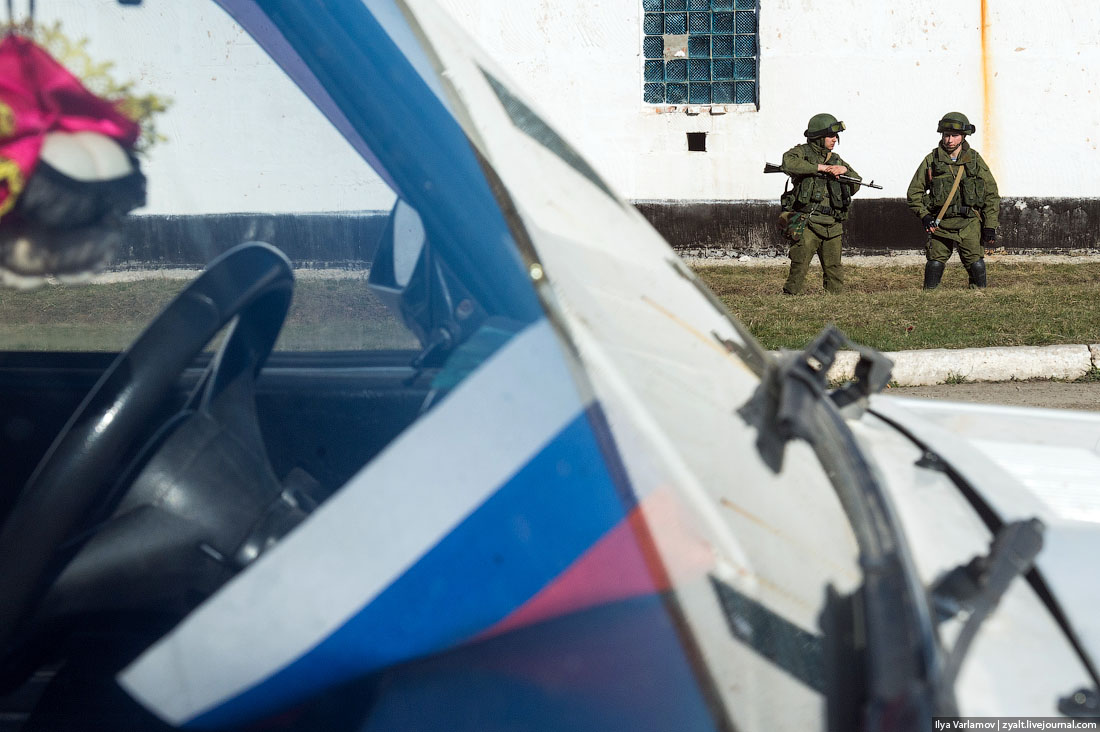 37.
Time to go back to Simferopol ...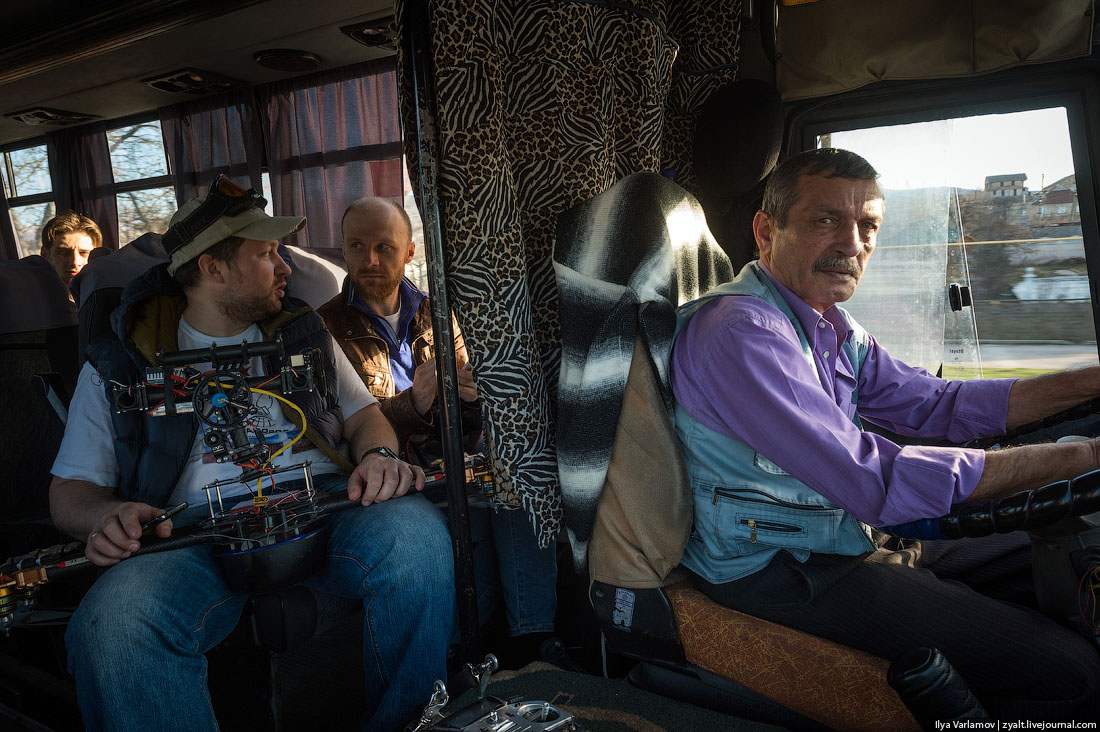 38.
In Simferopol ridicule Maidan ...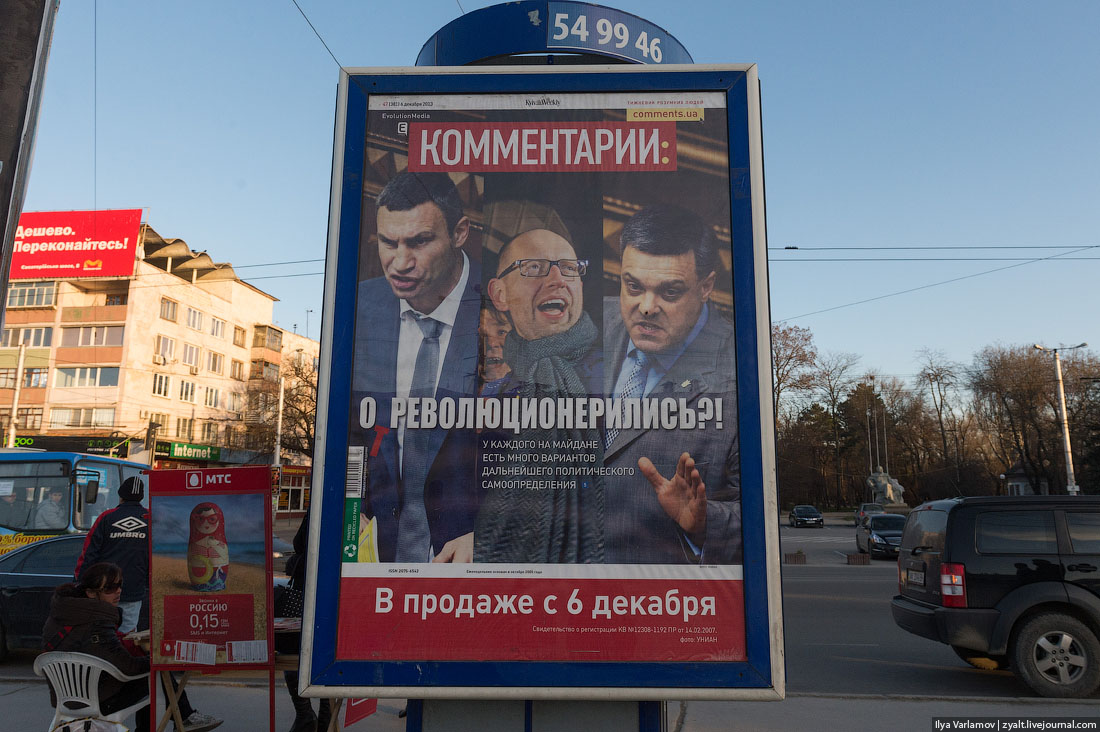 39.
In Simferopol, chic old trolley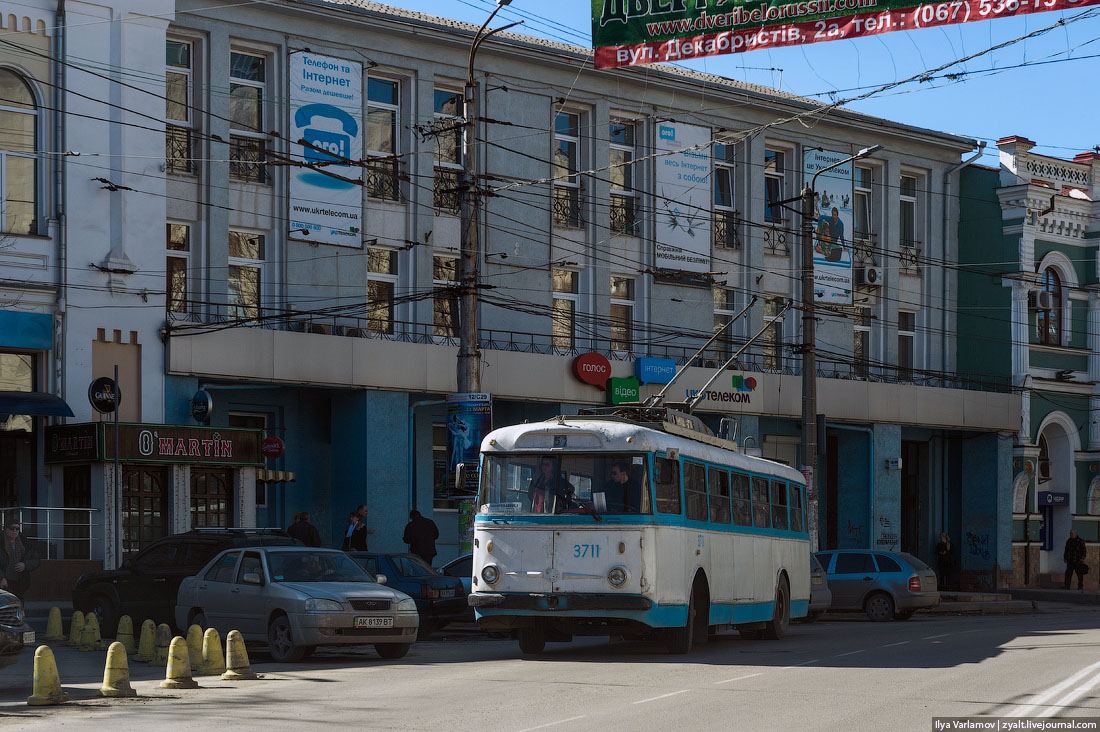 40.
And no less posh new ...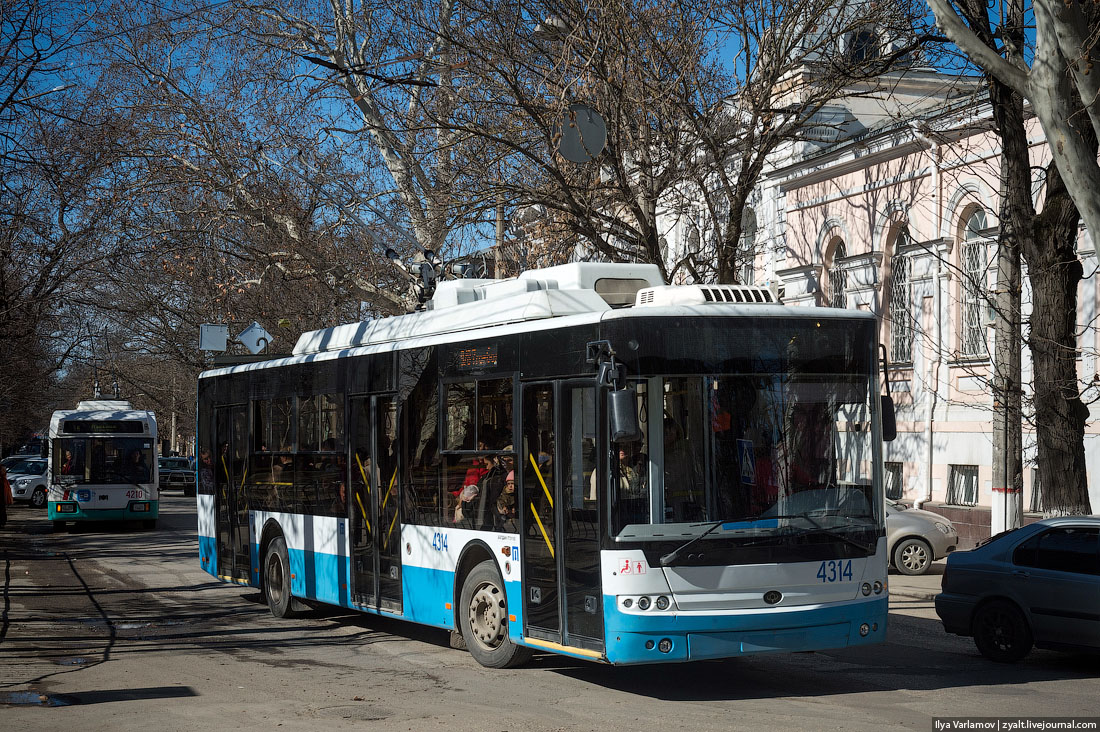 41.
In Simferopol many samostroya ...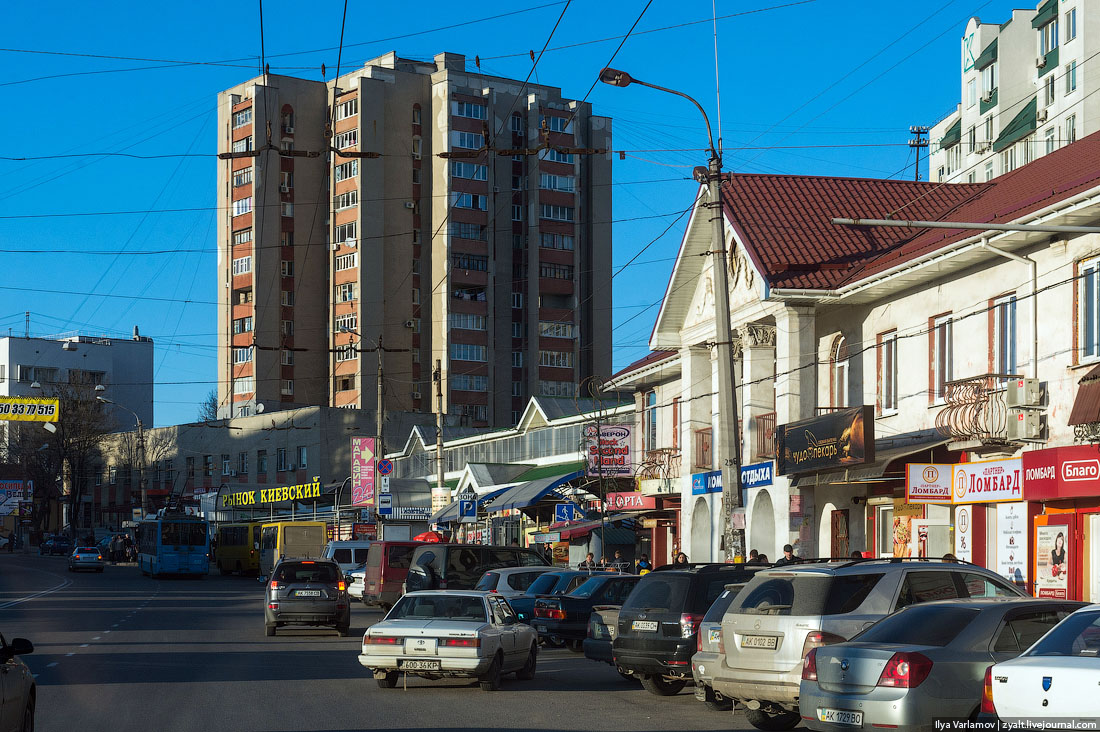 42.
In Simferopol, parked on the sidewalk like an asshole.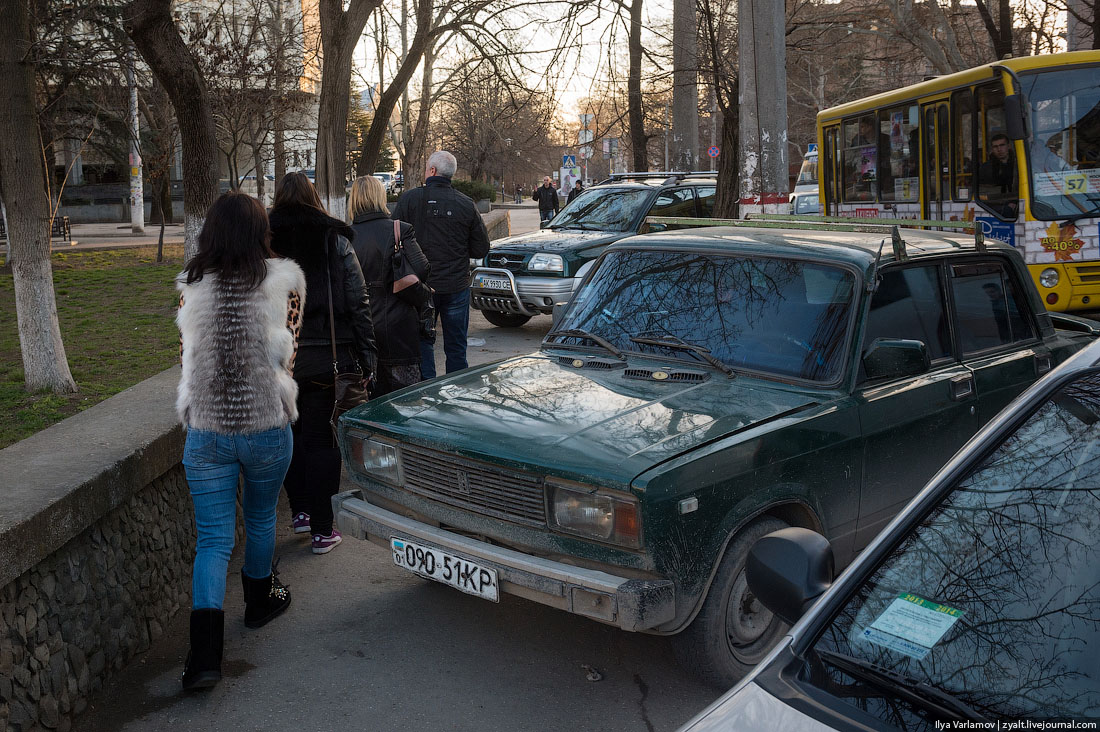 Simferopol city with a Russian soul.
Now reread your post and realized that I started as krymchanin convince everyone that everything is calm and well, an infectious air of tranquility here.
Actually Feels Crimea wants normal holiday season, and not policy to military conflicts.
For breakfast grandmother baked the best pancakes in the world and went to the "savings bank" to receive a pension.
In connection with the recent events here in issue no more night 1000 hryvnia ($ 100) on your hands, so people a little worried about their savings and precipitates ATMs and bank branches.
'via Blog this'