Ukrainian Cop Blows Whistle On Abuse Of Protesters - Vocativ
:
Cop who filmed the humiliation of a Euromaidan activist by fellow officers has resigned and reportedly in Europe
If Ukrainian demonstrator Mikhail Gavrilyuk's stripped, beaten body has become the latest symbol of his nation's budding revolution, then the whistle-blowing cop who filmed the brutality of his fellow officers is a sign of the growing discord among law enforcement charged with defending the unpopular government.
Ukrainian news outlet TSN tracked down the cop who shot the shocking video of the Berkut riot police abusing Gavrilyuk, and he agreed to beinterviewed anonymously.
"I don't even know the words to say. More so than outrage, I just felt such shame at what was happening," the cop told TSN when asked why he gave the video to a friend, who later published it online. He said the officers tried to deny any wrongdoing. "They were all lies, and people believe them."
Police pummeled Euromaidan activist Gavrilyuk, took his clothes and humiliated him, making him pose for nude photos. Unfazed, he was out on the streets of Kiev the very next day. His resilience is inspiring to more than a few of his fellow protesters, who have faced subzero temperatures in the last few weeks in their ongoing demonstrations against the Ukrainian government while the Berkut beat them back.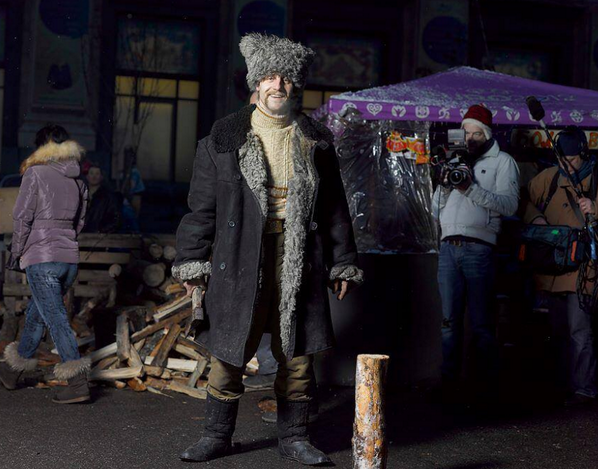 That resilience has paid off, at least partially, in the form of Tuesday's announcement that Prime Minister Mykola Azarov has resigned. President Yanukovych accepted his resignation and also approved the parliamentary repeal of new laws passed earlier this month that restricted freedom of speech and assembly.
When the video of Gavrilyuk first appeared online last week,
Katya Gorchinskaya of Kyiv Post wrote that the video leak
suggested "a growing discontent within the ranks of officers."
Turns out she was right.
The white-blowing officer, who has reportedly resigned, went on to say that special unit operatives such as the Berkut "act like they're untouchable," especially "when they feel secure that they're not being filmed, and they have a superiority of force."
He added: "It is a crime to torture these people after they've been arrested. And to cover up a crime is also a crime. So I decided not to stay silent. I don't consider myself a hero, just a thoughtful citizen. I just acted like a good person should."
A new angle from the video shows that dozens and dozens of Berkut were present and allowed the abuse to happen.
According to TSN and the Ukrainian news site Gazeta.ua, the anonymous former cop has now left Ukraine for the European Union to avoid persecution.
The country's relationship with the EU is at the heart of the Euromaidan protests: They began on Nov. 21 last year when the government announced it would forsake an EU partnership, and intensified in December when President Yanukovych signed a deal with Russian President Vladimir Putin. (For a full timeline of events, go here.)
'via Blog this'