Anatomy Maidan
http://zyalt.livejournal.com/986057.html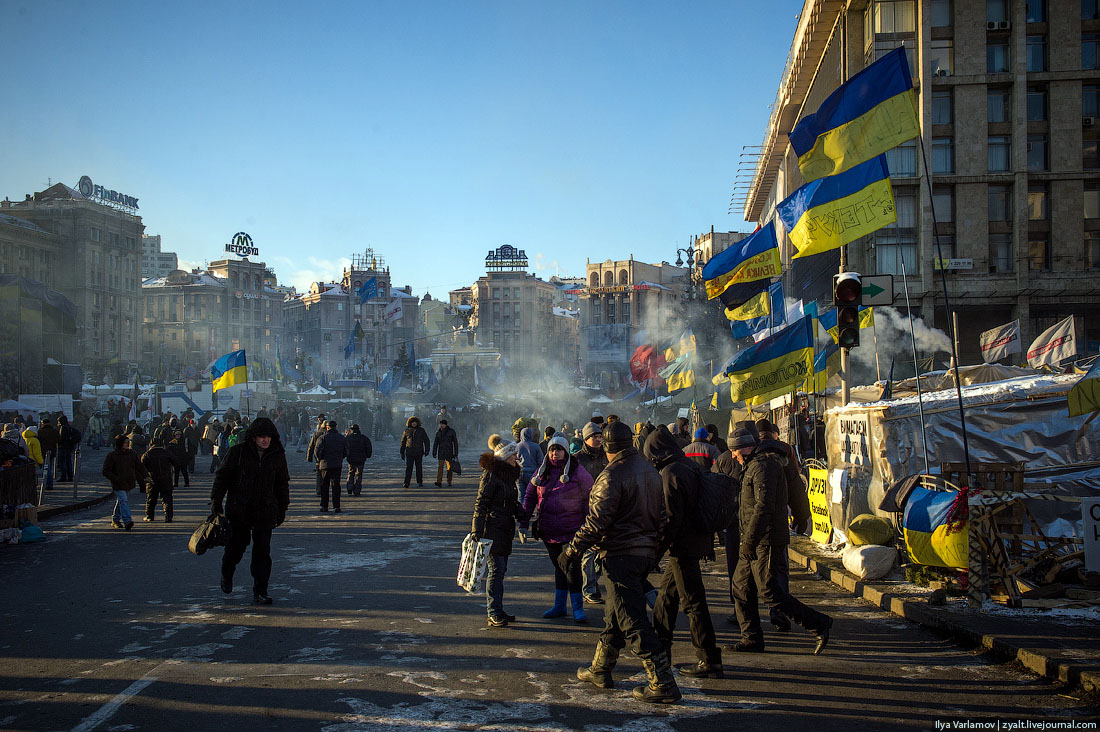 In Kiev, a slight lull, and it's time to explore more Maidan.
Almost everyone has heard the word, but not all are as everything is arranged.
Now the protesters occupy the center of the city - the area (Independence) Independence, almost all Khreschatyk (Main Street), the European area and several adjacent streets.
Captured several administrative buildings, they arranged points heating, medical care, reception and distribution of things.
Themselves on the streets are hundreds of tents in which they live activists who came to Kiev from all over the country.
On the Independence terrific organization.
This small state.
It has its own army, its weapons depots (bottles, sticks and stones), food, has its own internal press, shops, and, of course, very good Maidan protects its borders.
All approaches are protected from invasion high barricades.
Maidan resembles a colony of strict regime - watchtowers, barbed wire, security everywhere.
Maidana defense - it is well armed with sticks, chains and firebombs fighters.
In their ranks reigns real army discipline.
They march and in their spare time learning the art of street fighting.
All advocates are divided into groups, each detachment commander there, medics and even bearer.
On the Independence has everything necessary for life.
Free food here, you can get free all the necessary clothing and protection, that if you opdlechat.
Many came here two months ago and stayed.
Of course, the living conditions are bad.
Toilets - the usual booths on the streets, bask - campfires, sleeping in tents in the cold.
Sure, after the resolution of the political crisis, some Maidana should cover glass dome and make the museum.
Maidan - Kiev is a modern landmark, and it is necessary to keep a part for future generations.
Real art.
Let's start with the card.
I painted over the pink area of ​​the square.
Red lines show the barricades.
Black numbers - numbers of photos, which depict these barricades.
Hopefully, with the card will be easier to navigate.
Actually, someone already has to make a virtual tour of the Independence)
01.
One of the main street barricades on Instytutska.
It repeatedly stormed, and it is the most fortified.
This is the view outside.
Note that the approaches to the barricade stretched rope, then urchins, then drums and then a five-meter barricade.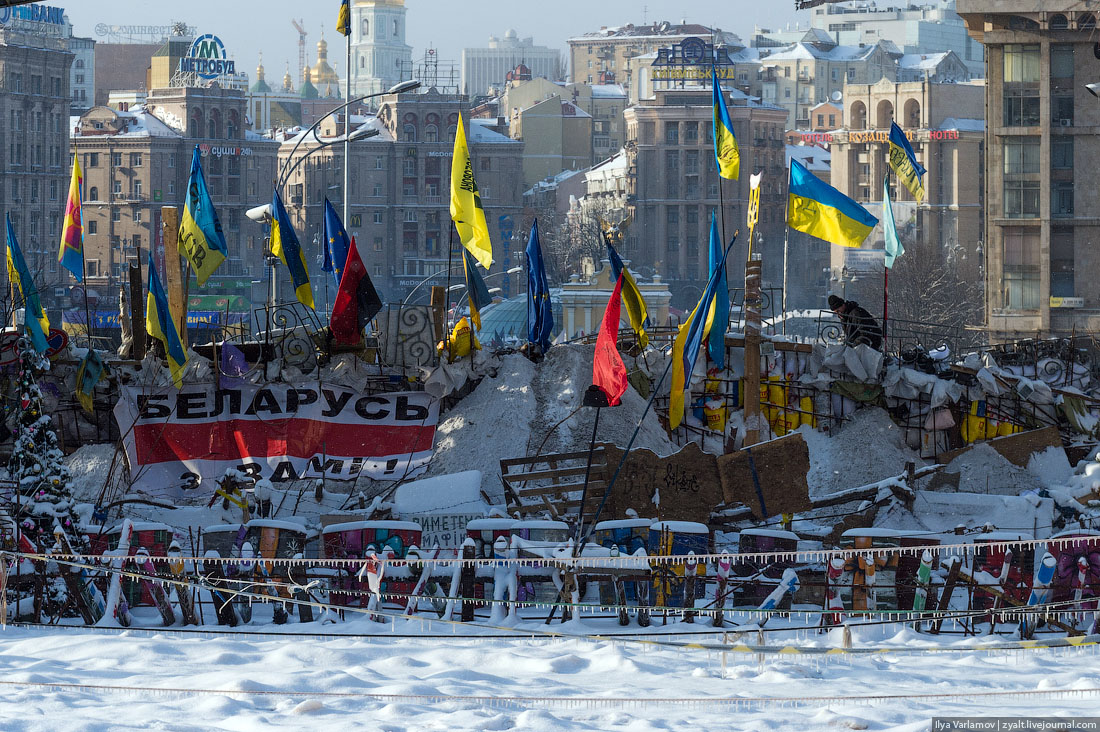 02.
View from above.
Notice on the left - a few strips of obstacles.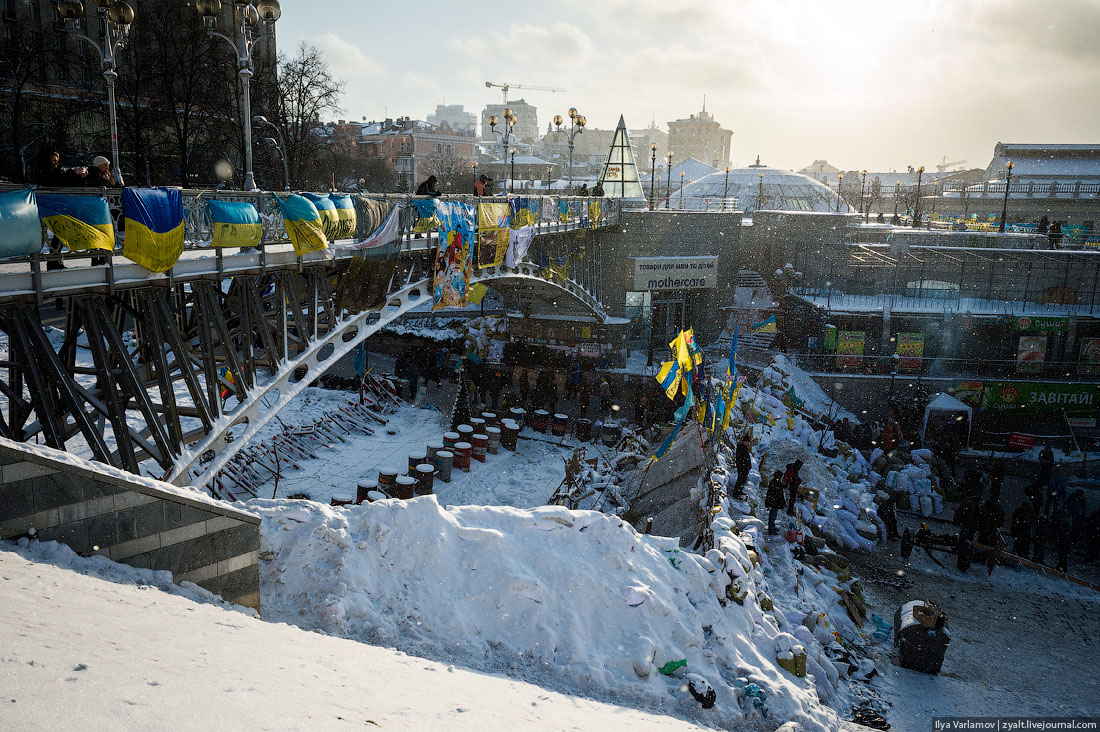 03.
View from the defenders.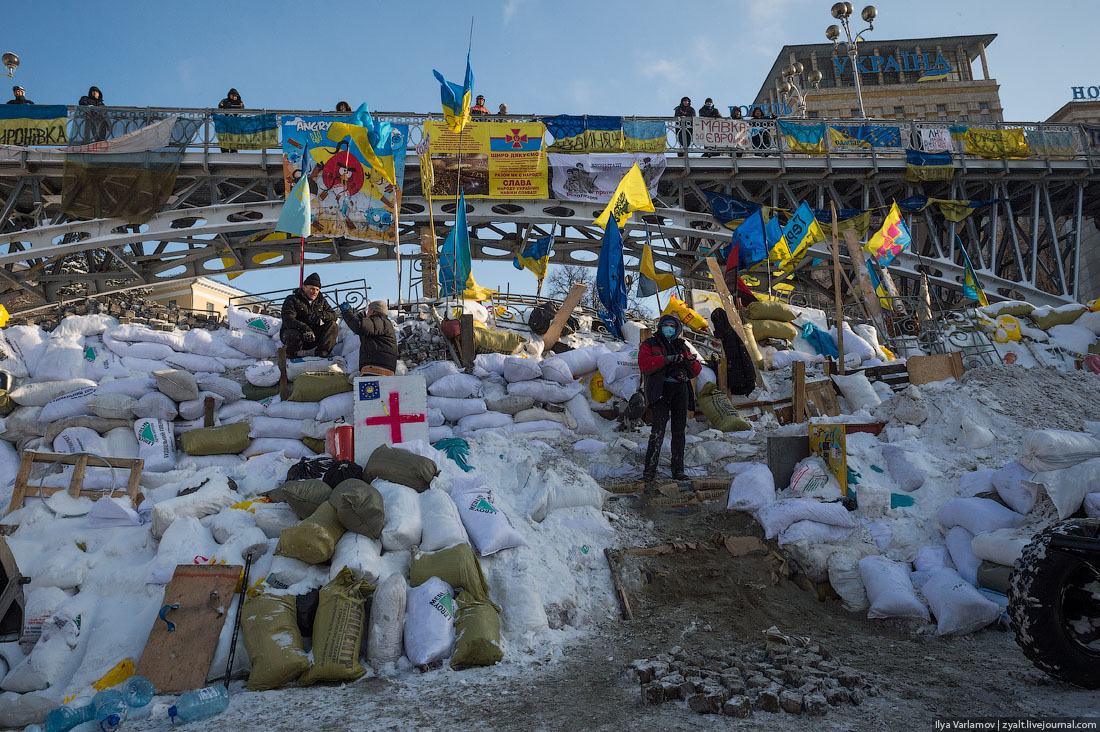 04.
The design is very serious, I do not think that it can carry a bulldozer.
Running joke that the only way to take Maidan - it bombed it on top.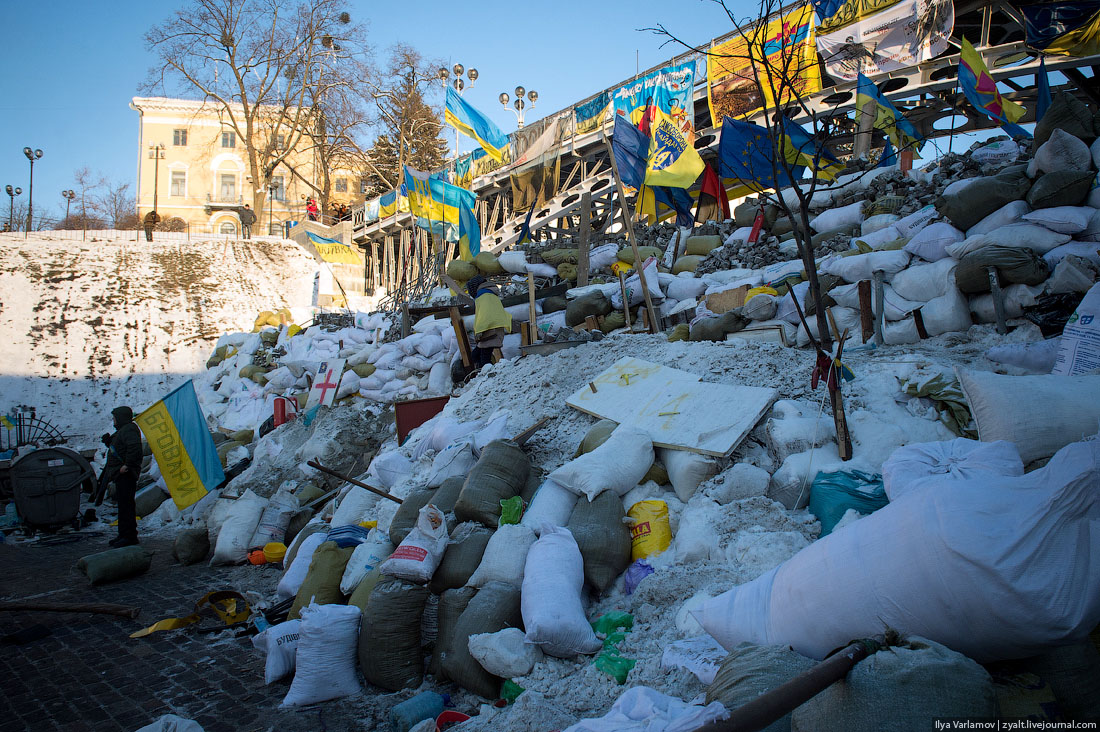 05.
Barricades turned into a tourist attraction in Kiev, with them being photographed by tourists and locals.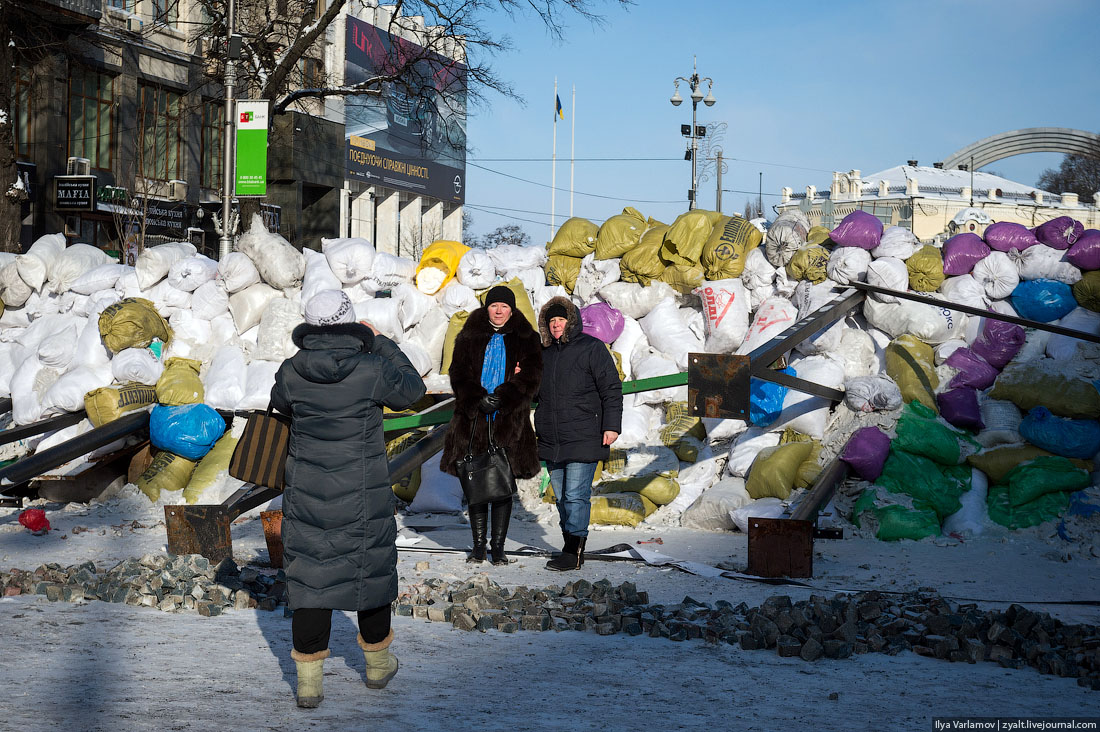 06.
Another barricade the capital.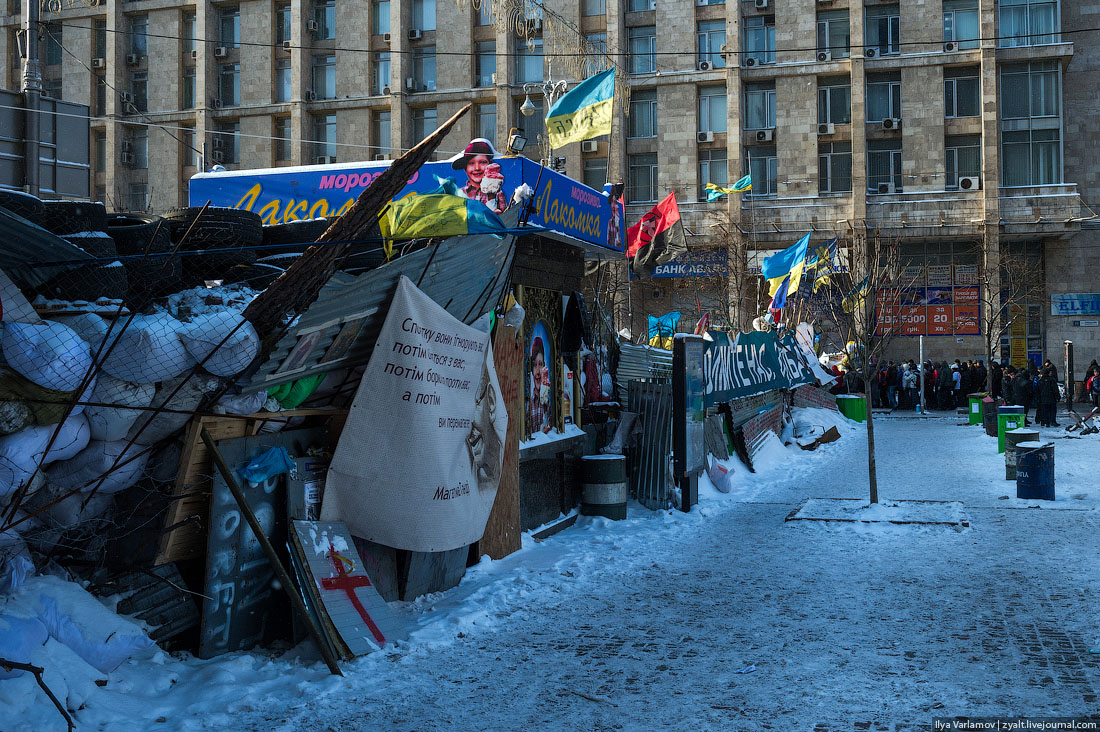 07.
Here, too, a few rows of protection.
Itself barricade then a buffer zone and a fence with barbed wire.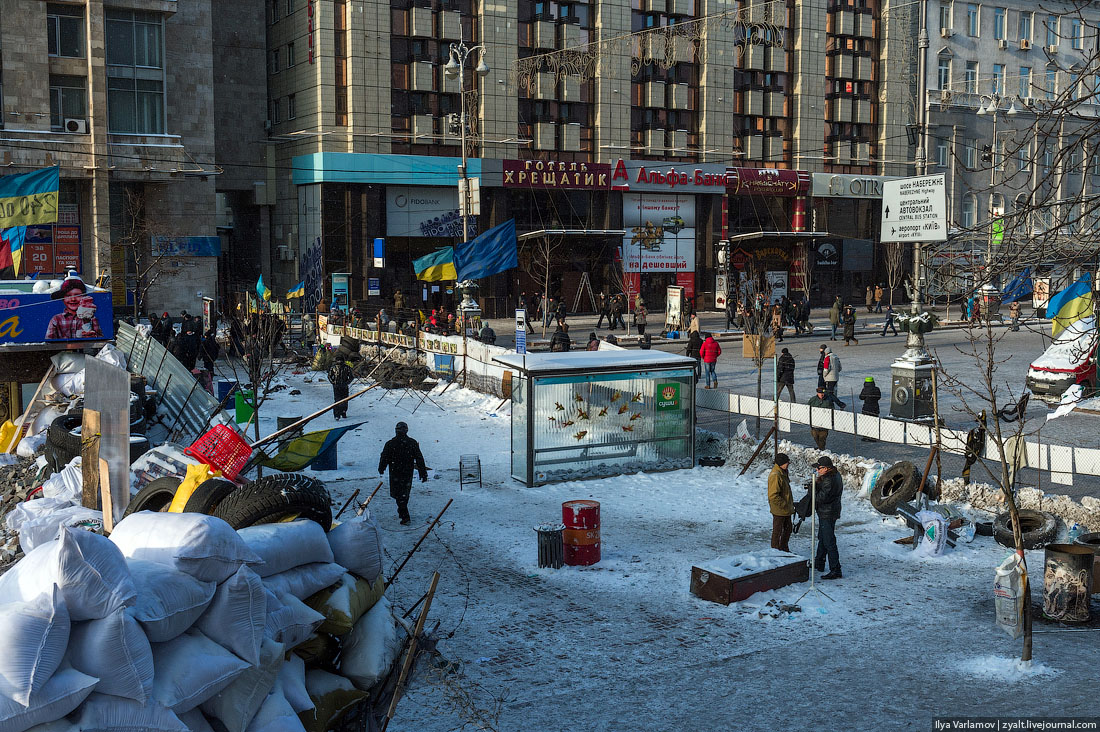 08.
The entire perimeter of the Maidan is well protected against any unauthorized intrusion.
Do not be surprised if sometime around Maidana will minefields).
And may have already appeared?
;)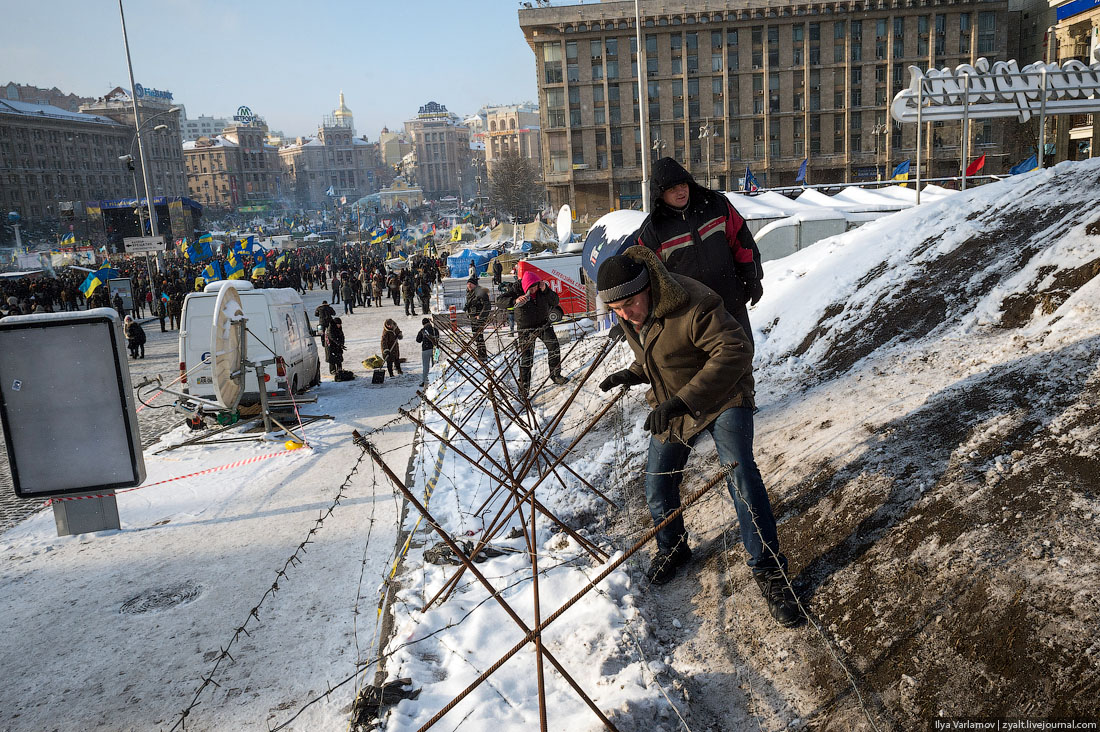 09.
Footpaths blocked.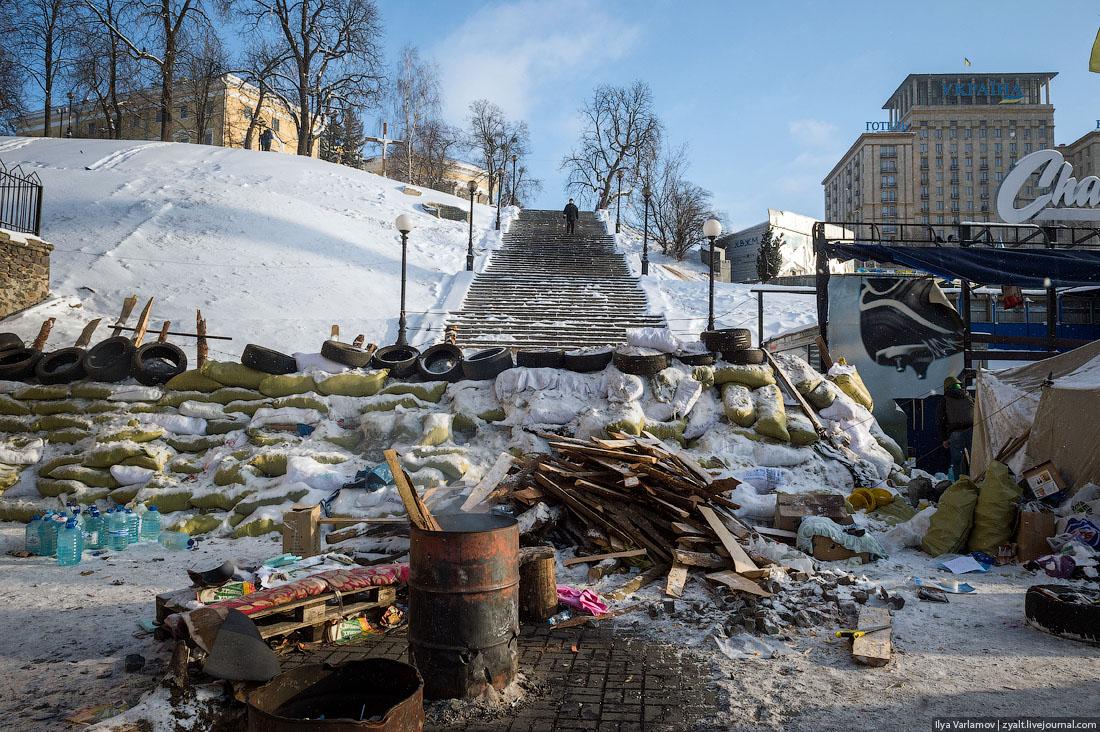 10.
Tyres with barbed wire.
In the case of assault all ignited.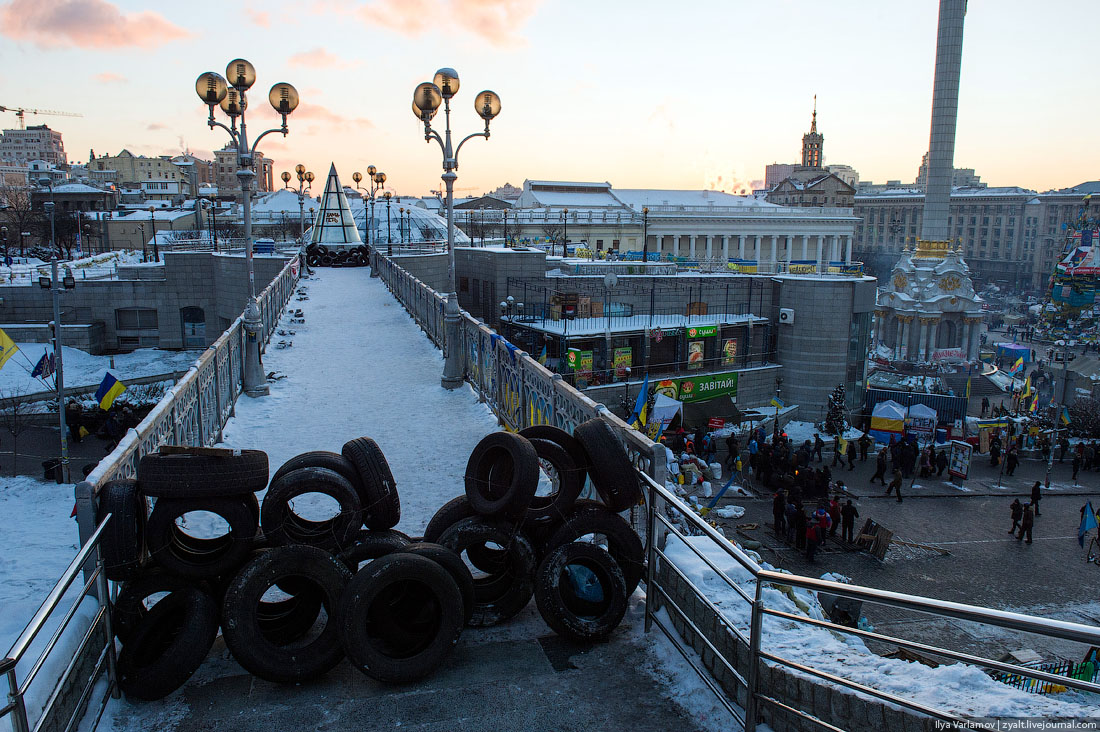 11.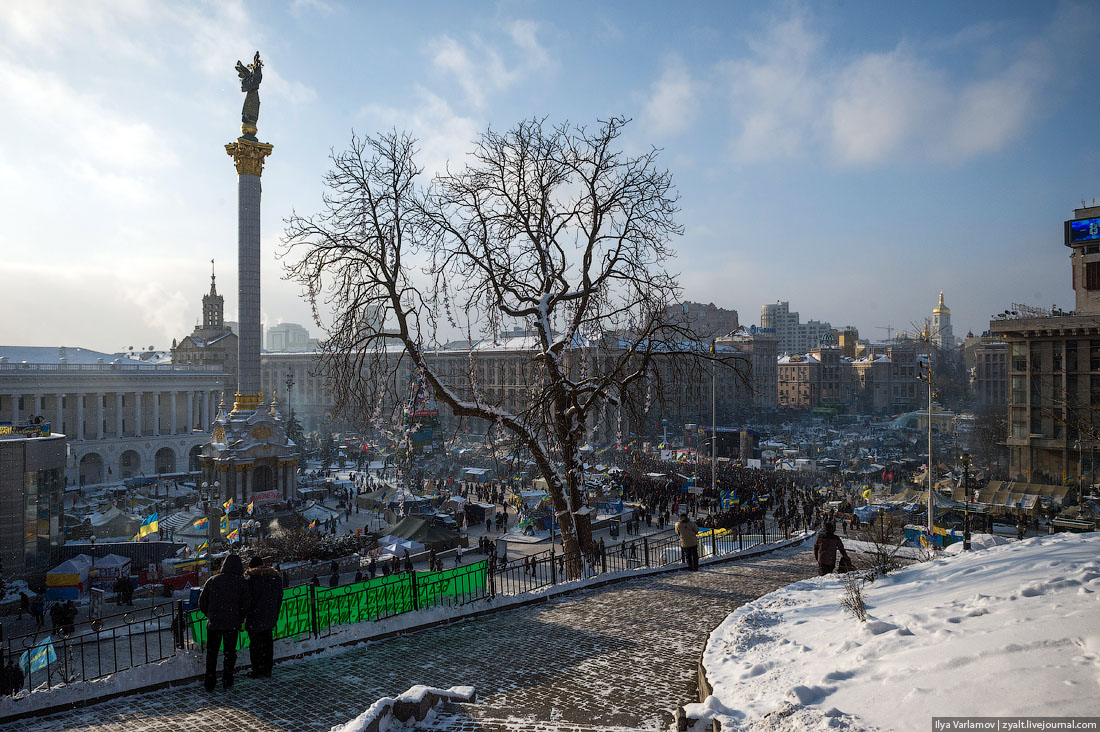 12.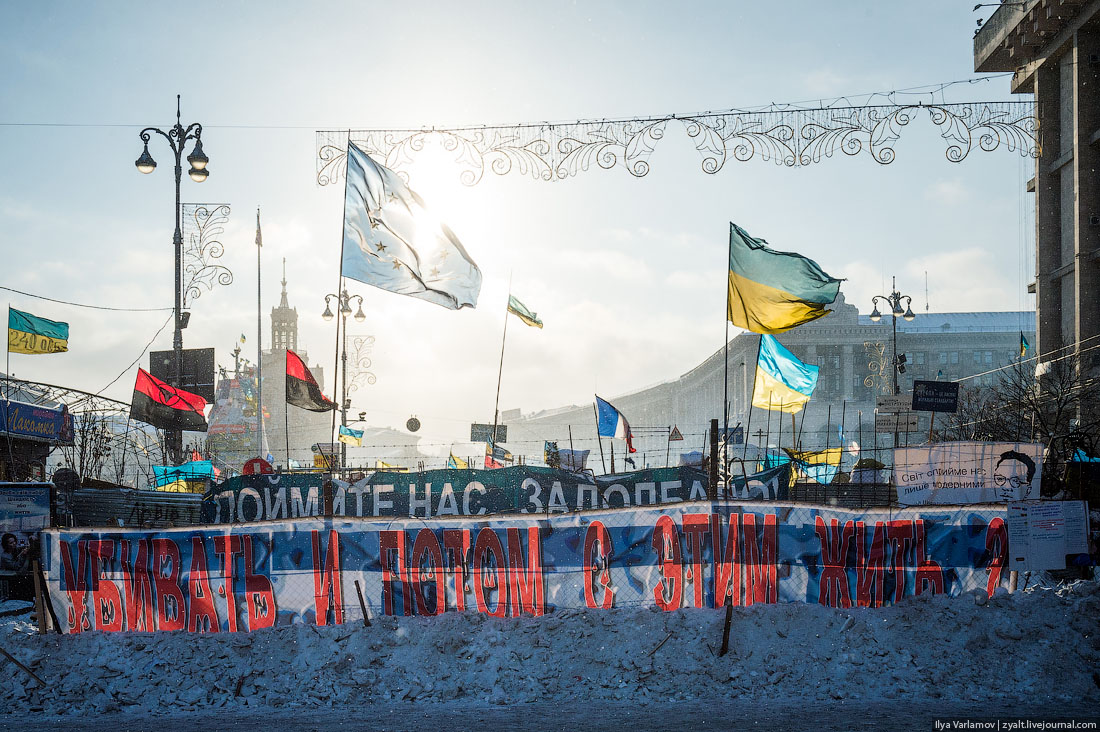 13.
On the barricades all very strictly.
Output and input are separated into different sides to streams do not overlap.
Over the following order multiple defenders.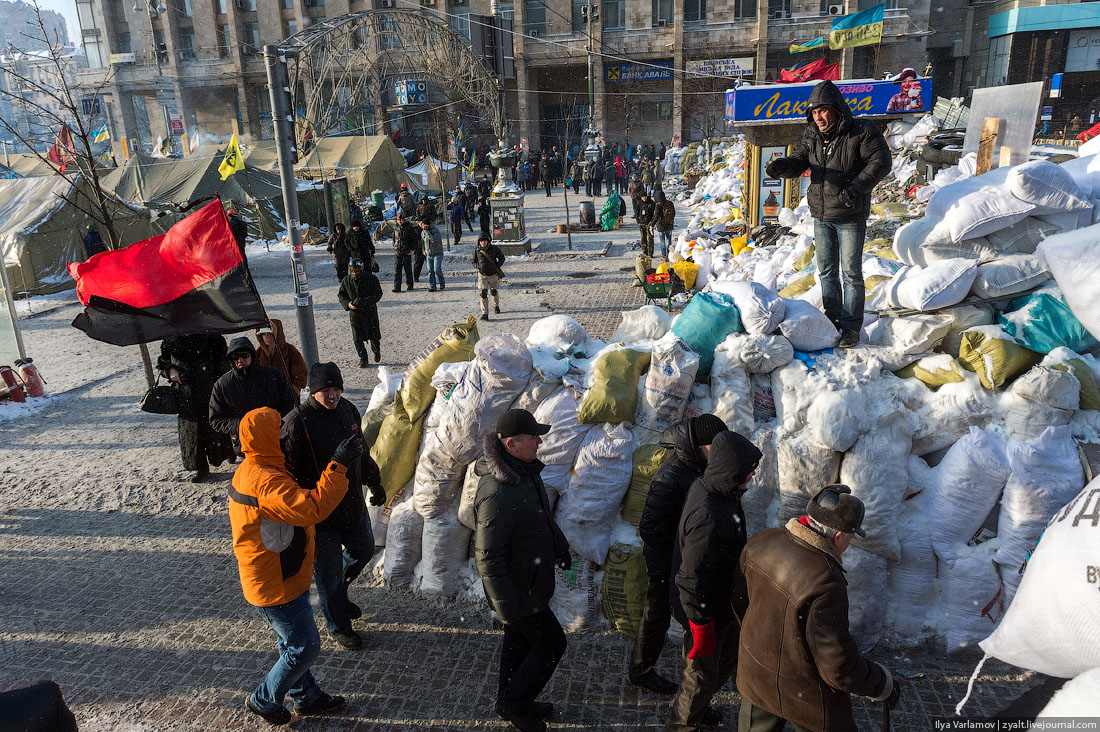 14.
Exit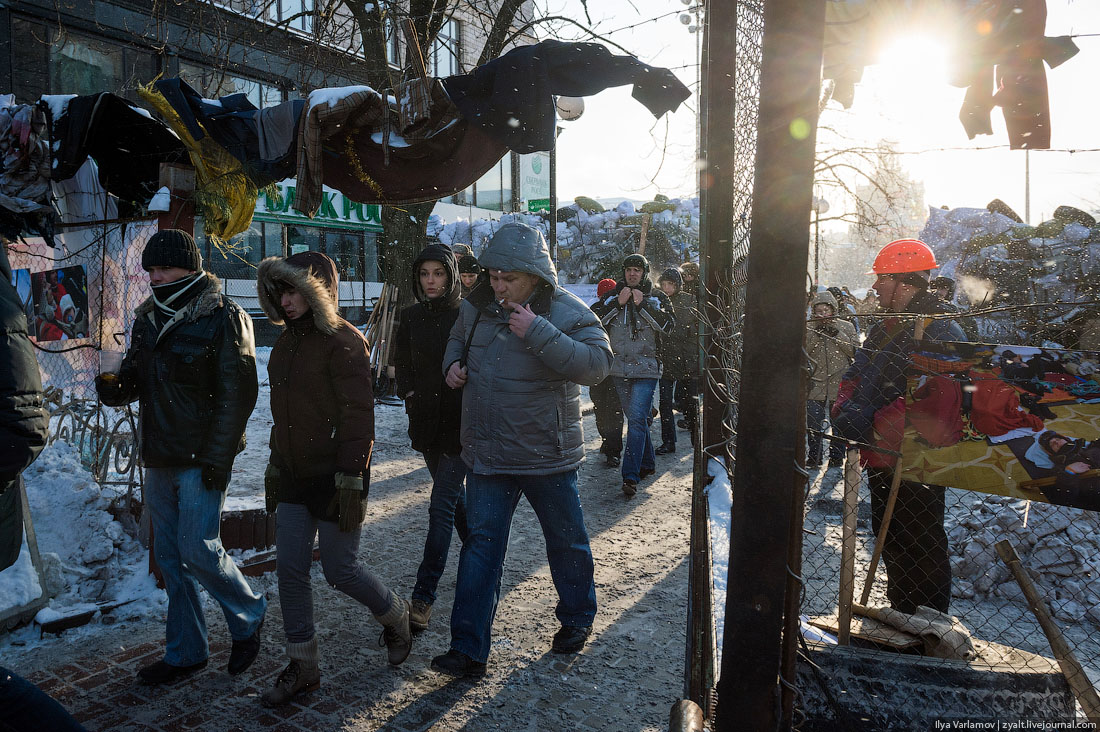 15.
Input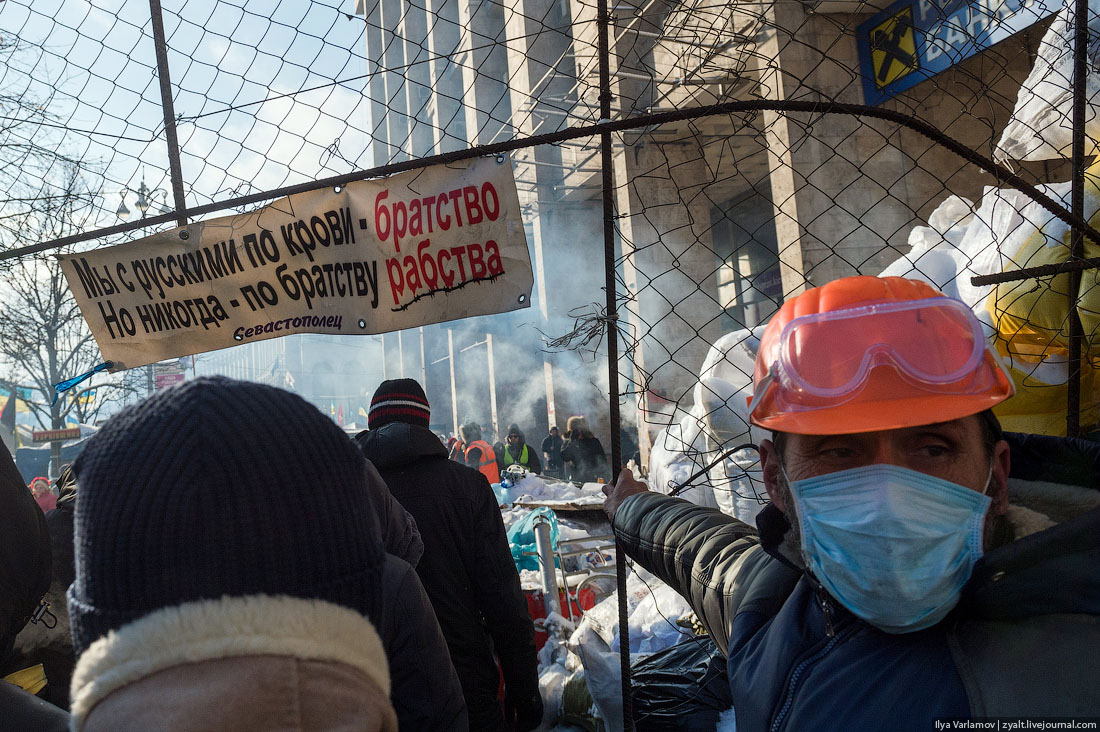 16.
Another entrance to the Independence Square.
Note the drawer collecting aid Maidan.
Such boxes are at every entrance.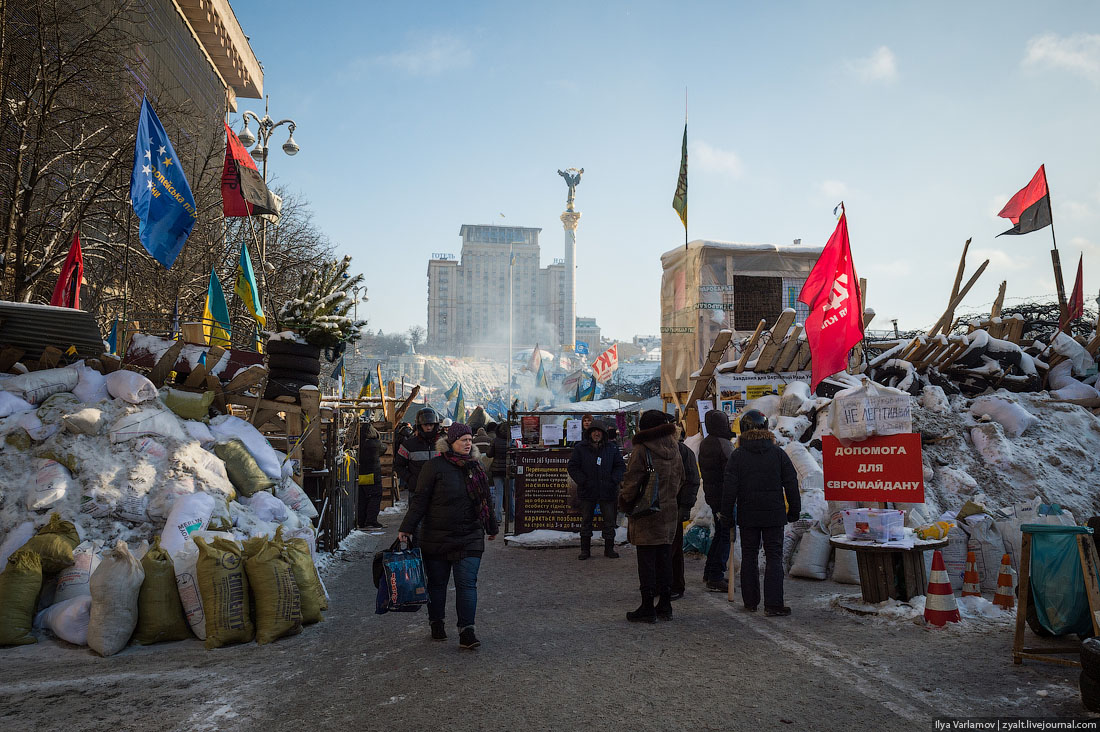 17.
Watchtower)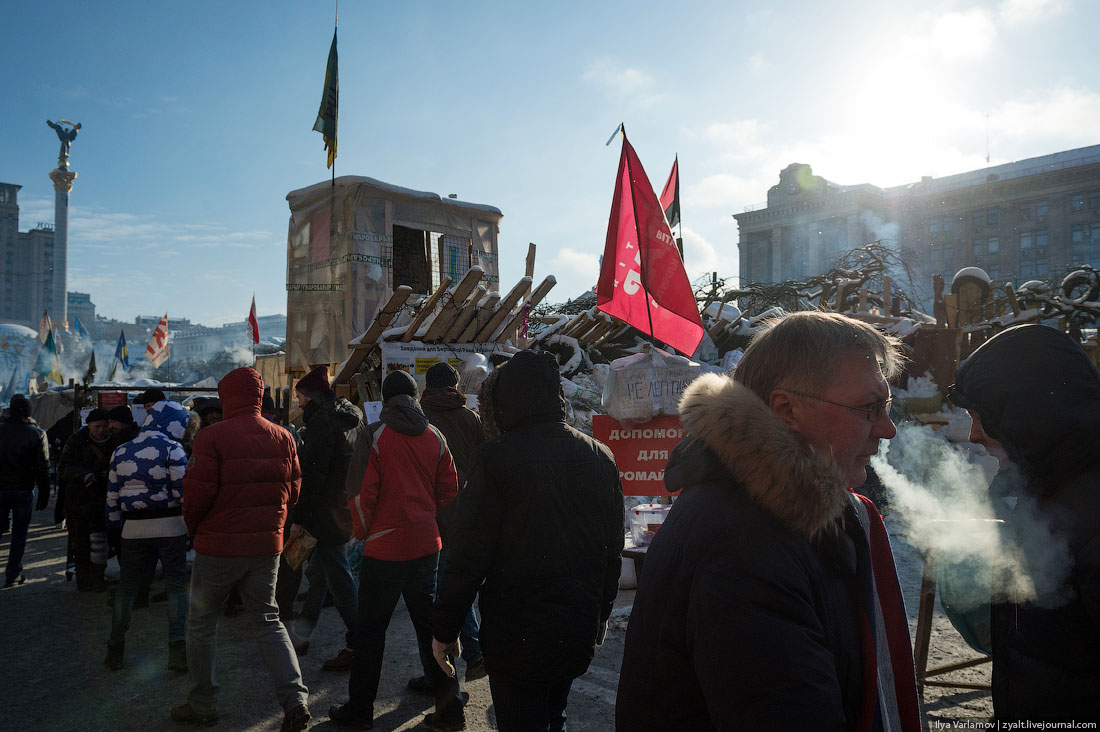 18.
3 days ago Maidan area expanded, and now one of the barricades is located near Khreschatyk Metro.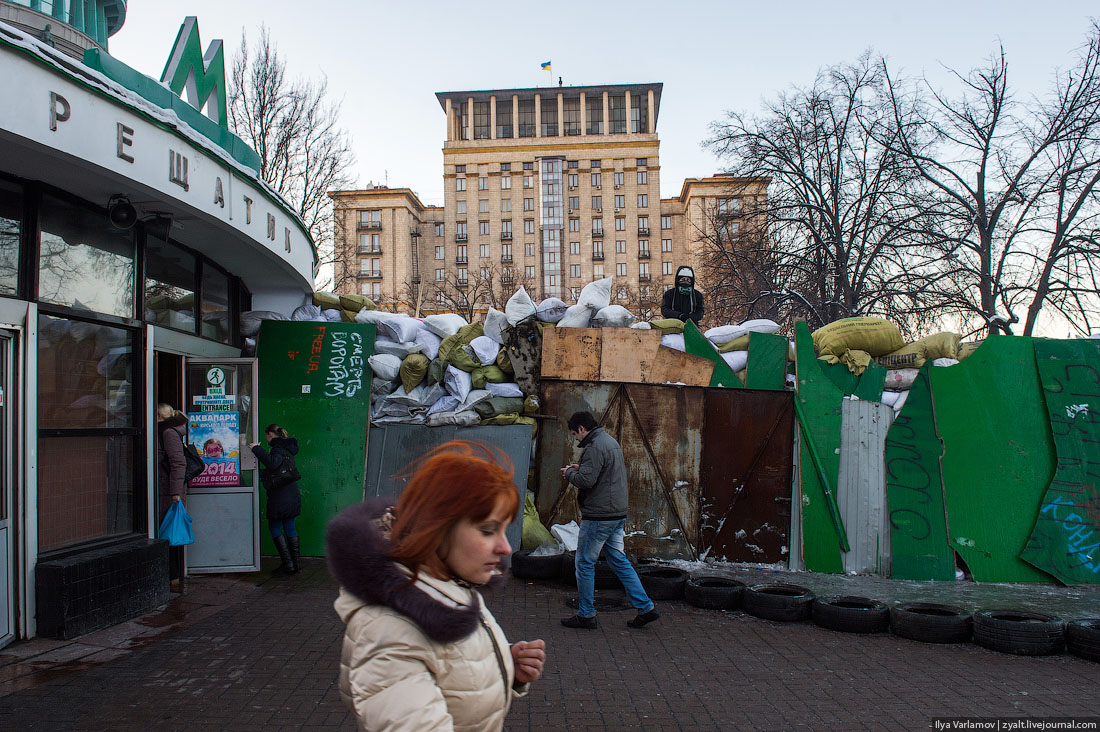 19.
Half the lobby filled up bags.
People warm themselves in the subway.
Metro employees to the new neighbors are understanding.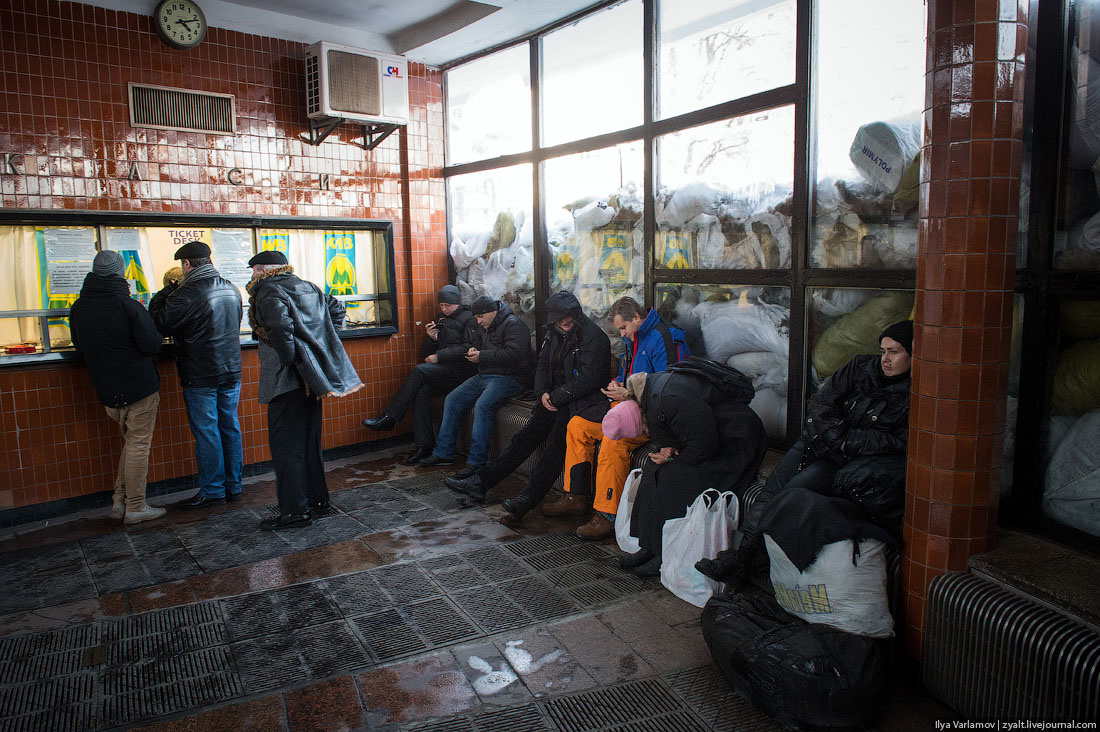 20.
Metro itself is working normally.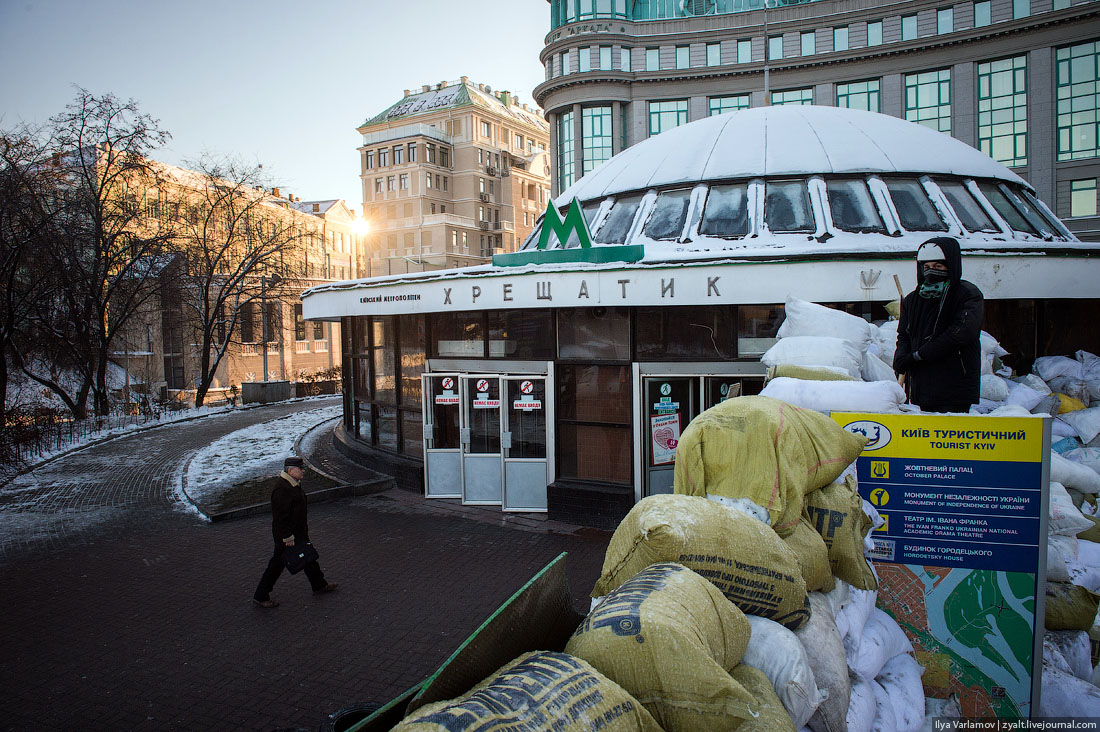 21.
Barricades make 4-5 meters in height.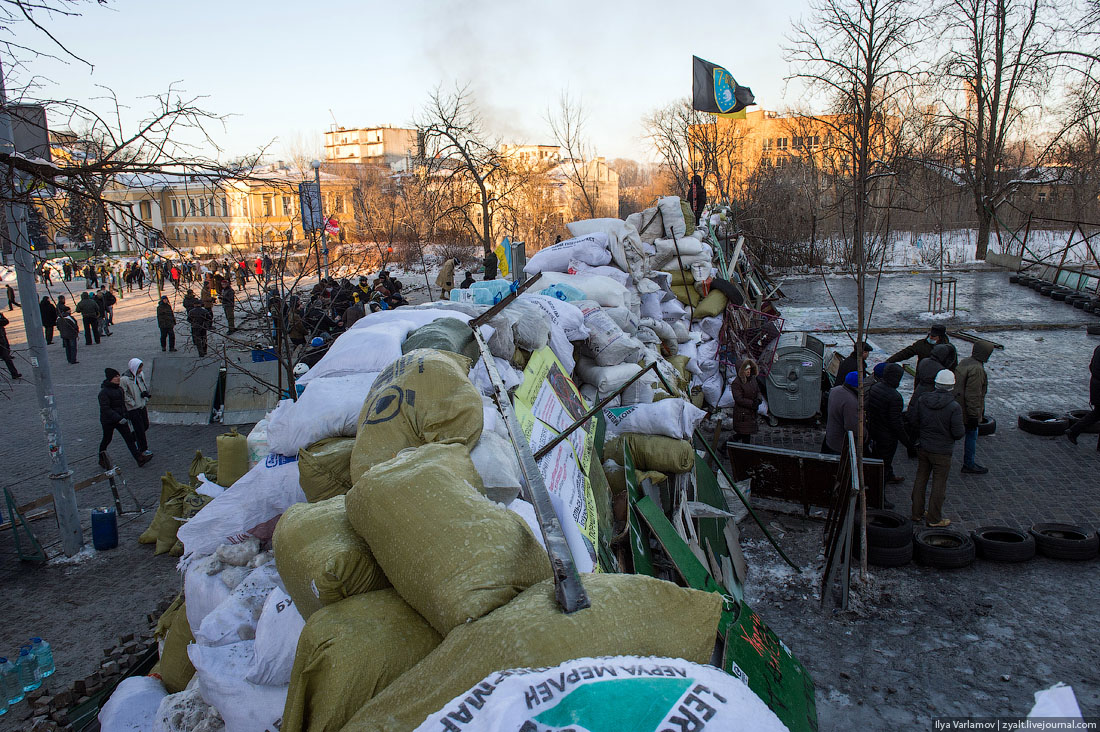 22.
All tiles in the streets apart and makes her shells.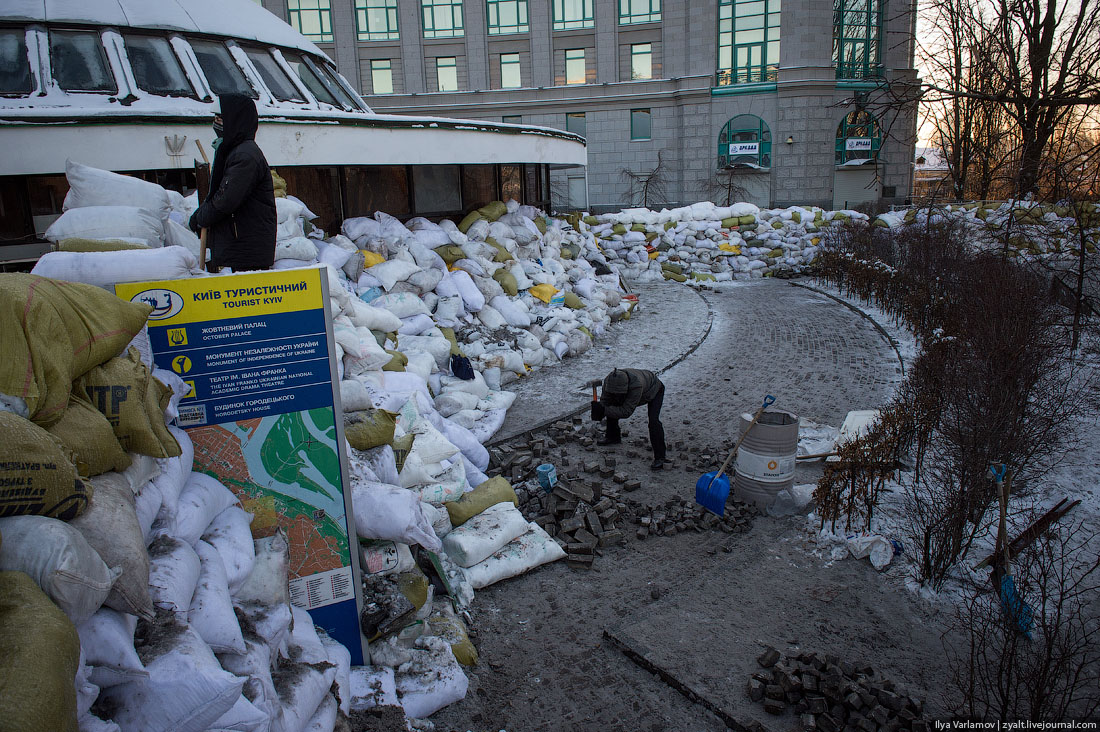 23.
At the foot of each barricade stones lie in case of attack.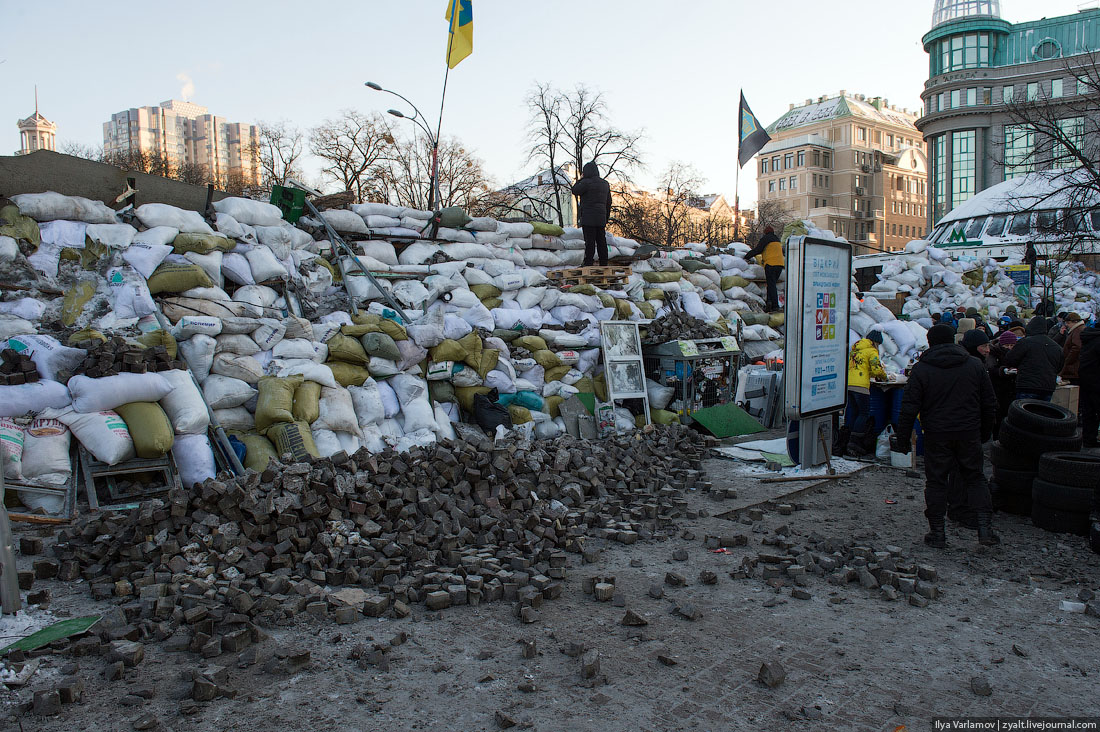 24.
Another interesting point.
In case of attack all the approaches to the barricades filled with water, leaving only a narrow passage for people.
Before a huge barricade rink now.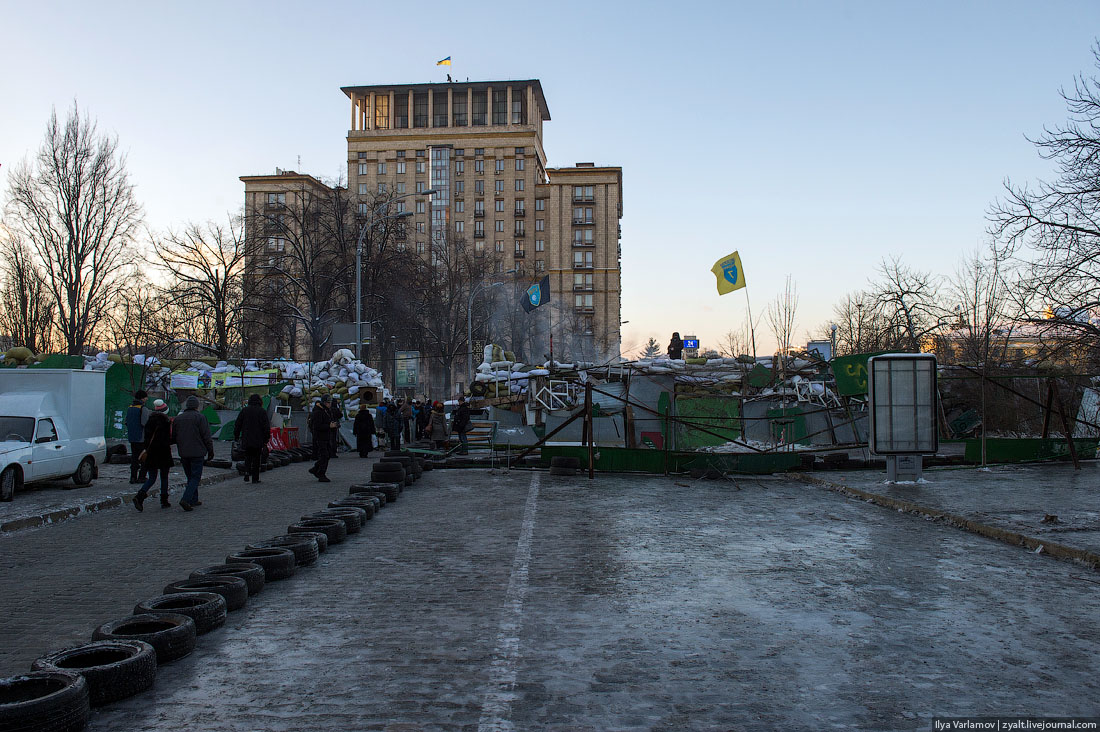 25.
More barricade.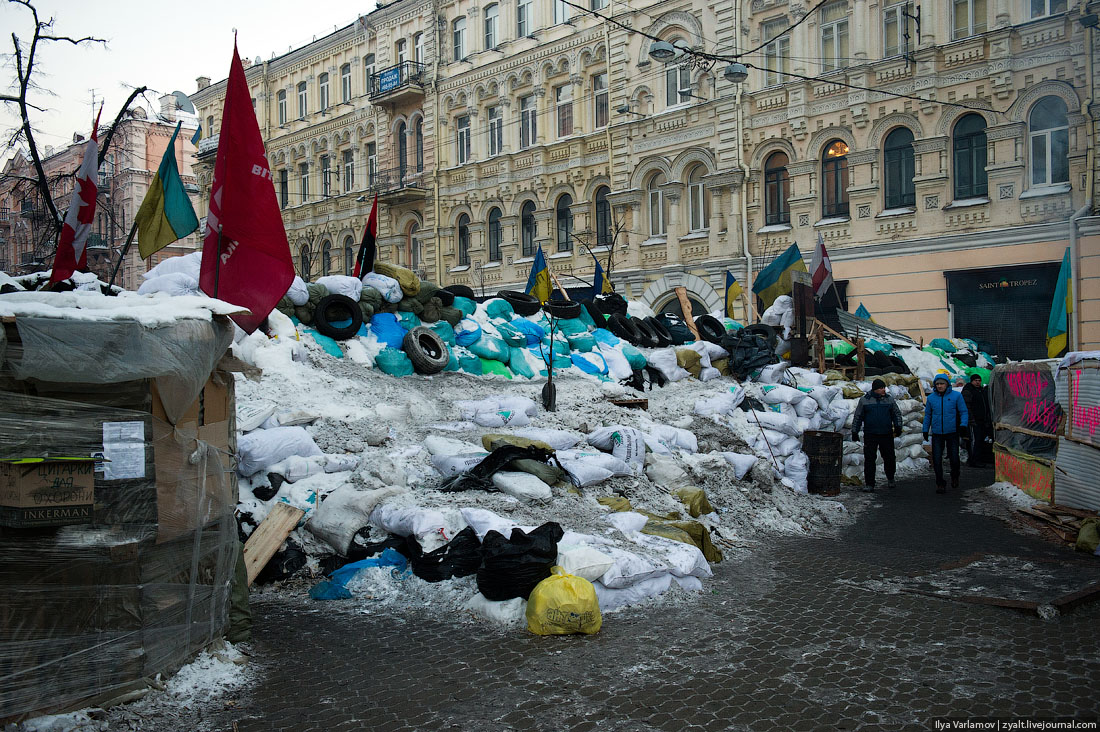 26.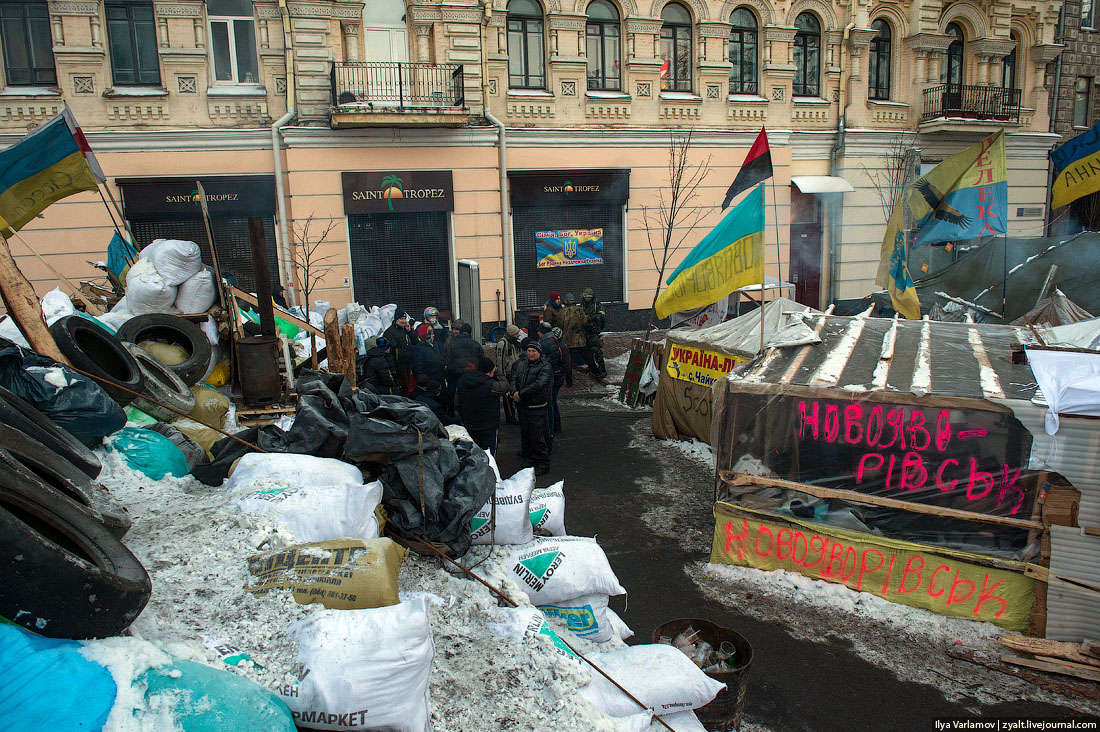 27.
For people sometimes leave very narrow passage.
One person could barely pass.
Fatties entrance to Independence is now closed.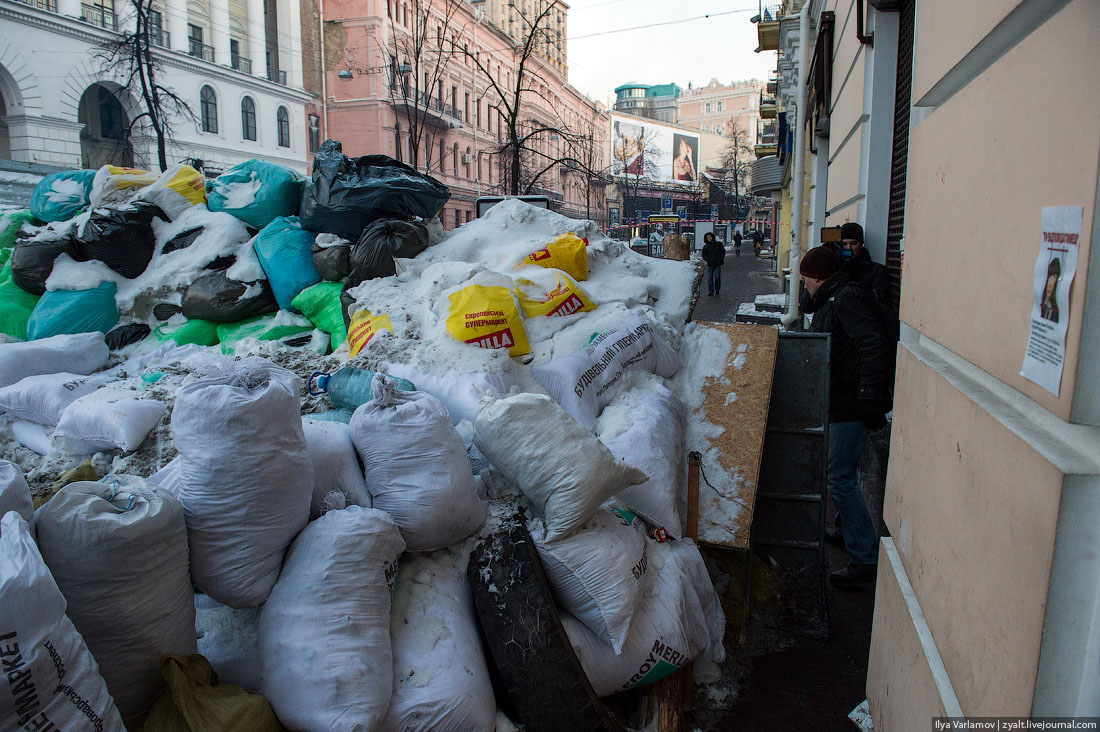 28.
All shops in the Maidan intact and optional operating normally.
Looting in 2 months is not fixed.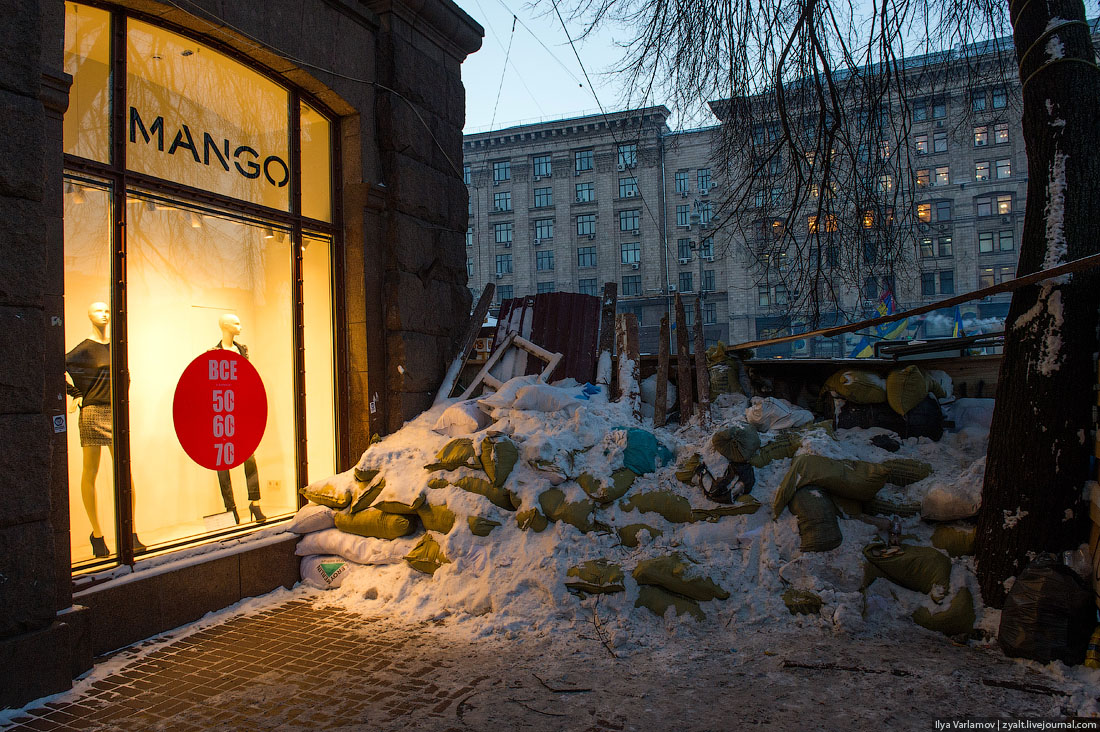 29.
Defender.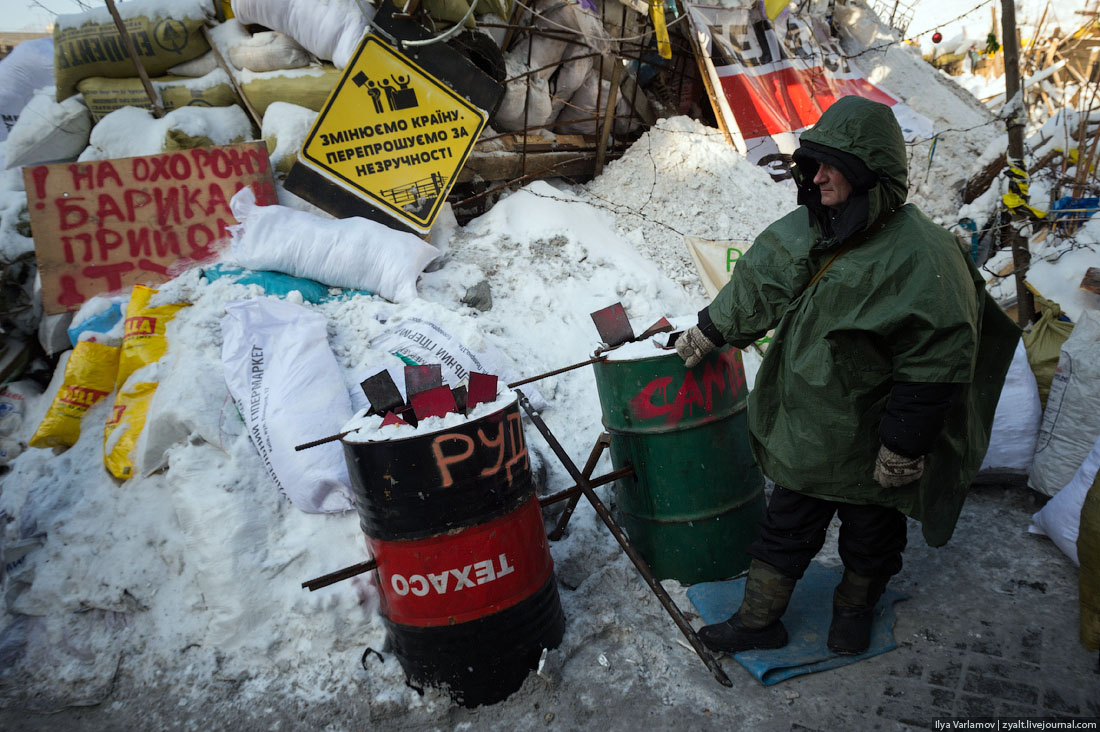 30.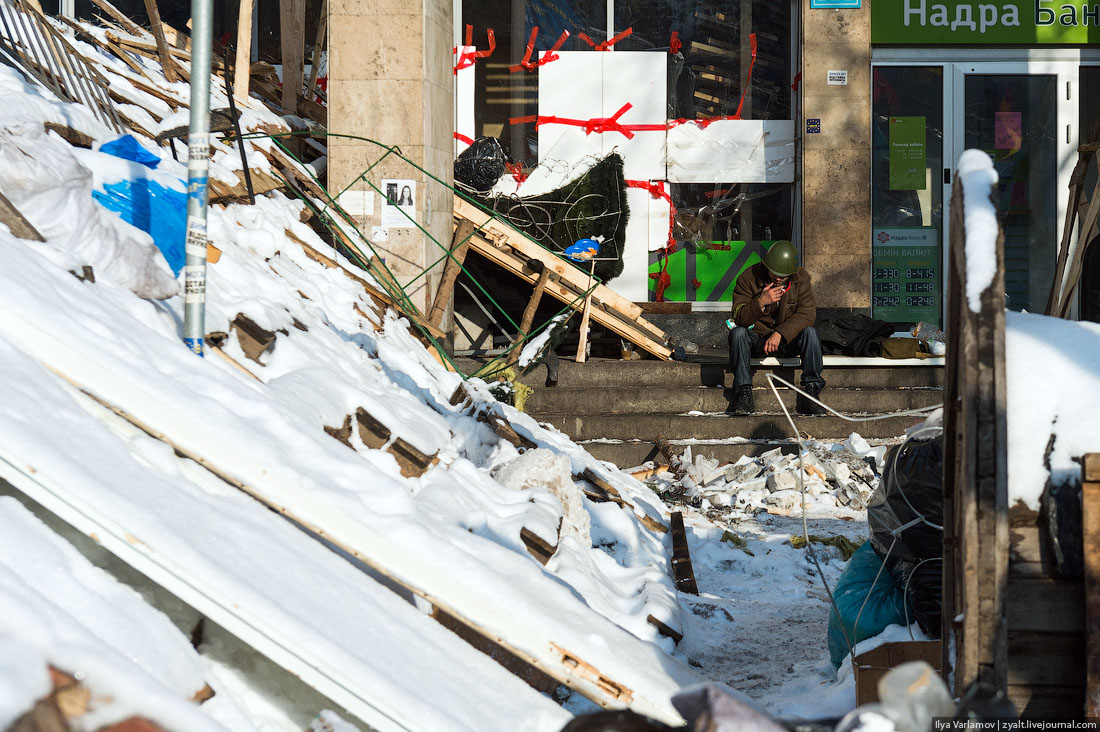 31.
Well, as to storm a barricade?
) Only if the tanks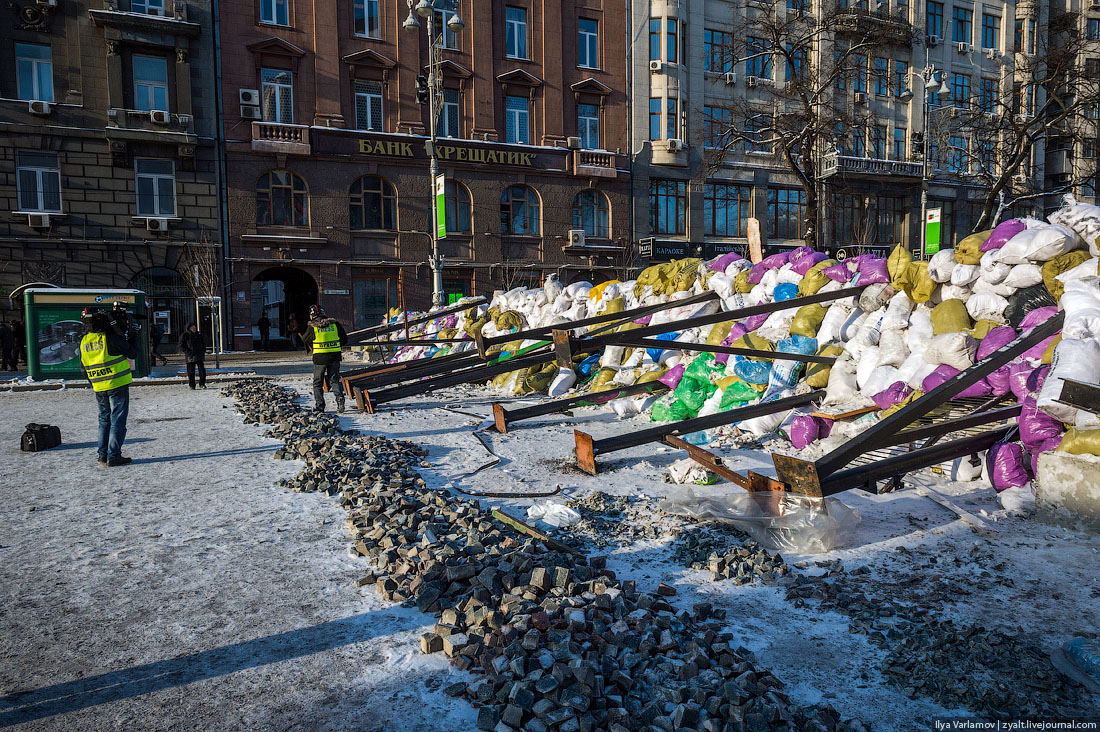 32.
Underpasses either blocked or dismantled lattice that it was impossible to attack from the ground.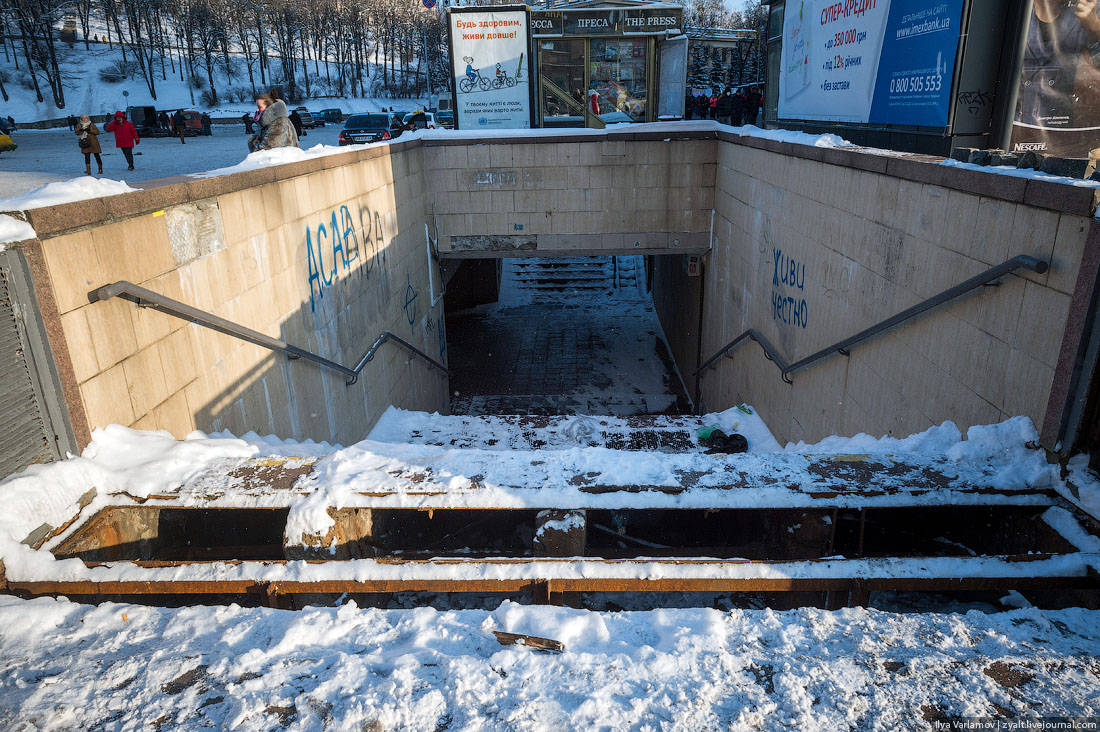 33.
This is the famous barricades Hrushevskoho.
I've written about them many times, now I will not repeat.
Here come all the collisions.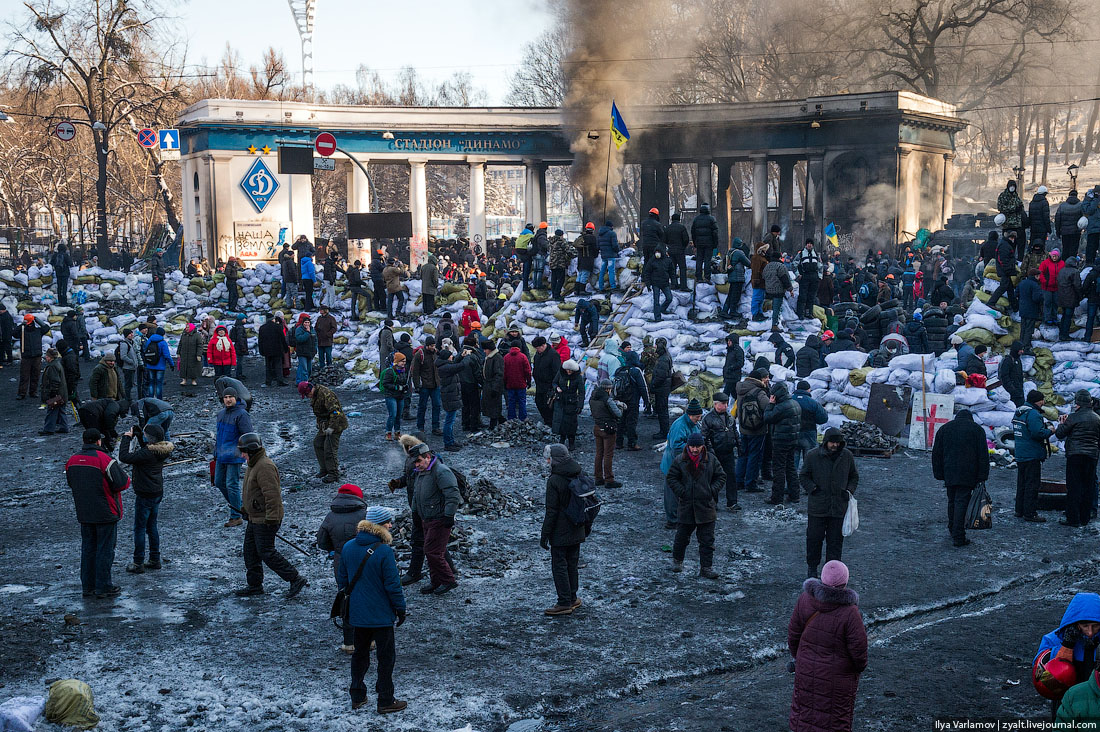 34.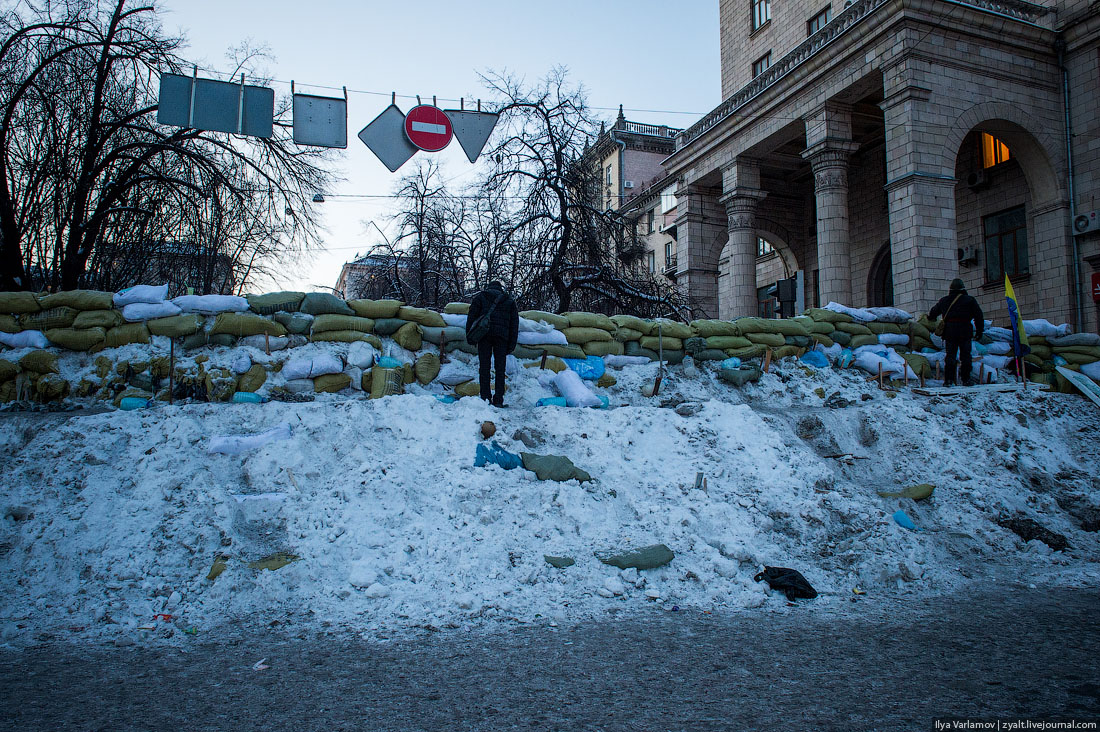 35.
Tents on Khreschatyk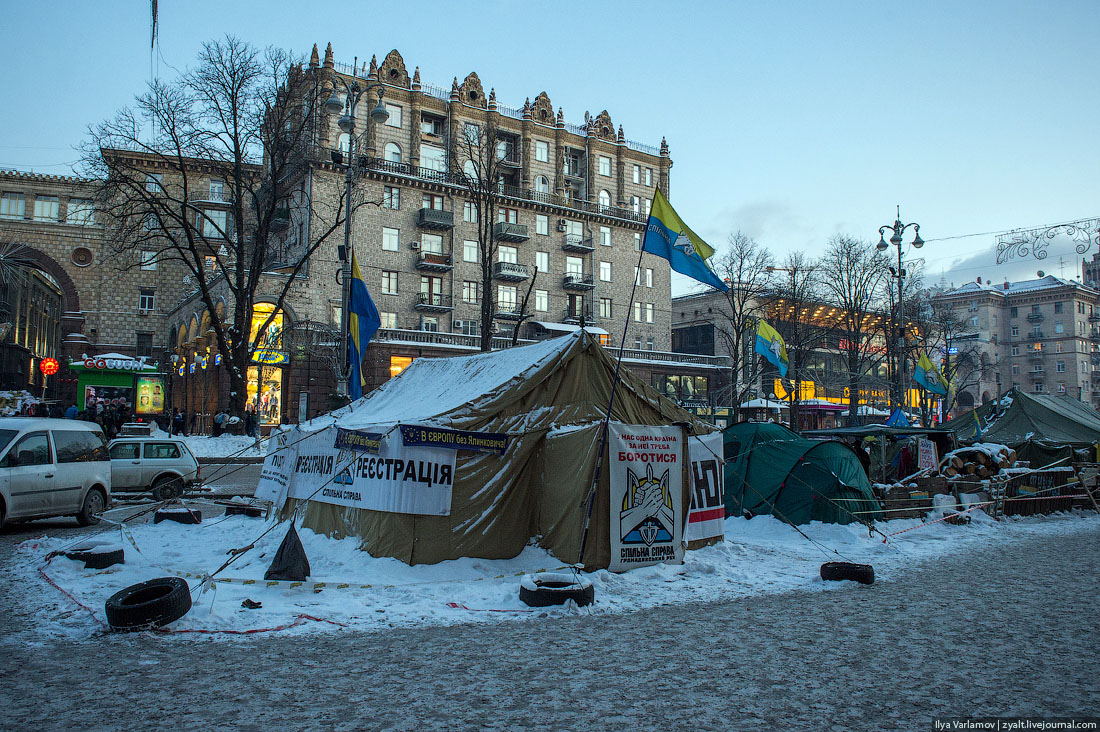 36.
Earlier cars drove here, now all pedestrian)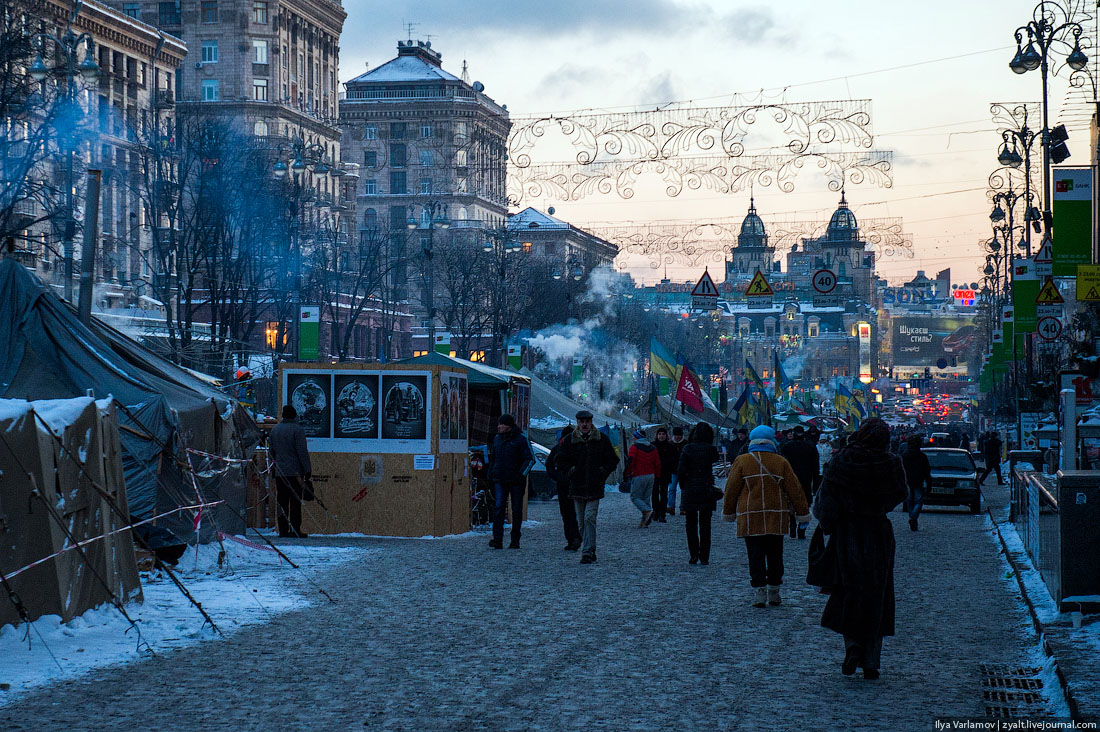 37.
And here is the center of the square.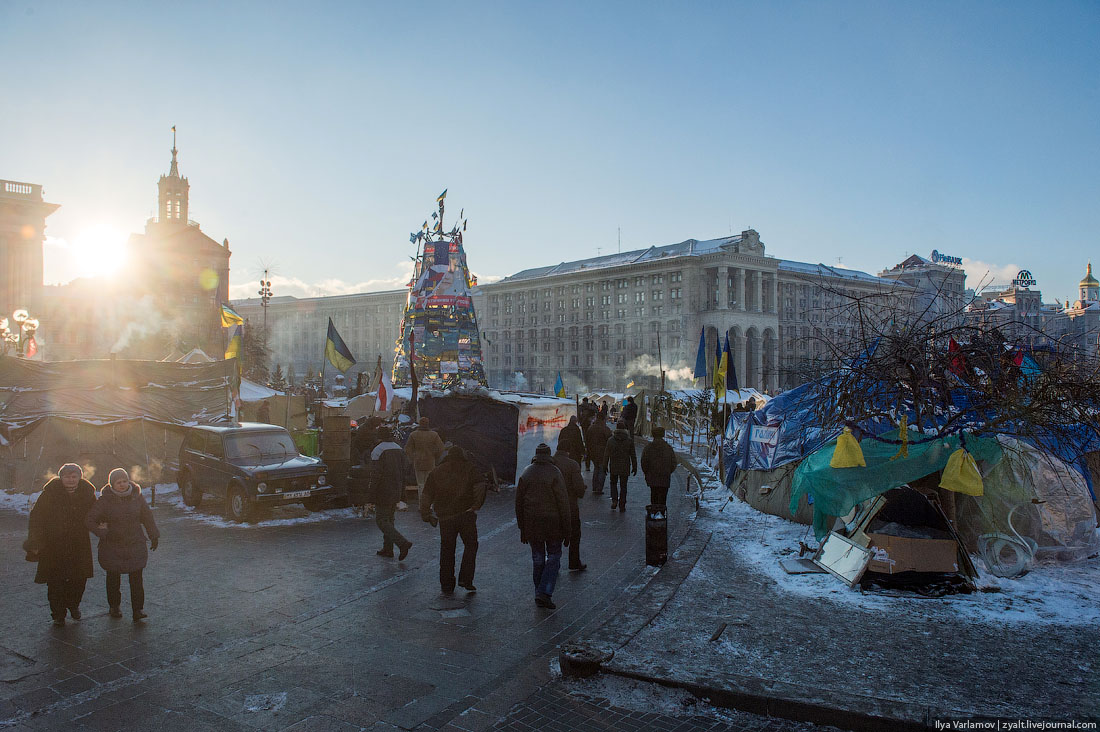 38.
People, tents, flags.
And since 2 months.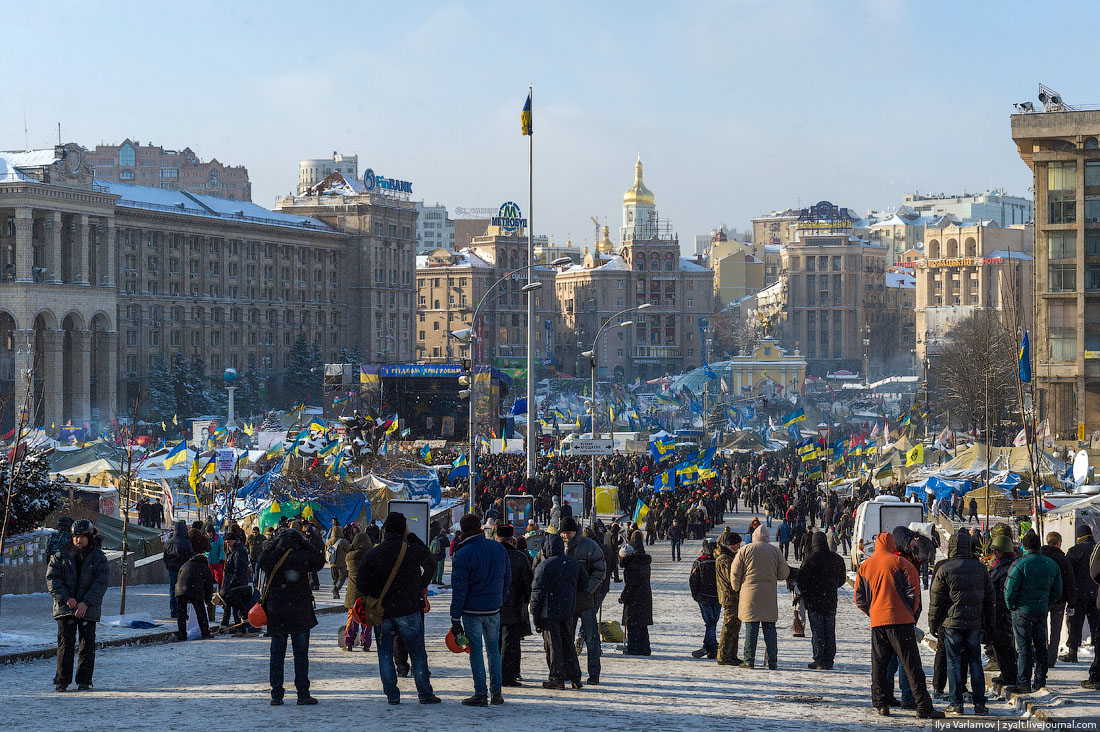 39.
In the center stands a scene where almost 24 hours a day, someone was speaking.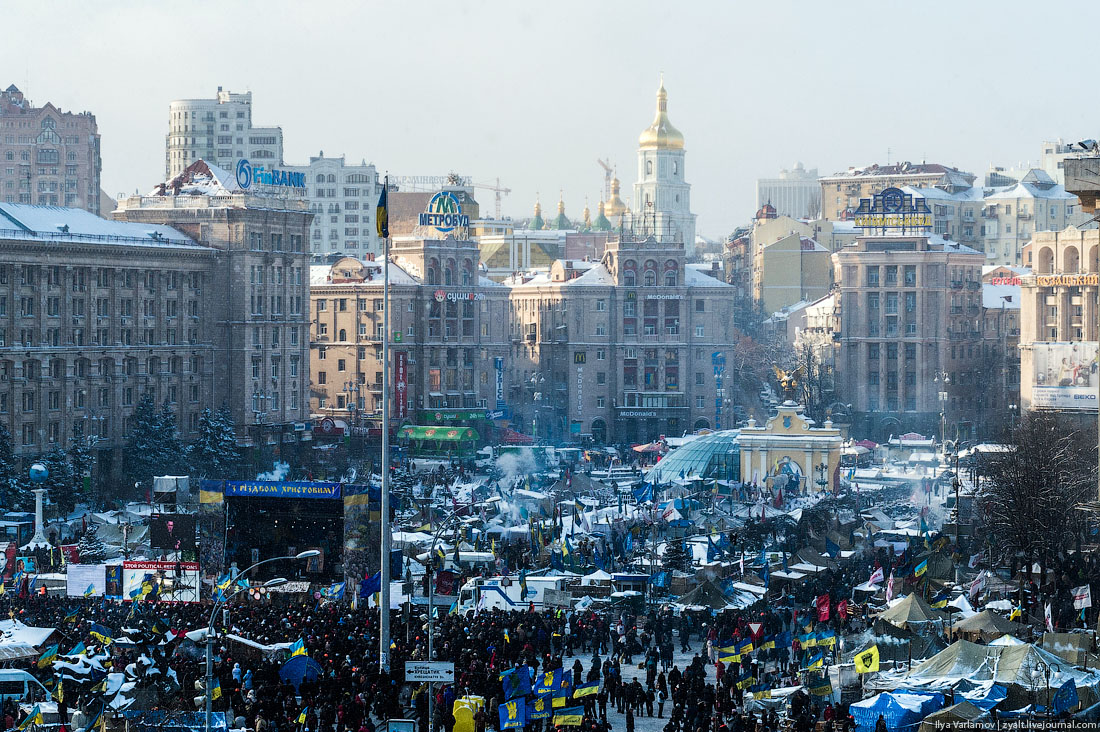 40.
Tents political activists.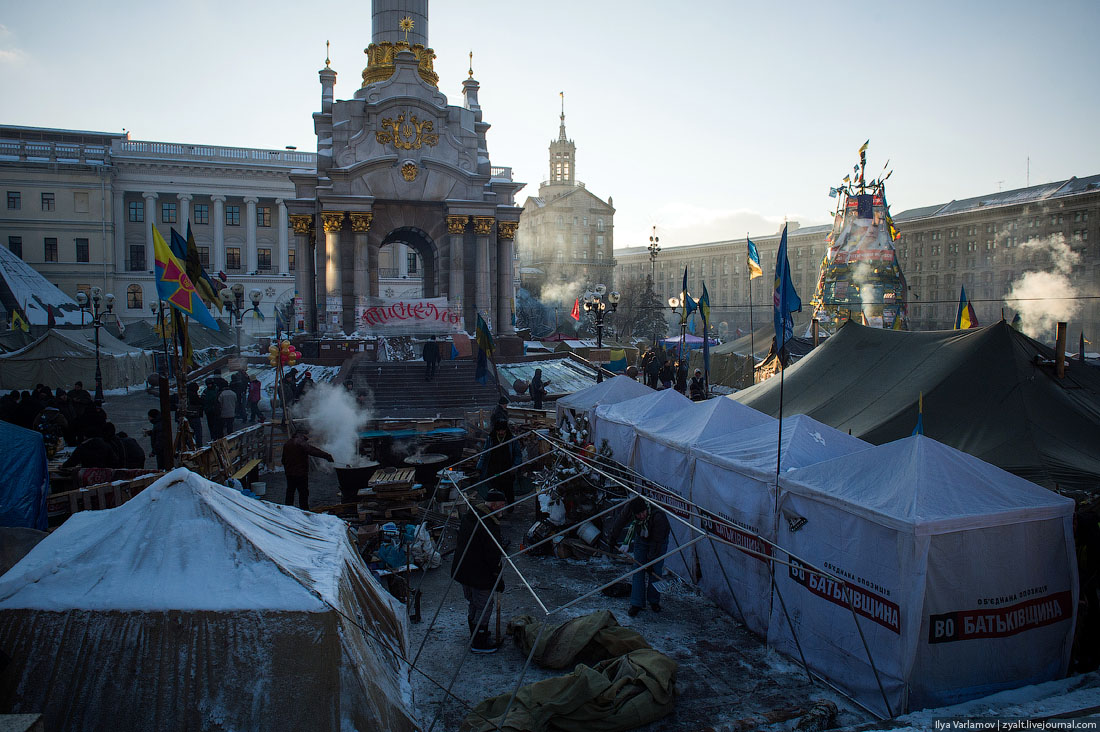 41.
Tents simple activists
42.
Most of all this campground reminds some slums.
Just a lot of posters and flags and clean.
43.
Passage through the Maidan free, simple and Kiev have become accustomed, and walk through the Maidan to work and the shops.
44.
More tents
45.
46.
Item heating.
Notice boards at the entrance
47.
Bask around the barrels and improvised stoves.
48.
Unions around the house wall memory of the victims
49.
Pressroom
50.
Overall political cartoons and posters.
51.
Modern art
52.
Agitation
53.
54.
55.
Every time someone brings firewood, clothing, food and medicine.
I turn around to unload trucks volunteers.
56.
Meals are prepared in specially designated areas.
Basically make borscht
58.
Cook porridge
60.
Soup poured into glasses
61.
62.
63.
Buckwheat, potatoes or pasta with meat or canned meat.
64.
Sandwiches.
65.
Everywhere there are boxes of cigarettes.
66.
It's funny that all the stalls with food, all the cafes or coffee shops as road work, and work.
That is, you can get free soup in the dining room or buy a shawarma Maidana in a stall.
Nobody rides and does not touch the merchants.
Conversely, due to the large number of people at a cafe in the center of Kiev is doing well.
67.
68.
Packed snow from the street is collected in bags.
Bags go to building barricades.
It is important that the snow was dense.
Such bags immediately as stone and fit well.
69.
Sometimes bags filled with the usual snow.
70.
Quarry snow.
71.
If the snow is loose, the bags filled with water, so he turned to ice.
Once the bags are folded over the barricades, they also poured water on top.
72.
Dubin defender.
73.
74.
Maidan in Kiev has long become a tourist attraction.
Everywhere sell magnets with pictures and political attributes.
75.
76.
Neither toy with trees is not lost.
Maidan - around the clock and is a long time!